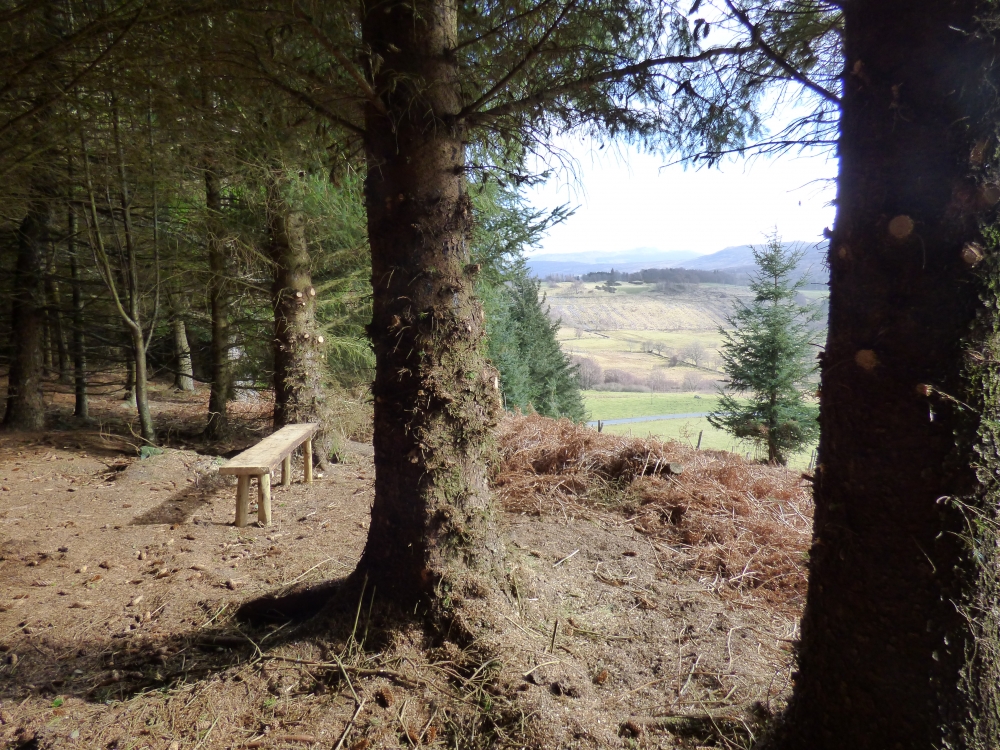 The journey towards Dunalastair from Pitlochry direction is quite awe inspiring and sets the scene for perhaps some of our most quintessential Scottish woodlands.
Cabar Wood follows the contour of the quiet country road and is perfectly sited with sweeping vistas down the valley.
Comprised of mainly Sitka spruce, there is an ample supply of stacked timber ready to be processed into firewood or perhaps to be used for projects within the woodland. Further selective felling would introduce light into the wood enabling a replanting with native hard woods to be carried out. The increased diversity would add value and interest to this very productive woodland.
A number of huts have been built within the woods of Dunalastair and Cabar Wood would provide the perfect backdrop for hut building whether it is something brought in or constructed with materials on site. There are plenty of mature trees that could be processed in situ with a portable wood mill.
Towards the top of the woodland there is an area of open land that would be suitable for further tree planting or even the siting of a poly tunnel. It is well worth visiting these woods and will provide a grand day out for all the family.
Surrounding area
Cabar Wood is part of the old Creag Dhubh Forestry Estate, which is situated just above Dunalastair Water, on the lower south-eastern slopes of corbett Beinn a' Chuallaich. The surrounding area is renowned for its natural highland beauty including the ancient Caledonian Pine woods (Black Woods of Rannoch), series of Lochs (Rannoch and Tummel), cascading rivers (Tummel and Garry) and the classic, conical shaped munro (Schiehallion). Cabar Wood is very close to Dunalastair water that has the reputation for one of the best places in the UK, for wild trout fishing; the nearby village of Kinloch Rannoch is both a draw to tourists and is the base for an outdoor pursuits centre. Slightly further afield is Pitlochry, a small, picturesque tourist town in the geographical centre of Scotland and a handy place to pick up supplies when you are running low, while the beautiful city of Perth is only about 30 minute drive to the south.
The purchasers of the woodland will be asked to enter into a covenant to ensure the quiet and peaceful enjoyment of adjoining woodlands and meadows.
There is a growing interest in hut, bothy and temporary shelter building, especially in Scotland; for those interested in erecting a hut or shelter, here is some interesting and very helpful guidance from Reforesting Scotland's Thousand Hut Campaign. Your Local Planning Authority should also be consulted.