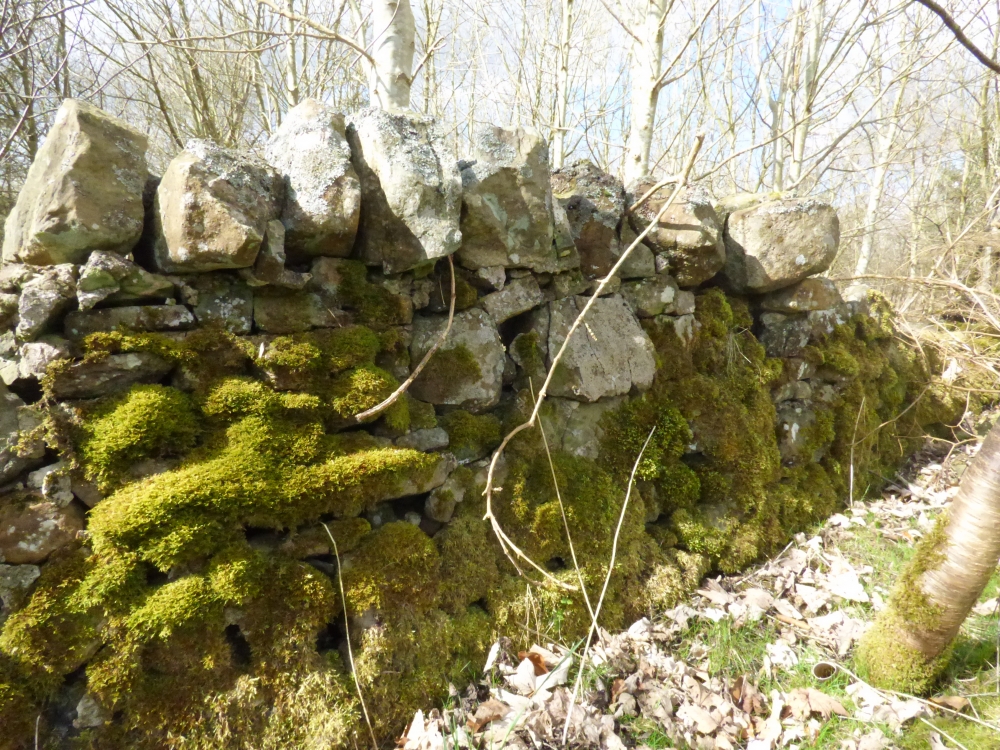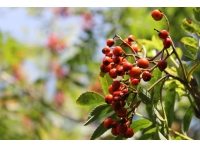 The name Calhoun derives from the gaelic for 'narrow forest' and is certainly worthy of further investigation: this particular narrow forest sits at the heart of our woodlands at Balmule near Dunfermline. It can sometimes be hard to find woodland on flat ground in Scotland, so it is a pleasure to walk these woods. Similarly, timber extraction will be as easy as it can be given the flat terrain and the proximity of the two boundary tracks. The track to the north has been completely strengthened and resurfaced from the public highway with quarry stone, adding greatly to the value of the woodland and ease of access in all weather. A hut, shed or container for protection would be easy to site too.
These deciduous woods have been blessed by intelligent planting from the outset with an abundance of ash, oak, cherry, alder, hazel, hawthorn and blackthorn to name just a few. These species will provide some fruits for the foraging birds come the Autumn but also very valuable firewood both in the immediate and long term. The hazel flourishing too and is at an appropriate age to be harvested by a budding coppice worker. Good quality hazel has many uses, providing hedgelaying stakes, withies for binding hedges, pea sticks, walking sticks and is also perfect for charcoal making.
The trees are well spaced making it easy to walk around, with plenty of room for them to mature, although now would be an appropriate time to selectively thin a few, to encourage good shape and form as they grow further. This practice will have a two fold reward as it will encourage natural regeneration of the understory and woodland floor with wild flowers and habitat for ground dwelling birds and animals as well as furnishing the worker with firewood for the winter. The birdlife within the woods is a particular highlight, the diversity of woodland species creating a perfect habitat for chaffinches, blue tits, robins, magpies among others.
As with all deciduous woods, Spring and Summer is the time when they are at their most vibrant in terms of colour and birdsong and Calhoun Wood is no exception. This could be combined with a visit to Dunfermline Abbey and palace, steeped in history with royalty having been documented there from the 11th century onwards: it is the resting place of Robert the Bruce, perhaps Scotland's most iconic figure.
Surrounding area:
Calhoun Wood is located within 15 minutes from Dunfermline, which up until the 17th Century was the royal capital of Scotland and centrally located for Glasgow, Edinburgh and Stirling. Fife, bounded to the north by the Firth of Tay and to the south by the Firth of Forth, is a natural peninsula where political boundaries have changed little over the ages. Legend has it that the Pictish realm was divided into seven sub-kingdoms or provinces, one of which went on to become Fife.
To the north beyond the hill and woods is Commerce Park, an old WW2 supply depot for the naval bases at Rossyth, now converted mainly for use by local business and also home to Scotland's Vintage Bus Museum.
The purchasers of the woodland will be asked to enter into a covenant to ensure the quiet and peaceful enjoyment of adjoining woodlands and meadows.
There is a growing interest in hut, bothy and temporary shelter building, especially in Scotland; for those interested in erecting a hut or shelter, here is some interesting and very helpful guidance from Reforesting Scotland's Thousand Hut Campaign. Your Local Planning Authority should also be consulted.