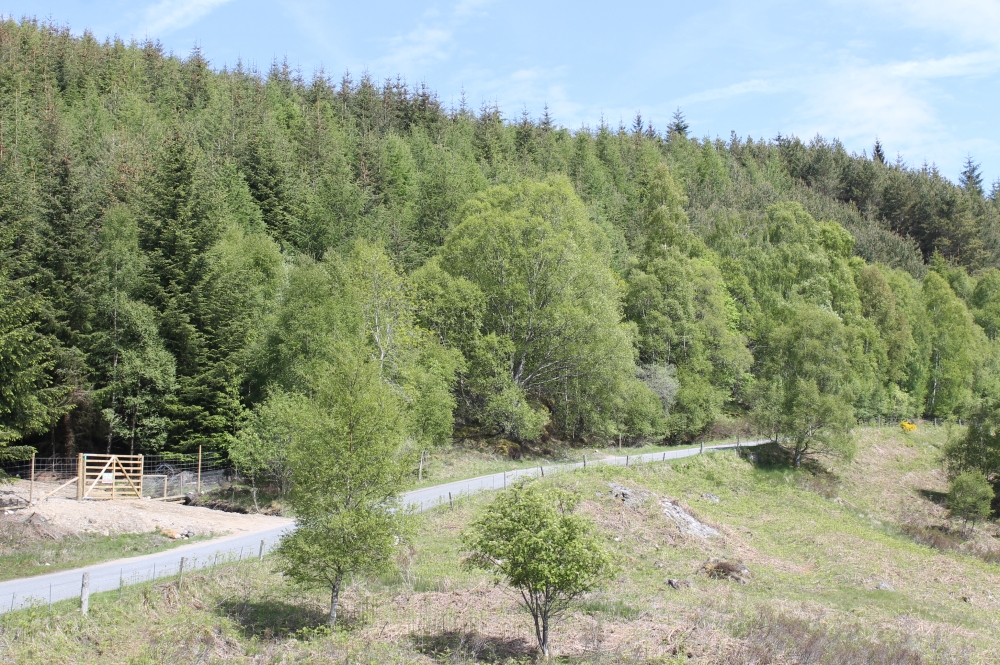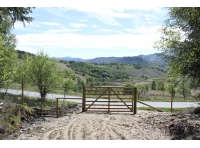 The drive to Feal Wood from Pitlochry finishes along a windy road with glorious scenery. The nearby Tay forest park offers plenty of attractions including the Queen's view: Queen Victoria stopped here in 1866 and thought the view was named for her, although it was actually named for Isabella of Mar, long before Victoria's visit. Isabella was the first wife of Robert the Bruce and is said to have hidden in nearby woods in the 13th century.
Feal wood has the attraction of its own private entrance off the very quiet B847. A hard standing area is accessed directly from the road and provides space for timber stacking, parking or could perhaps be the site of a woodland shelter if required.
There is plenty of diversity within these south facing woods as it is bordered on one side by an energetic and attractive winding stream, perfect for relaxing by on a hot summer's day to take in the views across to Schiehallion.
Quite close to the entrance area is an open glade, home to a number of different mosses, including sphagnum, star and club moss and wildflowers including violets, foxgloves and primroses.
A circular path begins at the entrance area, and winds its circuitous route through the main body of the wood and eventually returns to the entrance point. The woodland is a mixture of native Scots pine, larch and spruce, interspersed with native deciduous trees, predominantly rowan, willow and birch. These deciduous pioneers could be successfully augmented by other hardwood species if the glade areas were enlarged within the coniferous woodland. The establishment of other tree species would improve the biodiversity greatly and a wider range of flowers, insects, birds and other animals would soon colonise the new habitats. Deer are frequent visitors within the woodland, moving quietly through the trees while the upper canopy supports a varied bird population. Buzzards are common and easily identified by their "mewing" call, while the shy but intelligent jay may be seen in the lower trees. Looking upwards you may see an active red squirrel drey high up in the trees. Once abandoned it may instead be used as a pine marten nest.
These woods will provide inspiration and enjoyment for anyone looking for beauty and tranquility in a highland setting, not to mention a sustainable source of firewood for domestic use.
Surrounding area
Feal Wood is part of the old Creag Dhubh Forestry Estate, which is situated just above Dunalastair Water, on the lower south-eastern slopes of corbett Beinn a' Chuallaich. The surrounding area is renowned for its natural highland beauty including the ancient Caledonian Pine woods (Black Woods of Rannoch), series of Lochs (Rannoch and Tummel), cascading rivers (Tummel and Garry) and the classic, conical shaped munro (Schiehallion). Feal Wood is very close to Dunalastair water which has the reputation for one of the best places in the UK, for wild trout fishing; the nearby village of Kinloch Rannoch is both a draw to tourists and is the base for an outdoor pursuits centre. Slightly further afield is Pitlochry, a small, picturesque tourist town in the geographical centre of Scotland and a handy place to pick up supplies when you are running low, while the beautiful city of Perth is only about 30 minute drive to the south.
The purchasers of the woodland will be asked to enter into a covenant to ensure the quiet and peaceful enjoyment of adjoining woodlands and meadows.
There is a growing interest in hut, bothy and temporary shelter building, especially in Scotland; for those interested in erecting a hut or shelter, here is some interesting and very helpful guidance from Reforesting Scotland's Thousand Hut Campaign. Your Local Planning Authority should also be consulted.