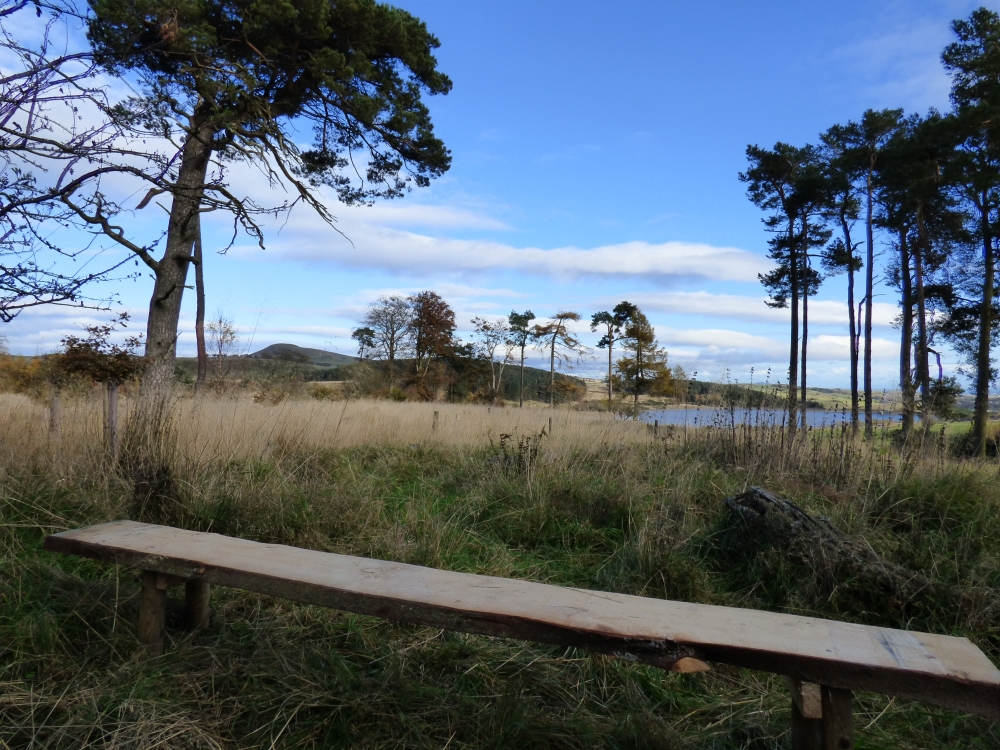 The name Garan is gaelic and when translated, can mean either coppice or small den. At just over five acres, this size of woodland is both large enough to be productive but also very manageable. It will appeal to those who wish to get really involved in woodland management or indeed those who would like to spend more time simply enjoying it at their own pace. The areas of dense growth provide a great deal of shelter and privacy making the wood feel very secluded but with the added benefit of facing south.
Access is very good indeed, along a newly strengthened quarry stone track and at the entrance to the wood there is a very useful area of hardstanding suitable for turning a vehicle of stacking timber prior to collection.
From this ridestop area a number of paths radiate out through the trees; this conifer would benefit from thinning in future years and will provide a sustainable supply of firewood for some considerable time into the future. As thinning progresses this will allow light to reach ground level further increasing the ecological diversity of the wood.
Towards the fringes of the wood, young oak trees are prolific and doing well; some modest management will see these thrive. Oak trees are a corner stone tree species within a woodland and renowned as being an important habitat for many species of insect, lichen and bird life and indeed oak supports more species of flora and fauna than any other native tree. As Garan Wood is part of a larger woodland and this woodland is on the fringe of farm and more wild land, there is a great variety of wildlife. Deer come and go, buzzards wheel and mew overhead and the woodland is full of diversity of birdlife including the shy jay and joyful songbirds.
The southern end of Garan Wood affords inspiring views across to Holl reservoir and the wider countryside; this open area is easy to move through and provides great scope for additional planting as well as the possibility of siting of a woodland shelter.
Nearby, Leslie has a rich history: the first settlement to be established along the ridge between the River Leven to the south and the Camby Burn to the north was called Fettykill. The origins of the name Leslie start with one Bartolf, a Flemish or Hungarian trader who arrived in Scotland as part of the entourage of Queen Margaret in 1057. In 1283, Bartholemew's descendant, Norman de Leslie, was granted land around Fettykill in Fife by King Alexander III. The settlement grew under the name, Fettykill, until 1455 when it was renamed Leslie after the then laird, Sir George Leslie.
Surrounding Area:
The surrounding larger woodland is called Bridle Bank and Garan Wood enjoys views out of here to the north, across to the distant Lomond Hills, or the 'Paps of Fife' as they are commonly known: this hilly area will entertain the mountain biker and walker alike. The surrounding area east of Loch Leven, is easily within reach, via the M90, of Edinburgh to the south and Perth and Dundee to the north. The Lomond Hills have a rich and varied history: from the Iron Age are the remains of several hill forts that can be found around the summits of both East and West Lomond, as well as at Maiden Castle, a grassy knoll that lies between the two.
Bridle Bank sits next to Holl reservoir, one of several in the area and it is from here one can take an alternative route up Bishop Hill. The route starts from the car park at Holl Reservoir and winds its way up through farmland and forestry plantings to emerge on the grassy open hilltop. This is a perfect place for a leisurely picnic while enjoying the wonderful views of Loch Leven with its islands and castle far below. Holl Meadow is one of Fife's finest; more than 100 kinds of plant grow in the grassland beside the reservoir and it is just a short walk from Bridle Bank.
The purchasers of the woodland will be asked to enter into a covenant to ensure the quiet and peaceful enjoyment of adjoining woodlands and meadows.
There is a growing interest in hut, bothy and temporary shelter building, especially in Scotland; for those interested in erecting a hut or shelter, here is some interesting and very helpful guidance from Reforesting Scotland's Thousand Hut Campaign. Your Local Planning Authority should also be consulted.