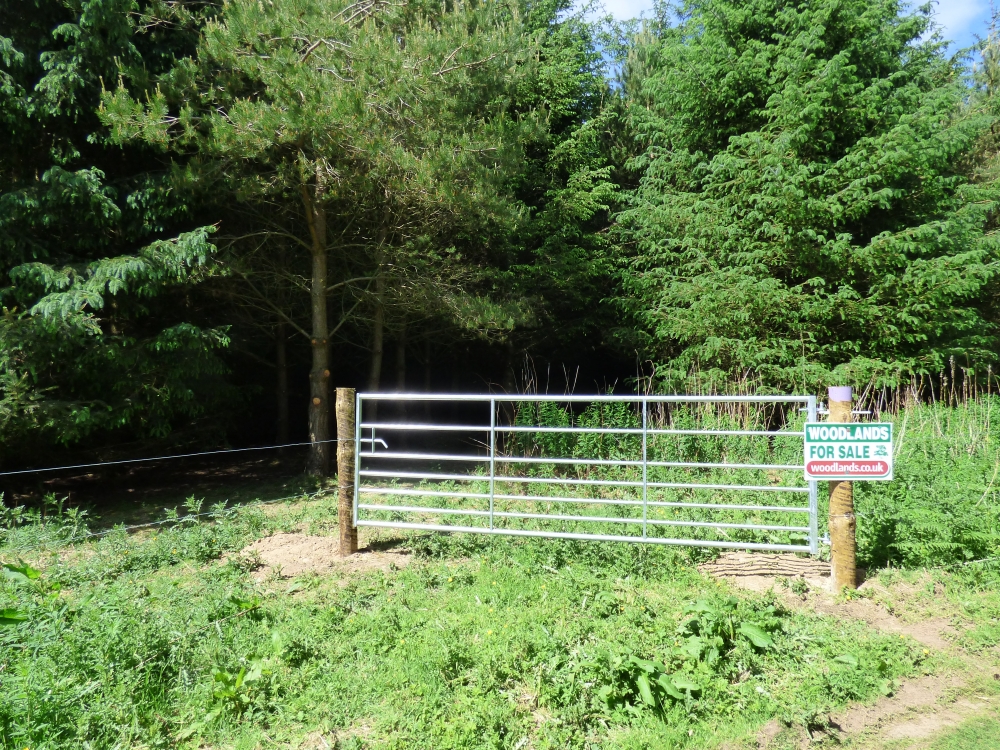 Approaching Lairshill from the direction of Aberdeen, the landscape passes swiftly from the urban city to quiet rolling countryside. These woods are conveniently located if you are looking for either a bolt-hole away from the pressures of city life or a woodland to tend, manage and improve.
Rensina Wood is an attractive young coniferous woodland planted in 1999, whose appearance is improving year on year as the trees have entered a strong growing period: at about 6 acres it is perfect for someone wanting to make a first foray into woodland ownership. The main body of spruce conifer is of a manageable size and will profit from sensitive and selective thinning over the next few years. The standing timber will provide ample wood fuel for domestic heating, as well as material for more creativity or crafting.
A number of paths have been opened up throughout the wood allowing ease of access and this network of paths could be easily expanded to enlarge the existing glade areas. The increased light levels reaching the floor would soon encourage an increase in biodiversity as first the flora would develop, followed by the insects that would seek the nectar and pollen of the wild flowers. To add to the variety of the wood, the northern boundary has some fine young birch, oak and hazel sandwiched between the sixteen year old spruce and a majestic avenue of beech trees. This variety of species and ages is the perfect habitat for red squirrels, jays, finches, cuckoos and the occasional soaring buzzard.
The main body of the wood consists of spruce conifers providing a very secluded setting and a valuable habitat for red squirrels. Rensina Wood is in a region of Scotland that is on the frontline of action to save this iconic native species. Click here for more information www.woodlands.co.uk/blog/flora-and-fauna/red-squirrels-in-scotland/ . Larger animals such as red fox and deer have been spotted here too.
The woods at Lairshill are proving popular for young and old alike and will be an inspiration for someone looking for their next project.
Access: Access is off the minor public road and along a private hard grassy track with full rights of way.
Sporting rights: Are included.
Surrounding area: The villages of Newmachar and Hatton of Fintray are nearby, as is the Kirkhill Forest and Formartine and Buchan Way cycling/walking routes. Aberdeen is Scotland's third largest city profiting from a booming oil industry with property being very sought after. To the west is the fertile and attractive region of Deeside and beyond are the eastern fringes of the Cairngorm National Park. To the north is the world famous whisky producing area of Speyside, whilst the north east coastline provides atmospheric empty beaches and historic fishing villages such as Balmedie and Newburgh.
The purchasers of the woodland will be asked to enter into a covenant to ensure the quiet and peaceful enjoyment of adjoining woodlands and meadows.
There is a growing interest in hut, bothy and temporary shelter building, especially in Scotland; for those interested in erecting a hut or shelter, here is some interesting and very helpful guidance from Reforesting Scotland's Thousand Hut Campaign. Your Local Planning Authority should also be consulted.