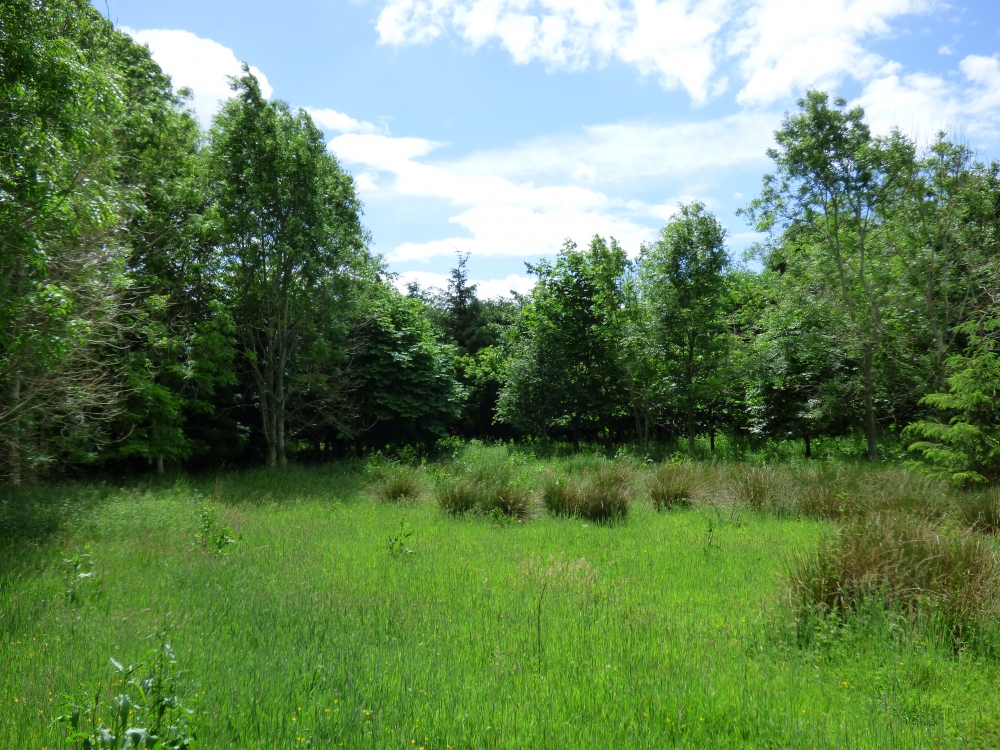 Skyla Wood is an enchanting woodland benefitting from being surrounded by the additional seventy acres of broadleaf forest. Although set well into the larger forest, access to Skyla Wood is excellent as the internal track has recently been re-surfaced with locally quarried stone and is suitable for all types of vehicle, with a strengthened area for space to turn or stack timber, just inside the wood.
The area was perviously arable land and the entire woodland has benefited from the fertile soils and from the intelligent planting from the outset, setting up a rich and diverse ecosystem of flora and fauna alike. All species are growing well, including ash, oak, cherry, alder, hazel, sycamore, chestnut, hawthorn and blackthorn to name just a few. Some of these will provide fruits for the foraging birds come the Autumn. A large stand of ash that has shown exceptional growth, would be ripe for some thinning, providing an instant supply of domestic firewood. Ash is one of the toughest hardwoods and as it absorbs shock well, it has often been used for tool handles. It coppices well and would have traditionally provided timber for firewood and charcoal; it is one of the few woods that can be burnt green, though like all firewoods, will improve with seasoning. Wildlife has established itself well, within the woods too, with deer creating tracks and a varied bird population, such as the elusive jay or the wheeling and mewing buzzard seen often.
A short distance into the wood from the ride stop, a bench has been installed and looks out on to a beautiful and tranquil glade. This area could be utilised for the siting of a hut or perhaps the creation a wildlife pond that would prove to be a magnet for wildlife watching.
At nearly 3 ½ acres, this is a very manageable yet productive size, especially for those looking to shape a younger woodland for the future or those new to woodland ownership. It will appeal to young and old alike providing the perfect backdrop for inter-generational experiences. The woods at Balmule are understandably popular, early viewing is recommended.
Surrounding area:
Skyla Wood is located within 15 minutes from Dunfermline, which up until the 17th Century was the royal capital of Scotland and centrally located for Glasgow, Edinburgh and Stirling. Fife, bounded to the north by the Firth of Tay, and to the south by the Firth of Forth, is a natural peninsula where political boundaries have changed little over the ages. Legend has it that the Pictish realm was divided into seven sub-kingdoms or provinces, one of which went on to become Fife.
To the north beyond the hill and woods is Commerce Park, an old WW2 supply depot for the naval bases at Rosyth, now converted mainly for use by local business and also home to Scotland's Vintage Bus Museum.
The purchasers of the woodland will be asked to enter into a covenant to ensure the quiet and peaceful enjoyment of adjoining woodlands and meadows.
There is a growing interest in hut, bothy and temporary shelter building, especially in Scotland; for those interested in erecting a hut or shelter, here is some interesting and very helpful guidance from Reforesting Scotland's Thousand Hut Campaign. Your Local Planning Authority should also be consulted.