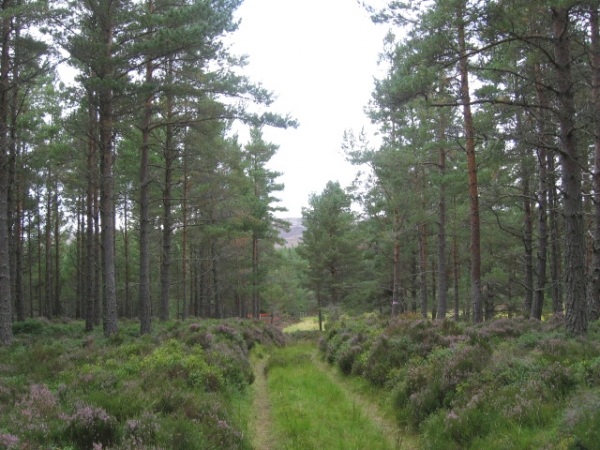 Description: Stuirt Wood is beautiful; a bright, spacious and colourful woodland of Scots pine with purple-flowering heather and blaeberry below. The Scots pine were planted in 1962 on the previous Caledonian forest, which qualifies the wood as a plantation on ancient woodland site (PAWS). The pine has been carefully and sensitively thinned since then and is now a beautiful wood with a fantastic character and future.
A few of the original Caledonian forest Scots pine remain with some self seeded birch trees. Lighter open areas have been created by the thinning lines at right angles to the main track. This healthy mixture of shade and light and the acidic soils, have ensured that the pine and extensive ground flora have flourished: in turn, the many rare and protected wildlife species that depend on the fruits of the fauna have prospered too. These include Scottish crossbill, capercaille, crested tit and mammals including the red squirrel.
There is scope for introducing small-scale improvements to the woodland structure and vegetation through planting patches of native upland broadleaves and conifers, such as birch, rowan, larch and spruce, and creating more ground cover. The regional RSPB can offer advice and help with planning and managing woodlands as habitats for the key species.
Internal access is off the main shared forest track along the north eastern boundary. A minor track (visible on the google aerial and detailed wood maps) leads to a small secluded glade (clearing) in the heart of the wood.
Access: There is a full right of access over the shared private woodland track along the north eastern boundary as shown in green on the detailed map, with maintenance according to use.
Sporting Rights: These are owned and included with the land.
Surrounding area: Stuirt Wood is part of Baddengorm Wood and is situated close to the attractive highland village of Carrbridge in the Cairngorm National Park, which is well known for its mountain ranges, outdoor pursuits and diverse native wildlife. Ancient Caledonian Pine Woodland sites are nearby to the north and to the south at the popular Rothiemurchus estate. Aviemore, the Spey river and Speyside way are all within 10 miles. The city of Inverness is about 30 minutes to the north.
The purchasers of the woodland will be asked to enter into a covenant to ensure the quiet and peaceful enjoyment of adjoining woodlands and meadows.
There is a growing interest in hut, bothy and temporary shelter building, especially in Scotland; for those interested in erecting a hut or shelter, here is some interesting and very helpful guidance from Reforesting Scotland's Thousand Hut Campaign. Your Local Planning Authority should also be consulted.