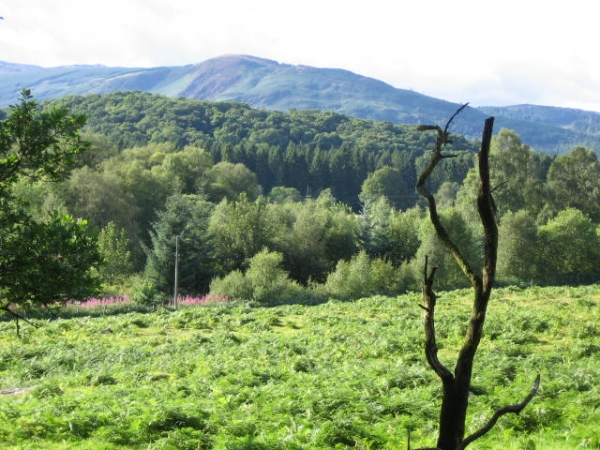 Wester Duchalton is a wonderful area of woodland with maturing oaks and other broadleaf trees including hazel, ash, birch and some grand old beech. There are clearings for peaceful and occasional private camping and areas of younger tree plantings from 1989 which have mostly established well.
The ground flora is dominated by bluebell and bracken, honeysuckle and greater stichwort are frequent, with runs of Dog's Mercury . Lots of other native flowers including wood-sorrel, wood anemone and primrose proliferate. This ground flora is indicative of an ancient woodland site and will act as a magnet for a variety of insects and animals.Over the years pinemartin, badgers, red squirrels as well as the ubiquitous fox and roe deer, voles, tawny owl, nuthatch etc have visited the woods. There are westerly views over the neighbouring Highland hills and forests from the northern boundary.
The predominate trees are the grand maturing oaks and the understory of hazel coppice, an essential product in bygone years that will be of interest to those wanting to re-establish a coppice tradition. Hazel has a multitude of uses, from hurdles to hedging stakes and would have been essential material for the local charcoal burners. Oak trees have a tendency to drop the weaker branches over time and have provided a handy supply of firewood for whoever buys this wood.
It is unusual to get a mature oak woodland on the market in Scotland, especially in such an attractive location, early viewing is recommended.
Access: Access is via a hard stone private track leading off the A81 over which there is a legal all-purpose vehicular right of access, shown green on the plans. The track runs along the southern boundary of Wester Duchalton wood. There is one entrance point approximately 20m in from the south-west corner of the woodland.
Sporting Rights: are included.
Mineral Rights: These are owned and included with the land except where reserved by statute.
Surrounding area:
Visitors were first attracted to Aberfoyle and the surrounding area after the publication of The Lady of the Lake by Sir Walter Scott in 1810. The poem described the beauty of Loch Katrine. Aberfoyle describes itself as The Gateway to the Trossachs, and is well situated for visitors to access attractions such as Loch Lomond and Inchmahome Priory at the Lake of Menteith.
Nearby and also within Loch Lomond and The Trossachs National Park, are the Queen Elizabeth Forest Parks around Aberfoyle and the picturesque villages of Gartmore, Drymen, Balmaha and Callander.
These woods are very accessible to Glasgow and Stirling and are well worth a trip out to view.
There is a growing interest in hut, bothy and temporary shelter building, especially in Scotland; for those interested in erecting a hut or shelter, here is some interesting and very helpful guidance from Reforesting Scotland's Thousand Hut Campaign. Your Local Planning Authority should also be consulted.