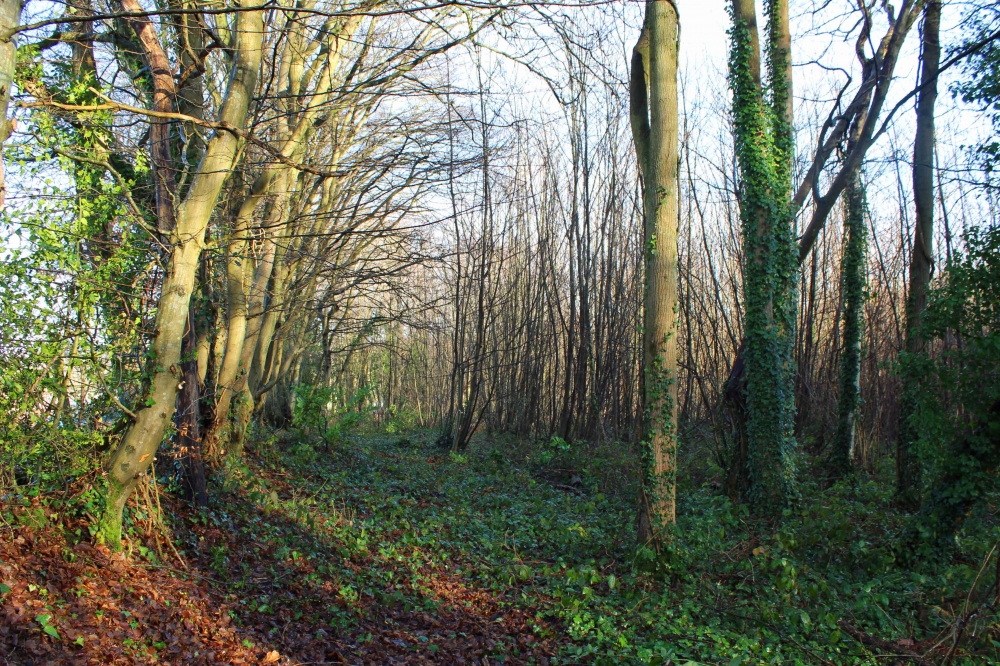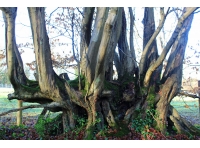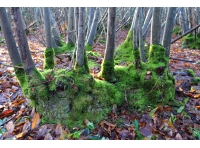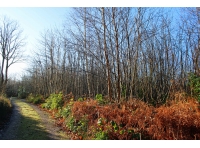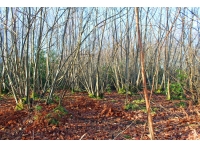 Chute Wood is accessed along a quiet country lane not far from Bexhill and is mainly comprised of chestnut coppice. From the ride stop entrance into the wood an internal private track leading west allows you to walk easily into the wood. In the flat area to the south of this track you will find mostly chestnut coppice with an estimated 5 – 8 years regrowth. Further coppicing, both now and in the future, would be of benefit to the woodland, and would provide the owner with a continuous supply of fuel for a wood burning boiler, or alternatively very rot-free stakes and fence rails and posts. Amongst the chestnut coppice there is a clearing and a seat where you can take a moment to sit and enjoy the tranquillity of this peaceful and very private wood. This area could also provide a suitable space for some family camping.
To the north of the internal track the wood slopes downward where you will find more chestnut coppice, as well as some more mature chestnut, aspen, mature oak, birch, holly and occasional rhododendron. It is suggested that the rhododendron in the understory could be cleared to allow more light to the forest floor to encourage wild flowers to grow – grants may be available to assist with this. The section of fenced boundary on the west side includes some magnificent ancient hornbeams. There is a small section of pond on the northern area of Chute Wood (the larger part of the pond lies beyond the boundary in the neighbour's land). Ducks have chosen to nest here, and buzzards have also been spotted circling over Chute Wood.
From the main entrance gates a good all weather stoned track, suitable for most family vehicles, leads along the east boundary of the wood to the ride stop – where an owner can drive into his wood (weather permitting). Chute Wood is a part of Park Wood and has no public access or public footpaths.
Natural England designate Chute Wood as part of an Ancient Semi-Natural Woodland (ASNW) which means they are woods that have developed naturally and have been in existence since 1600AD.
Chute Wood is a part of Park Wood, for which we have two useful studies by professionals. The Management Plan has been written by a qualified and experienced forestry professional to indicate a way in which Park Wood as a whole might be managed. but only you can know what you want to achieve and what your resources are. The Management Plan is not mandatory, but it is full of good advice, and a lot of background information which will certainly be interesting and useful We are fortunate to also have a report from our Professional Adviser Prof. Julian Evans, author of "Getting Started in a Wood of your Own".
Chute Wood is within easy reach of the sea, being only about 3 ½ miles to the beaches at Bexhill. Amongst the many attractions in Bexhill is the De la Warr Pavilion a recently renovated art-deco building, and well worth a visit.

The owner of Chute Wood will have vehicle rights of way along the tracks on the map marked in green.
The purchasers of the woodland will be asked to enter into a covenant to ensure the quiet and peaceful enjoyment of adjoining woodlands and meadows.