Fairbourne Wood, Kent - Almost 7 acres, £79,000
Oak is evenly spaced throughout Fairbourne Wood, with these are brightly silvered birch, chestnut as both coppice and standard, greeny-grey barked young ash and friend of woodlands, the hazel.
There are small wilderness areas where trees from the '87 storm still lie on the ground, with some that continue to grow, being considered, by many,to be a conservation asset. The RSPB's flagship reserve at Minsmere has large areas of trees blown in '87, retained for their habitat value. One of the delights of woodlands are the changes emerging with each new season, butterflies up in the canopy in June/July following the widespread display of bluebells in spring merging with the fine colony of early purple orchid. It's worth a click on this link to read more about this orchid.
There is evidence of Iron Age activities with the Hill Fort further over to the east. No doubt residents of the fort would have foraged over this wood, perhaps wild food for them, fodder for their animals, wood for their fires and buildings? This area seems to be the boundary of two tribes, the Regneses and the Cantiaci. Perhaps they didn't get on so one of them needed a Hill Fort.
Access is from the old A21, now a private road and via a long forest track, an evocative and picturesque approach to the wood. A new owner will have keys to the gates enabling vehicles to access their wood.
The purchasers of the woodland will be asked to enter into a covenant to ensure the quiet and peaceful enjoyment of adjoining woodlands and meadows.
Price: £79,000 Freehold
Location: Castlehill, Tonbridge, Kent
Size: Almost 7 acres for sale
Boundaries:
Are shown by mauve markings on free-standing posts, fences and on boundary-side trees. They are: to the north the track edge and then a bank with ditch; south is an old fence, east there are posts and to the west is another bank and ditch.
Local manager
Richard Scholfield
07811 818 277
richard@woodlands.co.uk

Read more about Richard.
How to find this woodland
You are welcome to visit this wood by yourself, but please ensure that you have a copy of these sales details with you - many of our woodlands do not have mobile phone reception or internet access so we recommend either printing the details or downloading them to your phone/tablet/laptop.
Do remember to also check that it is still available for sale. If you have seen the woodland and wish to be accompanied on a second more detailed visit please contact our local manager.
Location
OS Landranger: OS No 188
Grid ref: TQ 599 436
Nearest post code: TN11 0QG
Maps
See our map of the area below.
See our detailed map below.
Directions
Fairbourne Wood, at Castlehill, is about 4 miles north of Tunbridge Wells centre and about 3 mles south of Tonbridge.
The new dual carriageway, the A21, is not shown on most maps so using satnav might be difficult.
It is shown here on OS national grid; for the entrance and parking while viewing CLICK HERE
If heading south then take the exit off the A21 signed
"Capel,Kent College,Old Church,Pembury Walks"
follow the road and then turn right under the dual carriageway
on emerging go right, signed Castlehill
pass cottages on the left and arrive at the metal gate. This is normally locked but please phone 07811 818277 for the combination number. If not, park near here and continue on foot.
by car continue until seeing the second metal gate on the left, it has a 'For Sale' sign on it. Park to one side
there is room to squeeze past the gate on the left, if not hop over the gate.
walk down the track, its over ½ mile!
Fairbourne Wood is ahead and to the right, there is a name sign and For Sale sign on the ridestop.
For Satnav: the nearest postcode is TN11 0QG for Castelhill Farm.
Boundaries:
Are shown by mauve markings on free-standing posts, fences and on boundary-side trees. They are: to the north the track edge and then a bank with ditch; south is an old fence, east there are posts and to the west is another bank and ditch.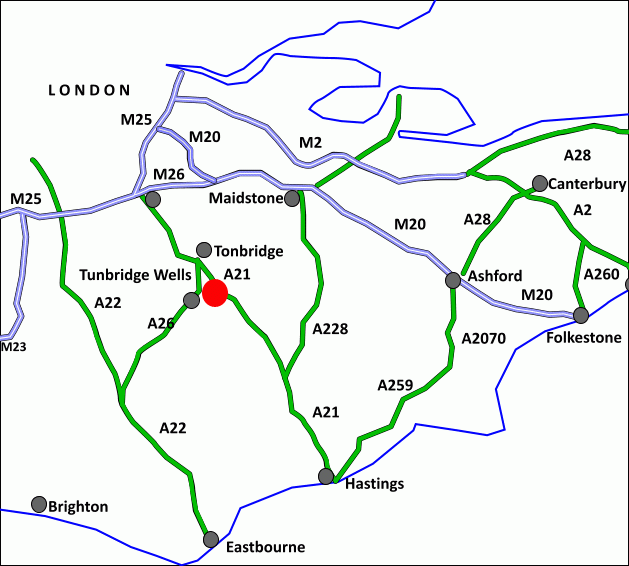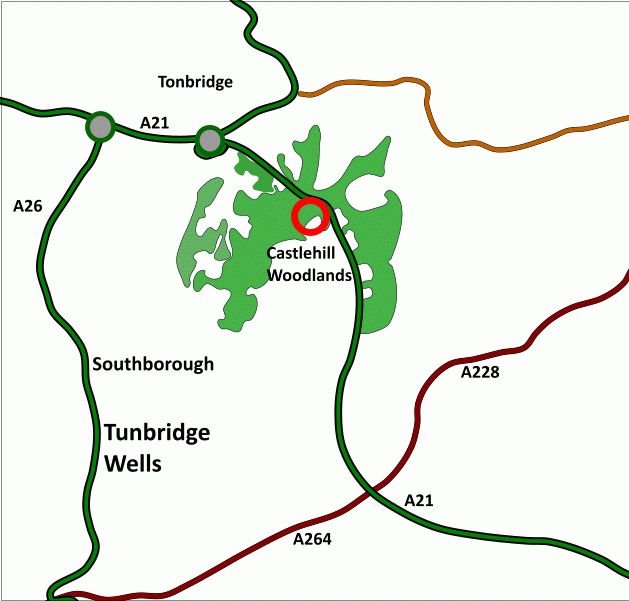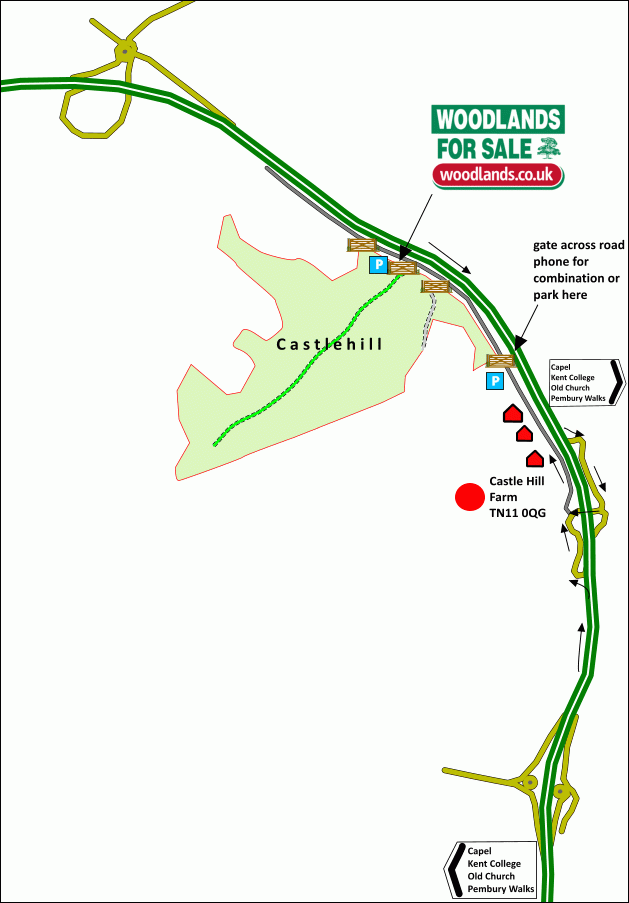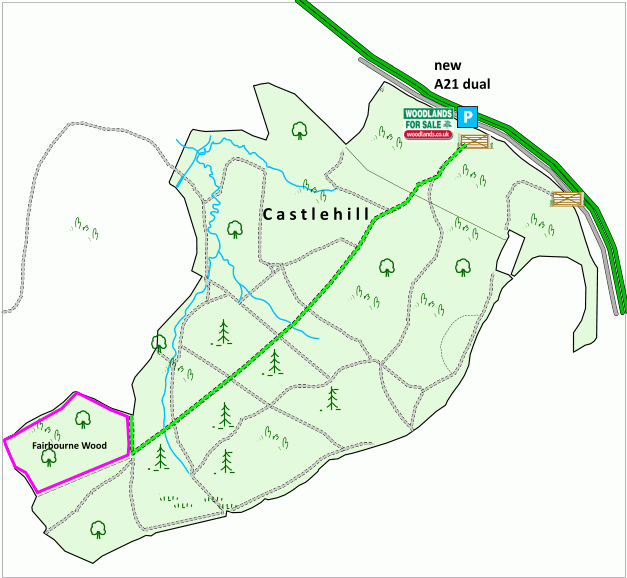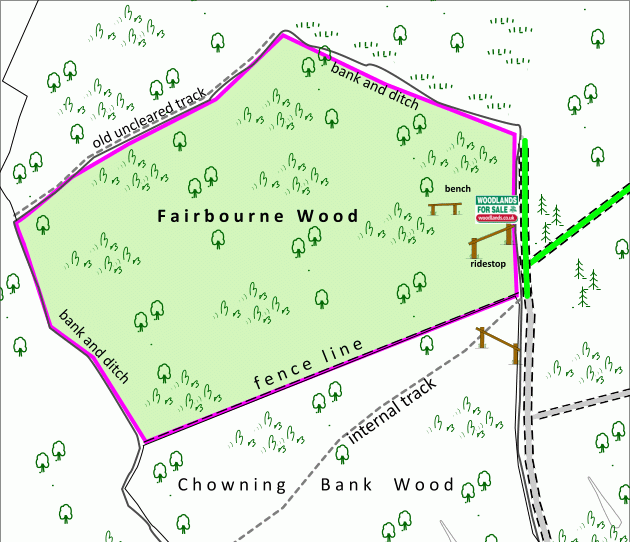 Email updates for this region
Our regional managers are often out working in our woodlands, so if you email an offer and want to be sure it has been received, please phone our manager on his or her mobile phone. The first offer at the stated price which is accepted, whether by phone or email, has priority.
Please take care when viewing as the great outdoors can contain unexpected hazards and woodlands are no exception. You should exercise common sense and caution, such as wearing appropriate footwear and avoiding visiting during high winds.
All woodlands are sold at a fixed price, and include free membership of the Small Woodland Owners Group and the Royal Forestry Society, as well as £300 towards paying for a course (or courses) to help with managing and enjoying your woodland.
These particulars are for guidance only and, though believed to be correct, do not form part of any contract. Woodland Investment Management Ltd hereby give notice under section 21 of the Estate Agents Act 1979 of their interest in the land being sold.