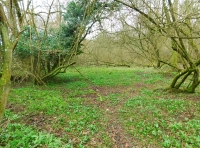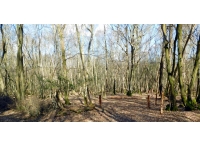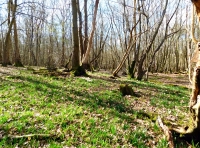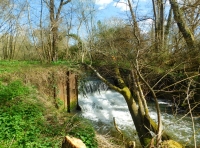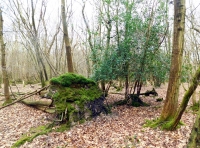 What an intriguing wood Maypole Wood is. Almost a kilometre from the road, and worth the walk (- the owner will be able to drive this!). There has been woodland here for many hundreds of years, and it does give you the feeling of antiquity.
With several old and venerable trees its northern boundary lies on the edge of a disused 18th century canal, which connected with the River Ouse nearby. A rather interesting feature is a small section of the wood that has an old water spillway creek going through it. (Be aware that the spillway and creek can be very deep and fast flowing). Just by this spillway can be found the silted up remains of an old millpond, which along with the canal bank, has now been populated by wild garlic. Immediately outside the north east corner boundary of Maypole Wood is the disused 'Bacon Wish Lock', now silted up, which once enabled boats to re-join the river from the canal.
Maypole Wood has a wide range of broadleaf cover, mainly oak, birch, ash, hazel, hornbeam, alder and chestnut. In addition you may find a crab apple and a few holly trees, which show signs of grazing by deer. You might be surprised to see dry, dead chestnut both lying and still standing. This is partly as a result of the chestnut coppice having been affected by phytophthora. (See note below)
There is a large parking area for owners, by Maypole Wood, just off the main track. This then leads onto a short track which goes down a short but quite steep hill (usable in dry conditions with 4WD vehicle) and then into Maypole Wood. The wood gently slopes north east, gently down to the canal side. In places there are some quite boggy areas, but across much of the forest floor the land stays reasonably dry.
Although this is usually a very quiet wood, the shrill screech of the hunting buzzard pierces the calm from time to time. As well as Buzzards, Sparrow Hawks, Kestrels and Tawny Owls have been seen in Wapsbourne Wood.
Maypole Wood is within the heart of Wapsbourne Wood, an estate that has been wooded since medieval times, and perhaps for longer. The whole area is designated as Ancient Woodland and is close to the border between West Sussex and East Sussex. Owning a wood here would provide a great base for exploring the area, particularly as access to the Sussex Ouse Valley Way walk is nearby. This is a walk of some 40 miles in total length, giving access to many areas of interest and natural beauty in Sussex. Just beyond the River Ouse is the Bluebell Railway terminus at Sheffield Park, with connections to East Grinstead and the mainline, and just beyond that is Sheffield Park Gardens.
The owner of Maypole Wood will have vehicle rights of way along the portion of the stoned track marked on the plan in green.
Note: For well over a hundred years, chestnut was much in demand for fencing and for hop poles. The poles were cut back to ground level in a regular cycle, and grew back again. In recent years, because of lack of demand, some of the oldest stools have not been cut for a long time. They went on growing taller and wider. The roots of these were unable to cope with providing water and nutrients for such a high and spreading crown, and succumbed to a common chestnut disease called phytophthora. They died and are now ready to provide a good supply of well-seasoned wood for your own wood-burning stove. We have been told by experts that this strain of phytophthora is unlikely to spread to any other varieties of tree in the wood, or to trees that are coppiced regularly.
The purchasers of the woodland will be asked to enter into a covenant to ensure the quiet and peaceful enjoyment of adjoining woodlands and meadows.