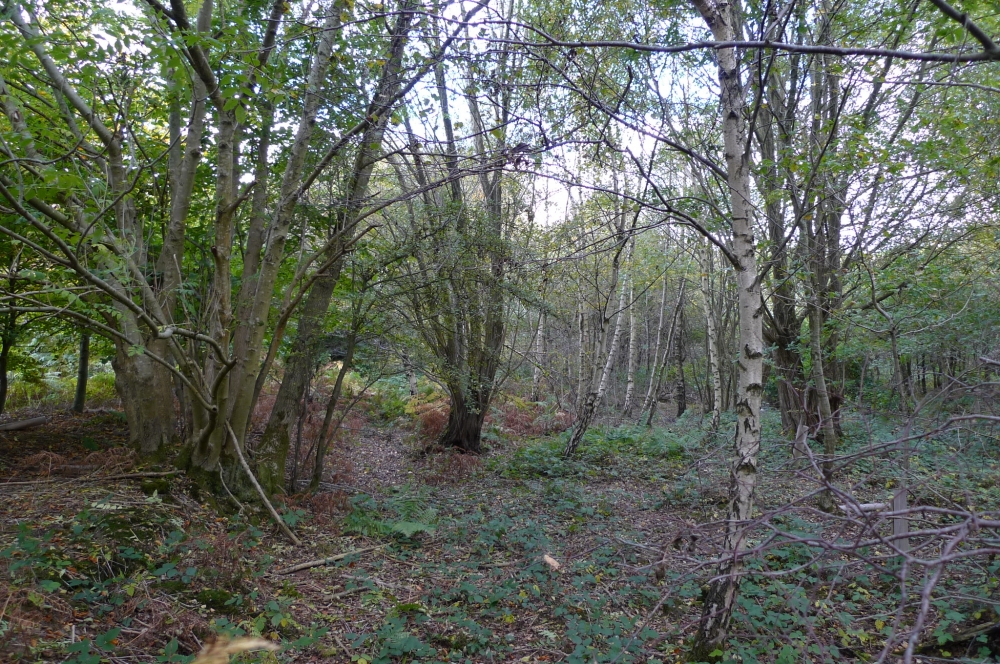 Mortar Wood is a mix of a young oak plantation, open areas of heather and bracken and natural regrowth of birch. This represents a good combination of habitats for a wide range of birdlife, mammals and reptiles. Bluebells make their dramatic appearance in spring.
Soils are relativily thin over sandstone: dig a little and the brown of the stone becomes apparent. The great advantage is the ground is free-draining, warms up quickly in spring and can be worked in winter. And there's a ready supply of stone for track making.
There is a public foot path inside the western boundary, along the line of the overhead electricity cables. Mature trees, including beech, birch, hazel, alder and oak, to the west of this line would be a perfect supply of firewood.
Much of Limekiln Forest has until the 1960s been heathland and here there are remnants of heather competing with the bracken and silver birch. It's well worth keeping the heather in its open-ground, it's a nationally important habitat and helps keep Mortar Wood a diverse and pretty woodland. Richard Jeffries 19th century nature writer enthused about the landscape around Crowborough at which time the town was a popular place for the wealthy. Croh in Old English meant saffron or golden-yellow colour, and berg meant hill. Gorse grows in profusion in the Crowborough Beacon area, and its yellow flowers might well have contributed to the meaning and derivation of Crowborough. The fine landscape here is a natural contribution to the High Weald AONB area of outstanding natural beauty.
Access the route though Limekiln is a public highway although it is shut off to motorised traffic except for those using it for access to their land. A private right of way leads from this route to Mortar Wood.
The purchasers of the woodland will be asked to enter into a covenant to ensure the quiet and peaceful enjoyment of adjoining woodlands and meadows.