Outer Saunders Wood, Kent - 7 ½ acres, £65,000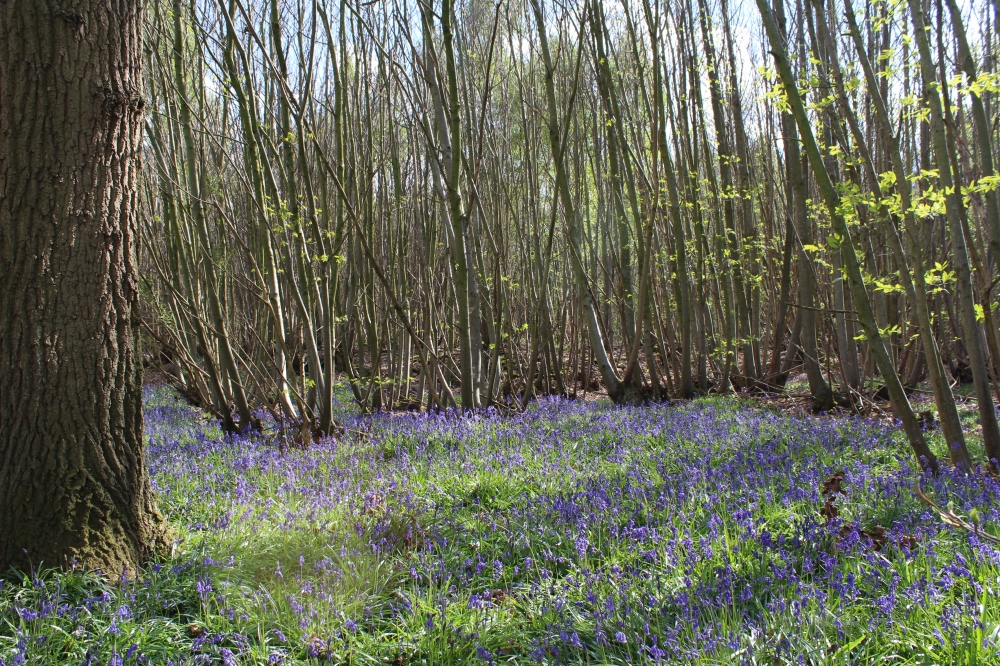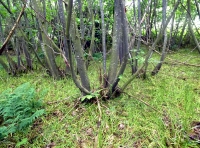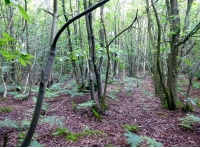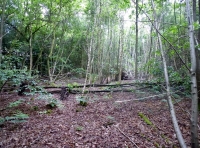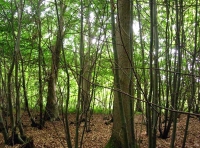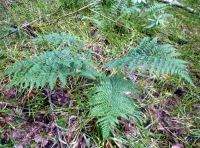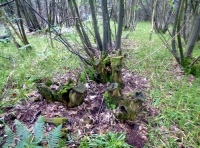 Outer Saunders Wood is part of Brewers Wood, and lies in the High Weald AONB (Area of Outstanding Natural Beauty) with an old wood bank along most of its field boundary.
This curiously shaped wood encloses the far corner of Brewers Wood. Consequently it has a lot of field edge, and therefore plenty of daylight, as well as a lovely outlook. It is Ancient Semi-natural Woodland, mainly sweet chestnut coppice at various stages of the coppicing cycle, interspersed especially on the west side with oaks, and a scattering of birch, rowan and holly. If an owner simply continued to cut the coppice stools, a little at a time, they could have a continuous supply of firewood for their wood-burning stove at home. This would also be the best way to encourage biodiversity, letting patchy sunlight into the woodland and bringing even more wildlife into the wood. Find the seat in the clearing on the west side, and have a rest after your walk down the long track.
There is a useful report on Brewers Wood as a result of a visit to the woods by our Professional Advisor Prof.Julian Evans.
The owner of Outer Saunders Wood will have vehicle rights of way along the tracks on the map marked in green, and there is a convenient place for owners to park at the end of the stoned section of track, quite near Outer Saunders Wood.
.
The purchasers of the woodland will be asked to enter into a covenant to ensure the quiet and peaceful enjoyment of adjoining woodlands and meadows.
Price: £65,000 Freehold
Location: Camden Hill, near Sissinghurst, Kent
Size: 7 ½ acres for sale
Boundaries:
The boundaries of the wood are indicated with Orange markings.
Local manager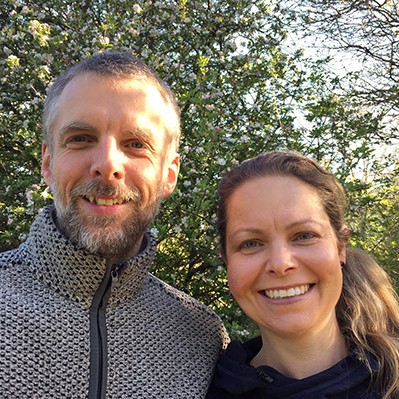 Ruth and James Feltham
07812 165081
ruthandjames@woodlands.co.uk

Read more about Ruth and James.
How to find this woodland
You are welcome to visit this wood by yourself, but please ensure that you have a copy of these sales details with you - many of our woodlands do not have mobile phone reception or internet access so we recommend either printing the details or downloading them to your phone/tablet/laptop.
Do remember to also check that it is still available for sale. If you have seen the woodland and wish to be accompanied on a second more detailed visit please contact our local manager.
Location
OS Landranger: OS No 188
Grid ref: TQ 786 396
Nearest post code: TN17 2AJ
Maps
See our map of the area below.
See our detailed map below.
Directions
• From the A21 take the A262 east, going through Goudhurst.
• At the roundabout junction of the A262, and the A 229, take theA229 going north towards Staplehurst.
• After about 1 mile you will pass a 'Murco' garage on the left.
• Then shortly after that, pass Starvenden Lane on the left.
• About 150 meters after that there is a turning left into a tarmac/concrete lane, marked as leading to "Micklewood" and "Polmood", which leads to Camden Hill Farm.
• Go up this lane and park by the metal double gates at the top. (Please do not block the entrance to the farm or houses and leave one gate clear)
• Go over the fence by the double gates and walk 160 meters along the stoned track meters and take the right fork.
• Walk 450 meters down the straight stoned track to the T-junction.
• Turn right at the junction, then almost immediately go around the wooden ride stop and turn left.(passing a stoned area for owners parking)
• Walk about 240 meters along the grassy track and you will reach Outer Saunders Wood on your right.
Note: In dry conditions the owner of Outer Saunders Wood will be able to drive along this track to the wood.
Boundaries:
The boundaries of the wood are indicated with Orange markings.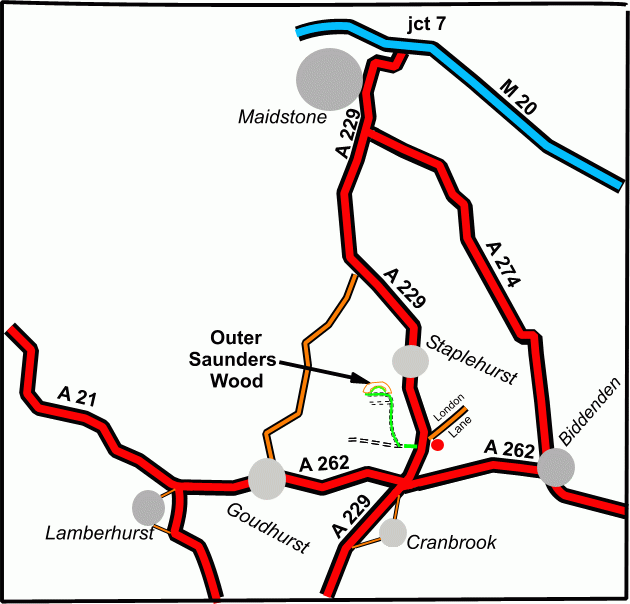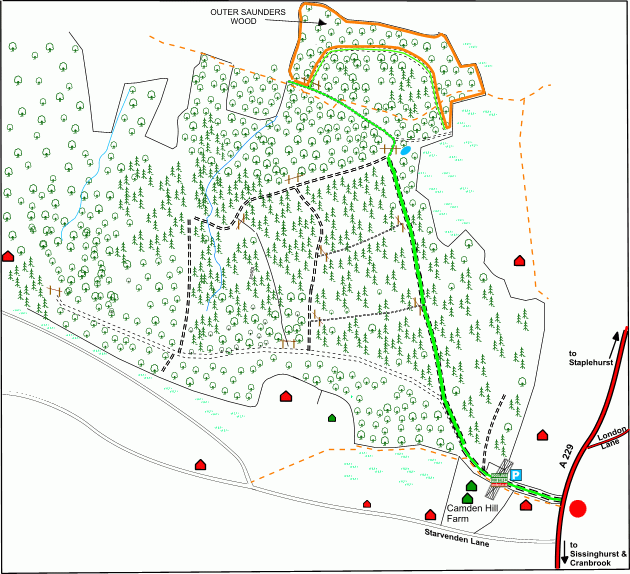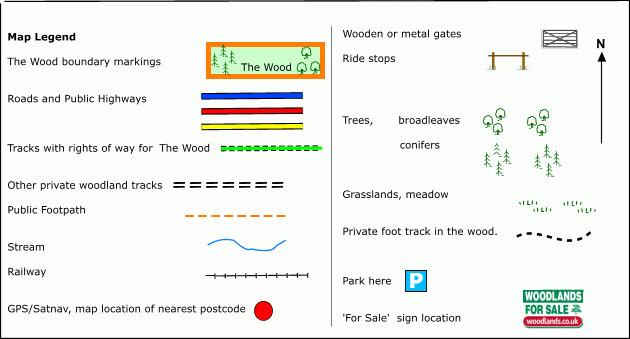 Email updates for this region
Our regional managers are often out working in our woodlands, so if you email an offer and want to be sure it has been received, please phone our manager on his or her mobile phone. The first offer at the stated price which is accepted, whether by phone or email, has priority.
Please take care when viewing as the great outdoors can contain unexpected hazards and woodlands are no exception. You should exercise common sense and caution, such as wearing appropriate footwear and avoiding visiting during high winds.
All woodlands are sold at a fixed price, and include free membership of the Small Woodland Owners Group and the Royal Forestry Society, as well as £300 towards paying for a course (or courses) to help with managing and enjoying your woodland.
These particulars are for guidance only and, though believed to be correct, do not form part of any contract. Woodland Investment Management Ltd hereby give notice under section 21 of the Estate Agents Act 1979 of their interest in the land being sold.