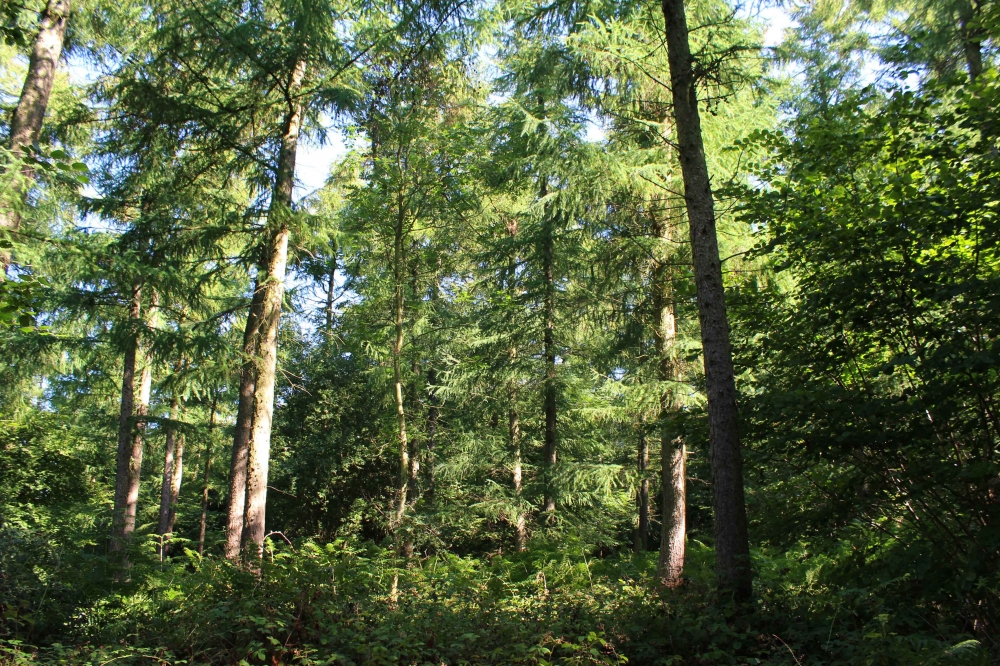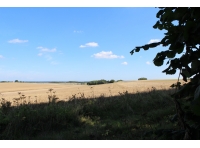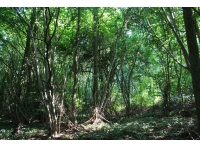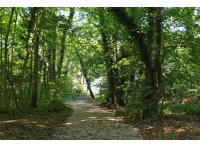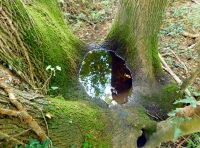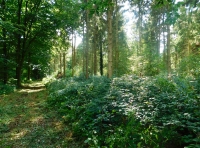 Summoner Wood is situated approximately 7 miles south east of Canterbury and is easily accessible, being less than an hour's drive from Junction 1 of the M25 or Sevenoaks. With access into Summoner Wood directly off the quiet country lane, an owner will be able to park their car within the wood. With this easy access, and a private track in the wood along its full length, Summoner Wood is very special.
The forest canopy is Japanese larch and Norway spruce, with a line of beech on the south-east side of the long internal track. The understorey of hazel, field maple, elder, birch, hornbeam and bramble helps provide a feeling of great privacy and, no doubt, encourages a diverse range of flora and fauna. Rather unusually there are a number of substantial vines (Old Man's Beard) intertwined amongst ash, hazel and wild cherry. The north and north west boundaries benefit from the light coming into the wood from the adjacent fields, and here there are great views across gently undulating farmland. In the larch area we have created a clearing with a chestnut bench. Wood bees have been found in the woods and buzzards have also been spotted circling over the woods.
Natural England designates Summoner Wood as an Ancient Replanted Woodland (PAWS).
We are fortunate to have two useful studies on Ileden Woods which were undertaken by professionals. The Management Plan has been written by a qualified and experienced forestry professional to indicate a way in which lleden Wood as a whole might be managed, but only you can know what you want to achieve and what your resources are. The Management Plan is not mandatory, but it is full of good advice, and a lot of background information which will certainly be interesting and useful. We also have a report from our professional adviser Prof. Julian Evans, author of "Getting Started in a Wood of Your Own". The report does cover the wider area of Ileden Wood and again, advice is not compulsory. Please bear in mind that not everything in either of them applies to the particular area of lleden Wood which is Summoner Wood.
In the land immediately adjacent to Summoner Wood (on the other side of the south eastern boundary) there is a Grade II listed water tower, a splendid example of Edwardian Italianate Revival style built in 1903. A small area of Summoner Wood, alongside the road, is designated a Conservation Area along with some other roadside woodland outside of the boundary, and much of nearby Adisham village.
The cathedral city of Canterbury is approximately 7 miles away and include the stunning Westgate Gardens and also offer an opportunity to do some punting on the Great Stour. For those interested in wildlife, with over 400 animals, Howletts Wild Animal Park is well worth a visit and is within a 15-minute drive.
Summoner Wood has recently been named after one of Chaucer's Canterbury Tales.
The purchasers of the woodland will be asked to enter into a covenant to ensure the quiet and peaceful enjoyment of adjoining woodlands and meadows.