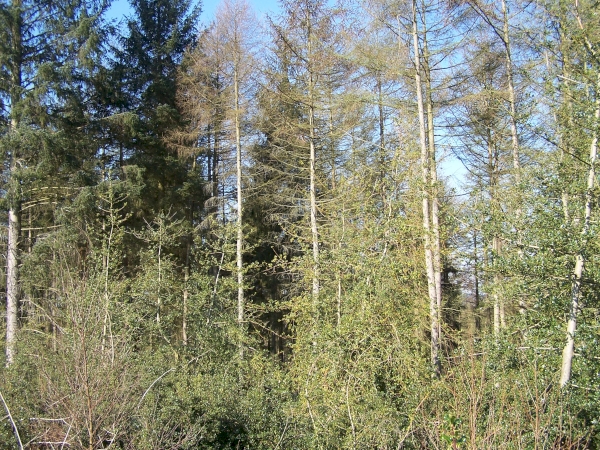 On entering Eldrigg a calm peaceful ambiance is evident. Beautiful Norway spruce reach for the sun whilst beneath their canopy a variety of woodland flowers enliven the grassy floor.
Burdock, bilberry, gorse and sorrel abound with their culinary and medicinal secrets waiting to be unlocked. Hawthorn, broom and holly complement the smaller flora giving a well balanced understorey.
A newly made pond, fed by an underground spring should naturalise nicely adding a new dimension to an already interesting woodland.
Moving into the younger plantation across the new footbridge the heady scent of blooming gorse greets you. Belying its initially dense appearance many of the glades provide pleasant suntraps amidst a mixture of young larch, spruce and silver birch.
This wood will bring a bountiful dividend in the pleasures of woodland ownership. Camping, management, conservation and nature-watching, can all be easily pursued in this environment.
Access: Is through a wooden field gate off a small country lane, then along a shared track to a ridestop leading to a turning area in the wood. Good paths give access through the trees.
Surrounding Area: Eldrigg Wood is part of a larger area of woodland which runs down to the River Tyne. The Tyne is considered to be England's best salmon river which together with sea trout runs gives the opportunity for excellent fishing. This is a quiet rural setting with many public footpaths and good walking. Nearby is Hadrian's Wall with the more challenging Hadrian's Wall Long Distance Path.
The purchasers of the woodland will be asked to enter into a covenant to ensure the quiet and peaceful enjoyment of adjoining woodlands and meadows.
There is a growing interest in hut, bothy and temporary shelter building, especially in Scotland; for those interested in erecting a hut or shelter, here is some interesting and very helpful guidance from Reforesting Scotland's Thousand Hut Campaign. Your Local Planning Authority should also be consulted.