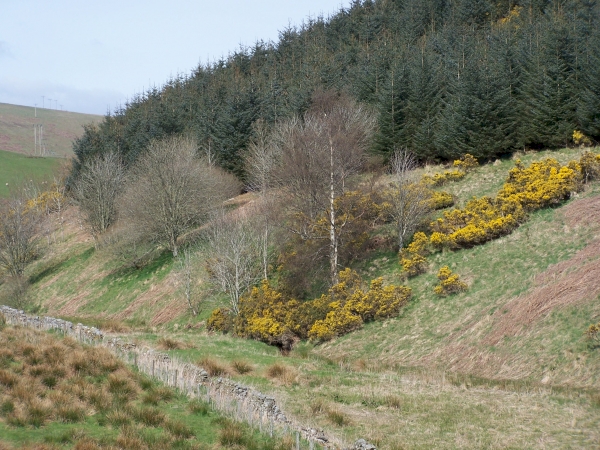 Semi-mature spruce gives shelter to secluded clearings above a small valley where the fast running Lauder burn flows year round.
There is good access along pathways and the woodland has many hidden features including gorse-fringed clearings carpeted with heather and badgers and their labyrinthine dens.
A wide variety of small birds can be heard in the tree canopy above. From the clearings wheeling buzzards can be seen, adding their plaintive mewing to the chorus.
At the edge of the wood is an open grassland area with willow, hawthorn and birch softening the evergreens. The pretty Lauder burn bubbles past, supporting a mini wetland eco system with a large variety of plant and invertebrate species.
Glenmuir Wood is a quiet, secluded place in which to pursue recreational activity, engage in conservation and woodland management or to simply relax and enjoy.
Access: is from the minor public road as shown on the detailed map through shared hard tracks into the wood.
Surrounding Area: Glenmuir Wood lies amongst attractive wooded glens and rural surroundings between the Leader and Gala river valleys, both tributaries to the River Tweed. The scenic Lammermuir Hills and Tweed Valley are further to the east and west respectively. The Royal and Ancient Burgh of Lauder is a thriving town with historical significance lying on one of the main north-south routes used since Roman times. Thirlestane Castle, dating back to the 16th century, is a visitor attraction on the outskirts of Lauder. The coast-to-coast "Southern Upland Way" walking route crosses the Lauder Burn valley about 1 mile up the road towards Lauder. Edinburgh, Galashiels, Melrose, Selkirk and Coldstream are all within a 30-45 minute drive.
The purchasers of the woodland will be asked to enter into a covenant to ensure the quiet and peaceful enjoyment of adjoining woodlands and meadows.
There is a growing interest in hut, bothy and temporary shelter building, especially in Scotland; for those interested in erecting a hut or shelter, here is some interesting and very helpful guidance from Reforesting Scotland's Thousand Hut Campaign. Your Local Planning Authority should also be consulted.