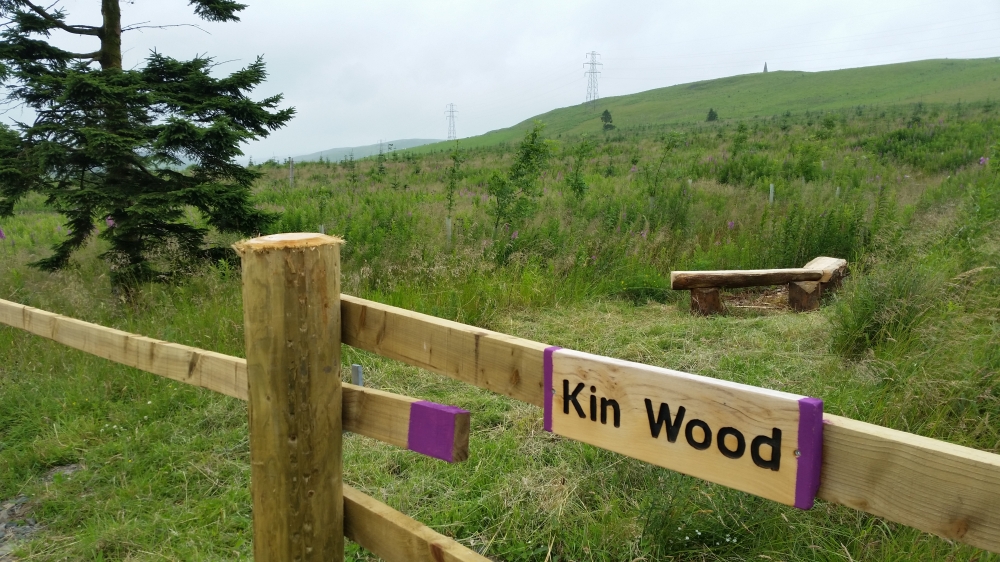 Sitting on the bright south east facing slope of a remote Borders valley, Kin Wood is blessed with stunning panoramic scenic views. This woodland is in a tranquil location, yet has good access to urban areas via the A7 and is accessed over a good track for all vehicles..
The woodland is a lovely place to sit and contemplate nature, be it the soaring buzzards, the shy roe deer or smaller inhabitants such as wrens, field cricket or cinnabar moth. A great many wild flowers are thriving in the woodland while light levels are high between the plantings and in the open area beside the track. These include birdsfoot trefoil, buttercup, forget-me-not, foxglove, purple clover, thistles and wild geranium. This abundance and diversity is the gift of the infant wood and great indicator of the flora that can thrive when sunlight can reach the ground in a woodland.
Kin Wood is a well drained plantation of mainly Sitka Spruce that was planted in 2008 and 2009. Although the trees are young, they are growing well and have broken away from the ground cover and become established. The rate of growth will now begin to accelerate as they out perform the lower ground growth. This species of spruce grows extremely quickly and, according to Forestry Commission data, should provide a high yield of timber. As the woodland quickly becomes established it will provide shelter for larger mammals such as the local deer and foxes.
With the wood emerging from its infancy, now is the perfect time to lay down its future and shape it with a personal hand. With the benefit of the established sitka for protection, new planting could be easily introduced whether it be an increased proportion of native deciduous species or native fruit trees: all further planting will enhance the diversity and future of Kin Wood. Utilising the good existing drainage, small wetlands could be created to further enhance the attraction to invertebrates, birds and flora.
Kin Wood does benefit from native broadleaf trees that were planted at the same time as the spruce and includes a mix of species such as oak ash and hawthorn. A rustic bench has been built at a well constructed parking area, alongside a stand of broadleaf trees and is a welcome place to sit and think about the huge potential of this woodland.
The surrounding countryside has a rich history that includes the Romans, the drovers and the notorious reivers; all of whom used ancient routes just a few miles to the North of Kin Wood. One of the most famous of the reivers was the 16th century Johnnie Armstrong. He would lead his band of about 160 men on raids into England until he was betrayed in 1530 by King James V and is thought to be buried close by. Kin Wood derives its name from the strong bonds that families such as the Armstrongs were founded upon.
The purchasers of the woodland will be asked to enter into a covenant to ensure the quiet and peaceful enjoyment of adjoining woodlands and meadows.
There is a growing interest in hut, bothy and temporary shelter building, especially in Scotland; for those interested in erecting a hut or shelter, here is some interesting and very helpful guidance from Reforesting Scotland's Thousand Hut Campaign. Your Local Planning Authority should also be consulted.