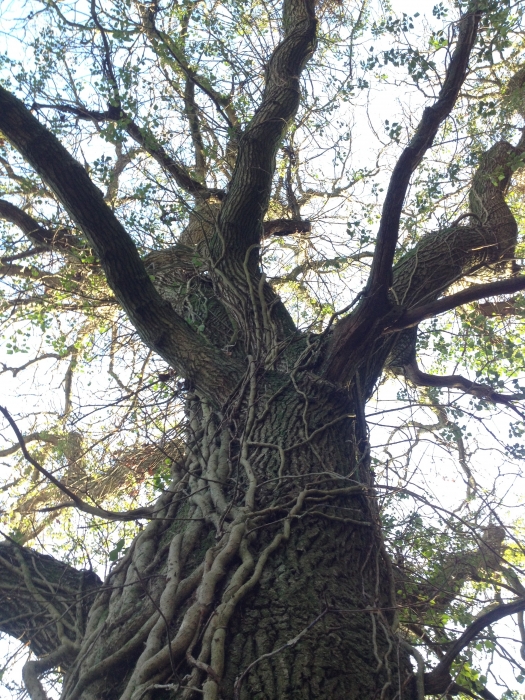 This is a very beautiful corner of Monmouthshire and the hilltop position of Big Wood (of which Badger Oak is a part) means sweeping views on its approach.
Big Wood was once part of the Cefntilla estate, located in Llandenny. Cefn Tilla Court, the 16th century house of the estate was given to the 2nd Lord Raglan, Richard Somerset as a testimonial to the services of his father Field Marshal Lord Raglan who had been Commander in Chief in the Crimean War. The house was almost entirely remodelled from 1856-1860 and is now Grade II* listed.
From the entrance gate to Big Wood, a good stone track leads to the generous parking area at the entrance to Badger Oak, plenty of room for wood stacking or forestry work as well as for a vehicle, and from here the woodland slopes away and up to the western and southern boundaries, both marked by fence lines and looking out over rolling green fields.
Underfoot throughout, the wood is thick with native bluebell, a mesmerising sight when in full bloom. There is a good mix of mature broadleaf specimens here, among them some spectacular oak and there is a lovely feeling of peaceful seclusion in the centre of the wood where the ground dips into a long dell formed by a large earth bank which curves down from the northwestern corner of the wood and peters out down towards the eastern boundary.
Within this area can be found a fascinating network of tunnels and openings which appear to form a large badger sett, perfect for some moonlit nature watching!
A small spring runs down through the wood from west to east creating some valuable damp habitat areas and the ground levels out in small areas here and there throughout, but mainly along the southern section of the wood and towards the eastern boundary which is delineated by a fairly substantial ditch lined by some majestic oaks.
Raglan, a pretty village is a couple of miles away with good supplies, pubs, post office and petrol station and a fantastic castle. It is a short drive to Abergavenny and also the Brecon Beacons National Park.
The M4 or M50, both within easy reach, make for very convenient access to the woodland.
The purchasers of the woodland will be asked to enter into a covenant to ensure the quiet and peaceful enjoyment of adjoining woodlands and meadows.