Bedwen Fach (Little Birch), Carmarthenshire - 3¾ acres, £35,000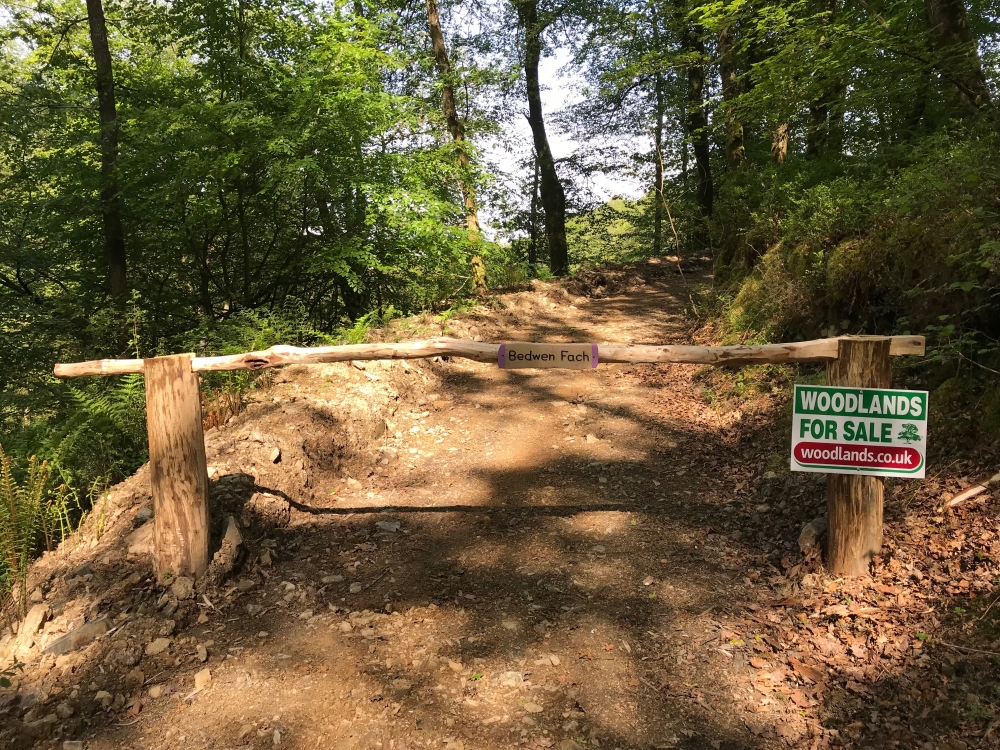 Bedwen Fach or Little Birch refers to both its size and the good proportion of elegant birch to be found in this wood. That's not to say there isn't plenty of other species present, some lovely mature ash, oak and beech line the track and approach up into Bedwen Fach and create a pretty shaded clearing where you will find a bench to sit and take in the beauty of the surroundings.
This woodland is located in Cwm Tawel, the valley of the Nant Cwm-tawel river, which was home to a reservoir supplying water to Carmarthen during the first half of the twentieth century, until it was decommissioned in the 1970s. Many remnants of this period remain scattered throughout Cwm Tawel.
Making your way in a westerly direction out of the clearing, the ground slopes upwards before sloping back down again to the southern boundary which is marked by a track. There is a more open aspect to the woodland here due to the young growth, with a good quantity of healthy young oak saplings. Bracken has sprung up in the open areas, crisp underfoot in the spring when the warm russet hues contrast with the electric lime greens of the new spring foliage above.
The birdsong here is a real treat, with good diversity of broadleaf and habitat range of tree canopy and open ground supporting all manner of insect life in turn attracting many species of bird.
Many different wildflowers grow alongside the tracks where sunlight filters through, such as celandine, forget me not and cranesbill
This is a small manageable woodland with great potential for camping and other forestry activities, within easy reach of Carmarthen which has all amenities as well as good rail and bus connections and direct access to the M4.
The purchasers of the woodland will be asked to enter into a covenant to ensure the quiet and peaceful enjoyment of adjoining woodlands and meadows.
Price: £35,000 Freehold
Location: Cynwyl Elfed, Carmarthen, Carmarthenshire
Size: 3¾ acres for sale
Boundaries:
The boundaries of Bedwen Fach are marked in mauve paint on wooden marker stakes and trees.
Local manager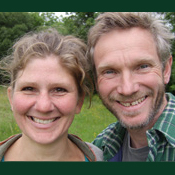 Tamsin and Matt Brown
07950 379533 or 07956 256101
tamsinandmatt@woodlands.co.uk

Read more about Tamsin and Matt.
How to find this woodland
You are welcome to visit this wood by yourself, but please ensure that you have a copy of these sales details with you - many of our woodlands do not have mobile phone reception or internet access so we recommend either printing the details or downloading them to your phone/tablet/laptop.
Do remember to also check that it is still available for sale. If you have seen the woodland and wish to be accompanied on a second more detailed visit please contact our local manager.
Location
OS Landranger: OS No 145
Grid ref: SN 382 255
Nearest post code: SA33 6TP
Maps
See our map of the area below.
See our detailed map below.
Directions
From Carmarthen take the A484 north for approximately 5 miles towards Cynwyl Elfed.
After passing Carmarthen Demolition yard (known locally as Barretts) with railway sleepers on the left, look out for the Rock and Fountain Inn (a white building) on the left and a small waney-edge timber clad shed just beyond, with a Woodlands for Sale sign on it, and the entrance gate is immediately between the two on the left.
Turn in carefully and enter the code into the gate lock and wait for the gate to open automatically. It will also close again automatically. (Please contact local manager before your visit for the code).
After a short distance you will come to a locked gate. Please park here, without blocking the gate, and continue on foot.
Follow the track straight ahead and up the hill (passing a gate on the left hand side of the track-ignore this) until the track bends to the left and you come to a third unlocked gate with a woodland for sale sign on it. (On your right here, you will see a yellow public footpath marker indicating where the public footpath heads west, along the north bank of the Afon Nant Cwm-tawel.)
Continue through the gate and follow the track up to the RIGHT, and then take the right fork.
Continue along this track, and the entrance to Coed Bedwen Fach is a short distance up the hill on the left.
PLEASE NOTE: The postcode SA33 6TP takes you about 0.9 miles further along the A484 so look out for the entrance before being told you have reached your destination.
Boundaries:
The boundaries of Bedwen Fach are marked in mauve paint on wooden marker stakes and trees.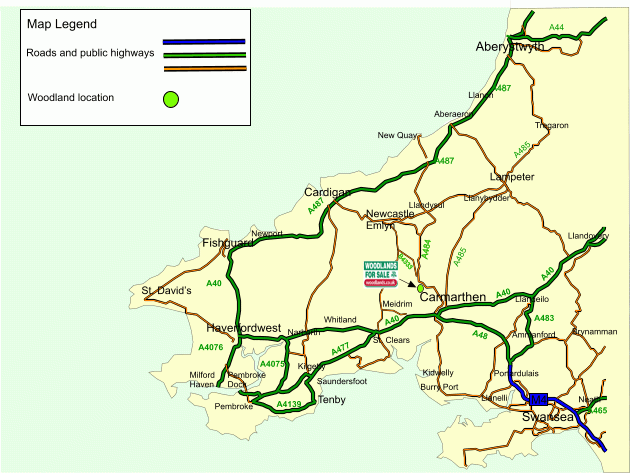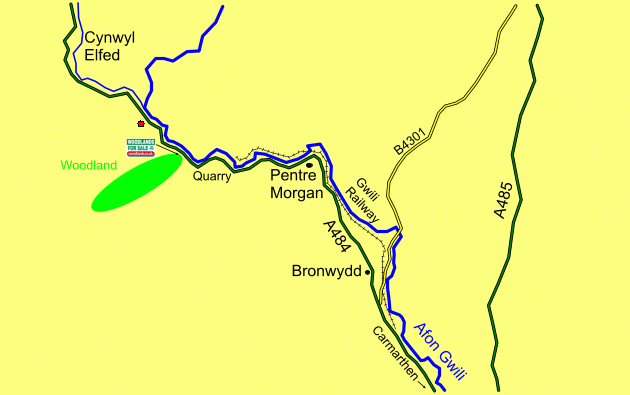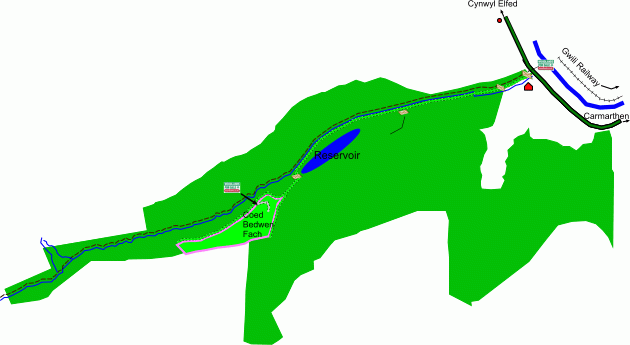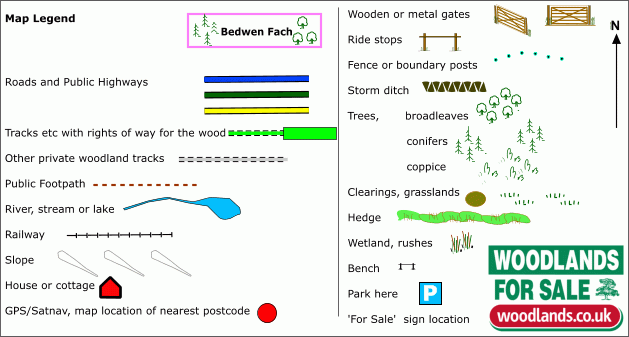 Email updates for this region
Our regional managers are often out working in our woodlands, so if you email an offer and want to be sure it has been received, please phone our manager on his or her mobile phone. The first offer at the stated price which is accepted, whether by phone or email, has priority.
Please take care when viewing as the great outdoors can contain unexpected hazards and woodlands are no exception. You should exercise common sense and caution, such as wearing appropriate footwear and avoiding visiting during high winds.
All woodlands are sold at a fixed price, and include free membership of the Small Woodland Owners Group and the Royal Forestry Society, as well as £300 towards paying for a course (or courses) to help with managing and enjoying your woodland.
These particulars are for guidance only and, though believed to be correct, do not form part of any contract. Woodland Investment Management Ltd hereby give notice under section 21 of the Estate Agents Act 1979 of their interest in the land being sold.