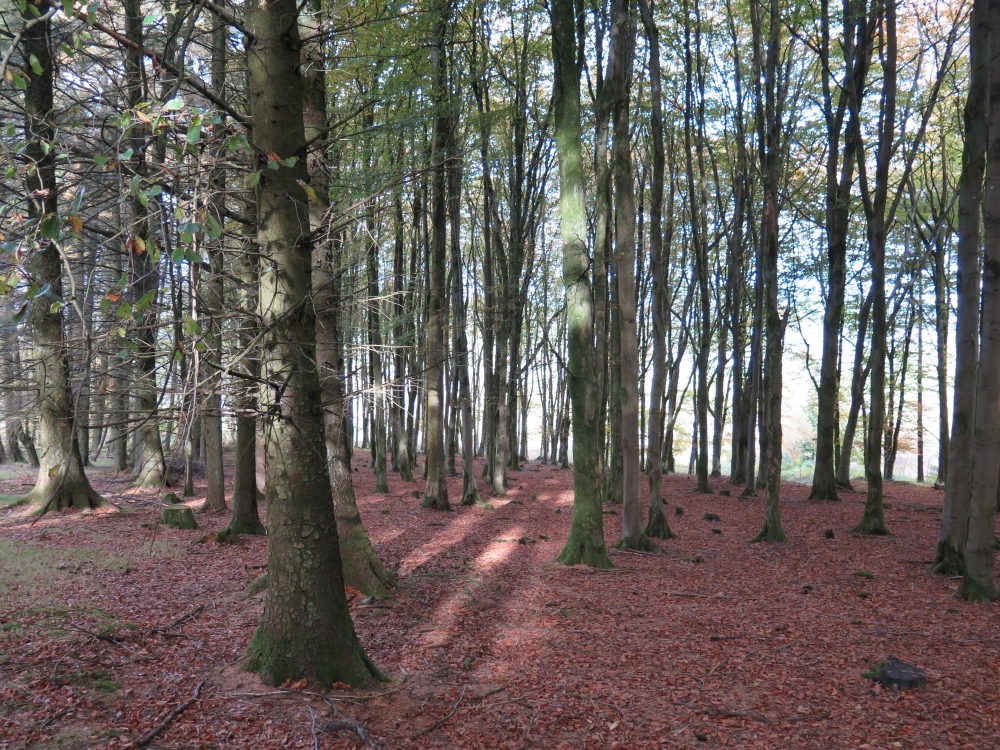 Coed Allt Ffawydd, nestled in the uplands to the western edge of the Rhondda is an oasis of peace and yet is only 15 or so minutes from the M4. It couldn't feel further away.
Surrounded by mature woodland on two sides and tucked behind Mynydd Maendy to the east, it is sheltered from strong weather but has a great feeling of open space and airiness due to its hilltop location.
Mature beech trees make up the southern half of the woodland, with their distinctive graceful limbs and richly coloured foliage. The lack of undergrowth, distinctive of beech woodland, emphasises the airy feeling of space here which added to the level ground make this a very easy wood to access and get around, perhaps especially suitable for those with restricted mobility.
The northern half of the woodland, divided quite distinctively from the beech by an earth bank, is comprised of new growth on a previous clear-fell site. This new growth is made up of a variety of native broadleaf; ash, oak and birch and some conifer and along with plenty of gorse, hazel and wildflowers such as willow herb and foxglove, often associated with cleared woodland. Its hilltop position which benefits from plenty of sun is resulting in good regeneration, contributing much to increasing the variety of wildlife here. With a little attention, this area of the woodland has great potential to develop into a valuable mixed broadleaf wood, which will reward its owner with a rich bio-diverse environment.
There is also a small pocket of conifer between the beech and regenerating open area, adding an extra dimension of variety to the woodland.
The access to the wood is a good forest track, accessible to either a 2 or 4 wheel drive vehicle and it would be quite possible to drive a camper van into the wood.
There is plenty of natural space between the beech trees, any area of which could be enlarged to make a place for woodland activities or camping, a place from which to explore the surrounding area which has some fascinating ancient history and where some fabulous walks can be found. A conservation project the Coity Wallia Commons is working on the surrounding common land linking wildlife habitats to protect and restore some rare species including the marsh fritillary butterfly and the carder bee.
The beaches of the Gower Peninsula are within half an hours drive to the west and the Glamorgan Heritage Coast is 15-20 minutes drive due south.
The purchasers of the woodland will be asked to enter into a covenant to ensure the quiet and peaceful enjoyment of adjoining woodlands and meadows.