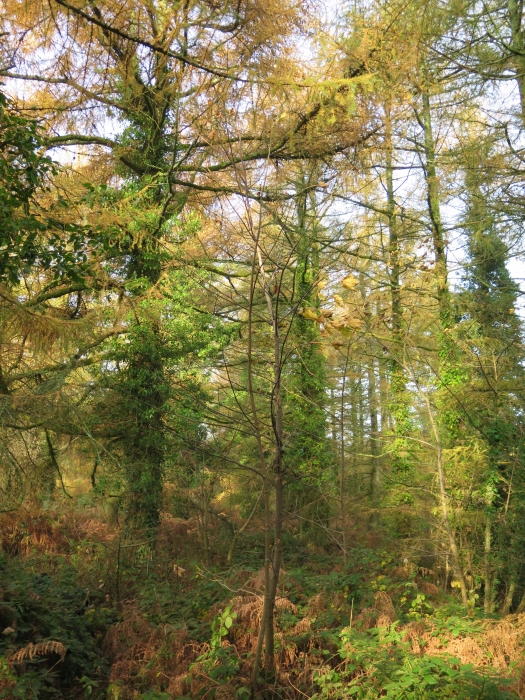 Some two and a half thousand years ago a group of settlers chose a spot on a high, steep sided promontary of land and heaped up ramparts of earth to create a defensive hillfort. Who knows exactly who they were defending themselves against but the Iron Age hillfort, with its occupation radiocarbon dated to between the 3rd and 4th century BC and now known as Holgan Camp, is still clearly present and it is fascinating to walk the oval ramparts and imagine those early inhabitants and their way of life.
Starting from the shared parking area at the bottom of the slope, turn up the shared track which crosses the stream and you will come to a stepped footpath on your right which climbs up and around the southern side of the wooded hillside through mixed conifer and old hazel coppice with a mix of young birch and oak before reaching a small metal gate. The western part of Coed Bryngaer, to the left of the path, is planted with conifer, predominantly larch with beautiful rich autumn colour.
Through the gate, coming out on top of the hill, the ground levels out and here one can begin to make out the form of the fort. Turning right or left you can make your way round the top of the ramparts which encircle the sheltered bowl of the ancient fort within, now grown with mature larch, young oak and ash along with hazel, holly, bramble, bracken and fern. A private and perfectly sheltered spot to create a clearing for camping or picnicing or woodland activities. Through the trees the view here stretches away across the Pembrokeshire countryside.
The inner circle of the fort is ringed by a large ditch some 6m across on the northwestern side and there are some good sized oak and ash specimens growing here. From the northwestern boundary on the far side of the ditch, fields slope gently up and away, while the land slopes down and away to the northern boundary which adjoins more woodland.
Extending round to the eastern boundary the land slopes and then falls away steeply. At the base of this steep slope a stream runs alongside the length of a large flat stoned area suitable for parking, turning or stacking wood which will be shared with the neighbouring wood, Coed Lloc.
All the woodland to the south of Coed Bryngaer is designated as PAWS or Plantation on an Ancient Woodland Site, although Coed Bryngaer itself is not. Holgan Camp is a scheduled ancient monument. Neighbouring iron age settlements have been excavated more extensively, and much that has been written about these will probably be true of Holgan Camp as well. The path leading up to the gate is a public footpath, but there is no public right of access to Holgan Camp itself.
The purchasers of the woodland will be asked to enter into a covenant to ensure the quiet and peaceful enjoyment of adjoining woodlands and meadows.