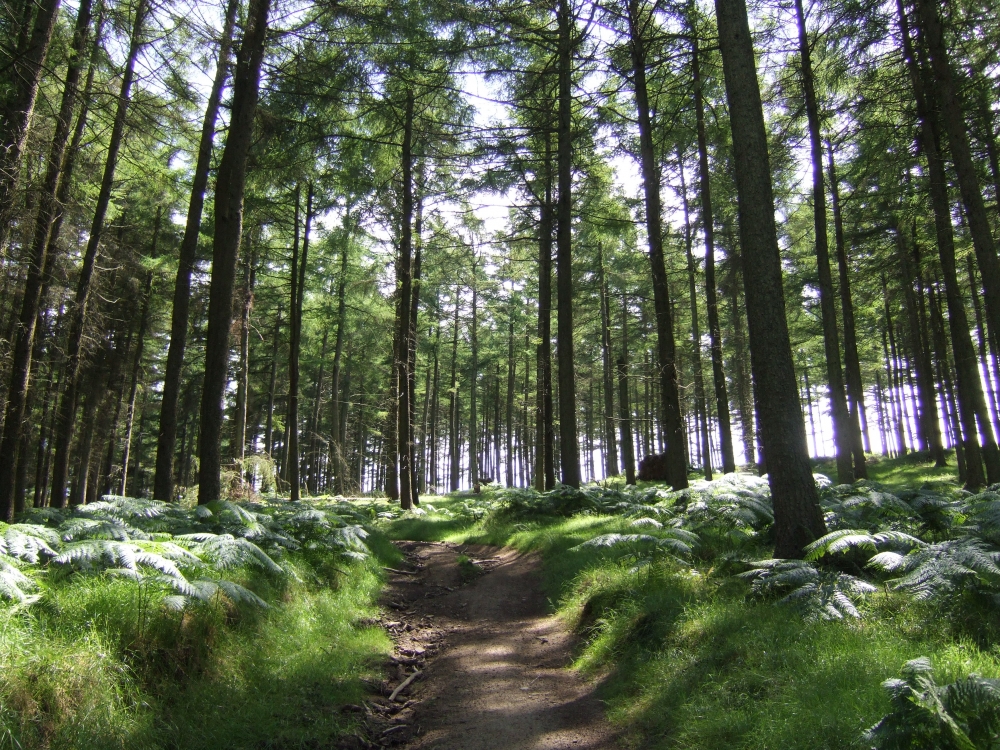 Coed Caradog is set high on Mynydd y Gaer overlooking rolling countryside.
It is believed that King Caradoc 1st, son of Arch, established his fabled fortress city, Caer Caradoc here on Mynydd y Gaer in the first century AD, from where he fought the Romans from 42-51 AD. His burial mound Twyn Caradoc is to the east of the wood.
In contrast to the warlike and fascinating history of the place, there is great peace and tranquility to be found on the slopes of Coed Caradog.
The wood has been very well managed resulting in widely-spaced and cathedral-like tall larch trees with wonderful swathes of grasses underfoot. Wild woodland plants such as oxalis with its tiny white and pink bells and willowherb are to be found as well as soft patches of different species of mosses. There are mushrooms too, which often proliferate in coniferous woodland.
There is a choice of two sizeable level open spaces which would make excellent camping spots. Benches have been built in one of them in the centre of the woodland. The other is at the end of the track that continues to the southern boundary from the ridestop at the entrance. This could also serve as a turning circle.
Getting around inside the wood is very easy as there is so little undergrowth and the tracks are excellent.
Access to the woodland is also very good by way of a stone forestry track extending all the way through the woodland, providing all year round access for any vehicle.
The Ogwr Ridgeway Walk passes close by and is very accessible from Coed Caradog.
The beaches of the south coast of Wales are only 10-15 miles away and the Mumbles only just a little further.
Amenities are available in the nearest village of Blackmill where there is a Londis for basic supplies. More shops are available in Bridgend, approximately 7 miles away.
The purchasers of the woodland will be asked to enter into a covenant to ensure the quiet and peaceful enjoyment of adjoining woodlands and meadows.