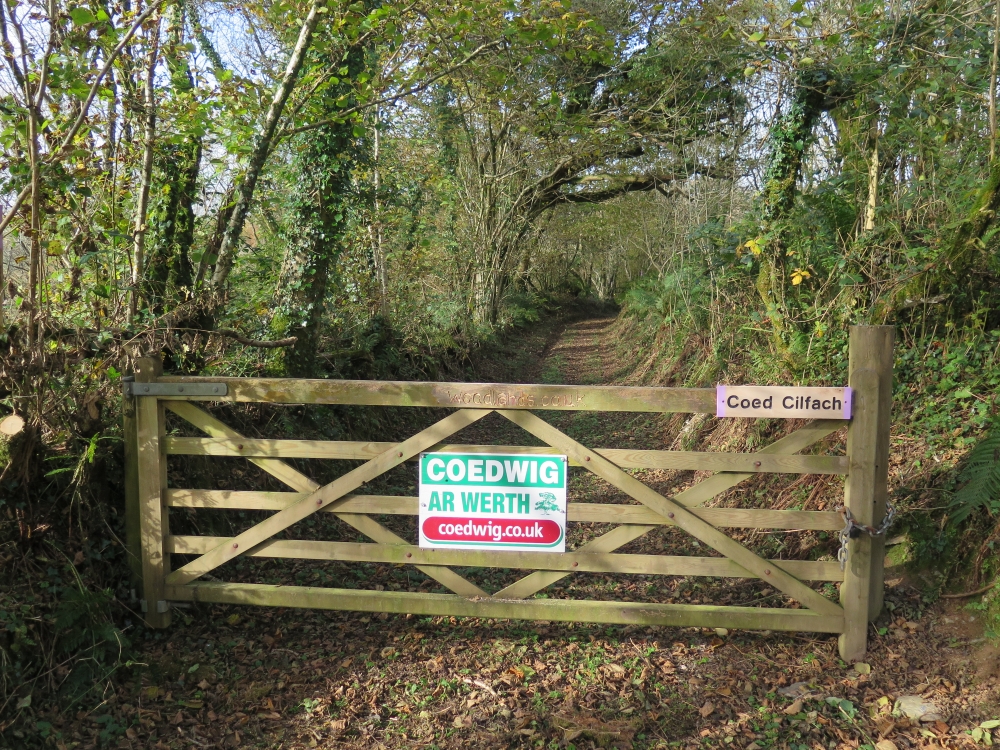 This small and special woodland is tucked away in the middle of the larger woodland Allt Ffynnon Wen. It sits in the nook of two streams, the larger of which is the Afon Asen.
Having its own private stretch of gated track from the quarry parking area in the middle of Allt Ffynnon Wen makes this wood feel very private. This old trackway, accessible to a 4-wheel drive vehicle, runs along the northern boundary until it reaches the stream which forms the western boundary.
The woodland slopes away on the south side of this old track. About half way along it another old trackway comes off it, cutting a south east diagonal down through the woodland, making a good access point into the middle of Coed Cilfach, and also providing flat areas for picnicking, woodworking or camping out, once you have crossed a fairly significant spring which bubbles up at a point along here.
There are some wonderful stately old oaks, ash and sycamore whose twisted roots form the edge of the path and there is a particularly good view westwards through the canopy of the woodland lower down the slope, especially with the sun filtering down to the forest floor. There is a bench here to make the most of the view, with a cup of tea and a biscuit.
From this path, as you approach the eastern boundary you can make your way southwards, down the slope to the river's edge. Here you should come across the remnants of an old miners footpath still with sections of dry stone wall evident here and there under the moss, running parallel with the river. There are large flat areas on the banks of the River Asen, some damp and some drier and sandy with large boulders, rocky nooks and crannies and pools begging to be explored and splashed in and doubtless minnows to be caught.
The south western corner of the wood flattens out towards where the Afon Asen intersects with the stream, forming the southern and the western boundaries of Coed Cilfach respectively. A path, accessible from the end of the northern boundary track, leads down roughly parallel with the stream on the western boundary and takes you through the southwestern corner of the woodland.
This is a wonderful wood for wildlife, with the varied native woodland species present and stream habitat, a very good option for family forestry or for the wildlife or conservation enthusiast.
The purchasers of the woodland will be asked to enter into a covenant to ensure the quiet and peaceful enjoyment of adjoining woodlands and meadows.