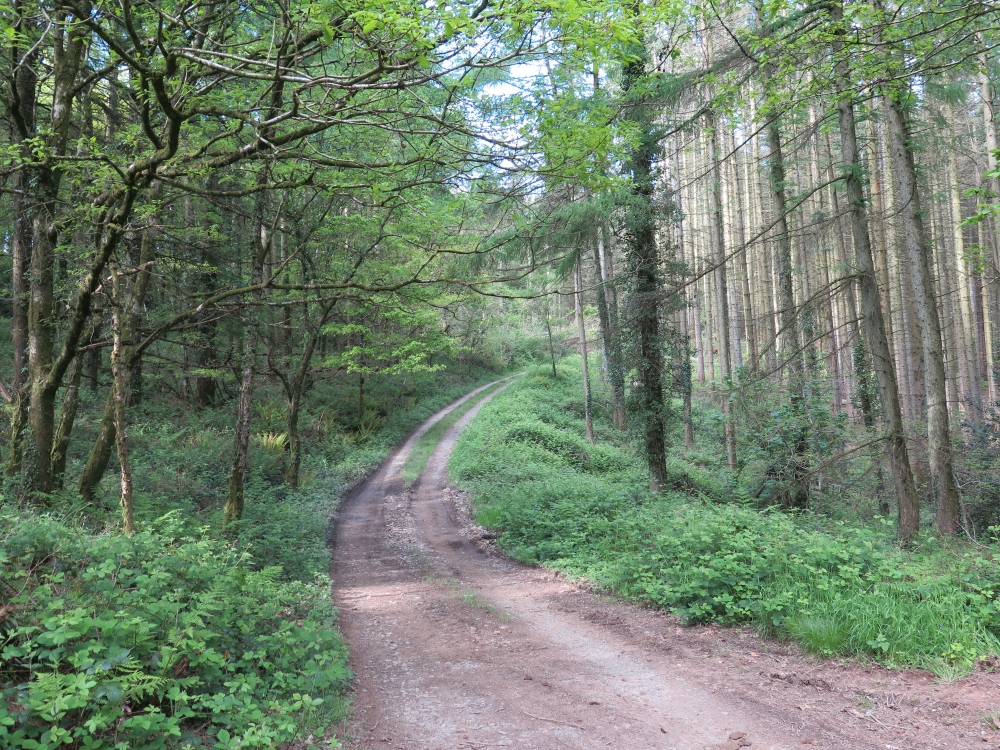 Coed Cleddau is part of a larger woodland known as Drim Wood located in an idyllic corner of Pembrokeshire where the river Syfynwy meets the Eastern Cleddau at Gelli. Both rivers are stuffed full of sea trout or sewin and are great for fishing.
The approach to Coed Cleddau is through the larger woodland, across a small stream, a tributary of the Cleddau which is shaded by great old oaks providing a wonderful canopy for an astonishing selection of birdlife. From the quarry parking area, where you will need to leave your car when viewing the woodland, you will make your way up a gentle slope and arrive at Coed Cleddau, situated on the brow of this south east facing hill. The woodland is conifer, mainly Douglas Fir with a smaller proportion of Grand Fir and some Japanese Larch planted in 1957 and grown to majestic maturity.
There is a stone parking area outside the entrance gate to the wood and in addition another stone parking or turning area, large enough to accommodate a caravan inside the woodland. From here, the track extends into the wood ending in a large flat clearing which has been created and could be used for any woodland activities, family camping or practising bushcraft. The abundance of good quality workable timber on site could be utilised to build a shelter or tool store to facilitate any of these aims.
The middle area of the woodland is fairly level, sloping up towards the northern and western boundaries. The area to the right of the parking area and track slopes away more steeply down to a bridleway which runs along the eastern and southern boundary of the wood.
The trees are well spaced, allowing for wonderful views out across fields and hills opposite and allowing light to filter in and throughout the wood. This light has allowed for some young oak and ash to take hold and regenerate and if some further areas of conifer were cleared, this regeneration of native broadleaf could be encouraged and speeded up. This is a plantation on an Ancient Woodland site, so broadleaf regeneration should work well here. The forest floor is soft and springy with conifer needles and mosses under foot and also large areas have been colonised by ferns. Wild flowers including yellow pimpernel and herb bennet grow in the sun along the pathways.
The village of Clunderwen is 2 miles to the east, with village shop and railway station and for more choice of shops or pubs the picturesque market town of Narberth is 3 miles south east.
The purchasers of the woodland will be asked to enter into a covenant to ensure the quiet and peaceful enjoyment of adjoining woodlands and meadows.