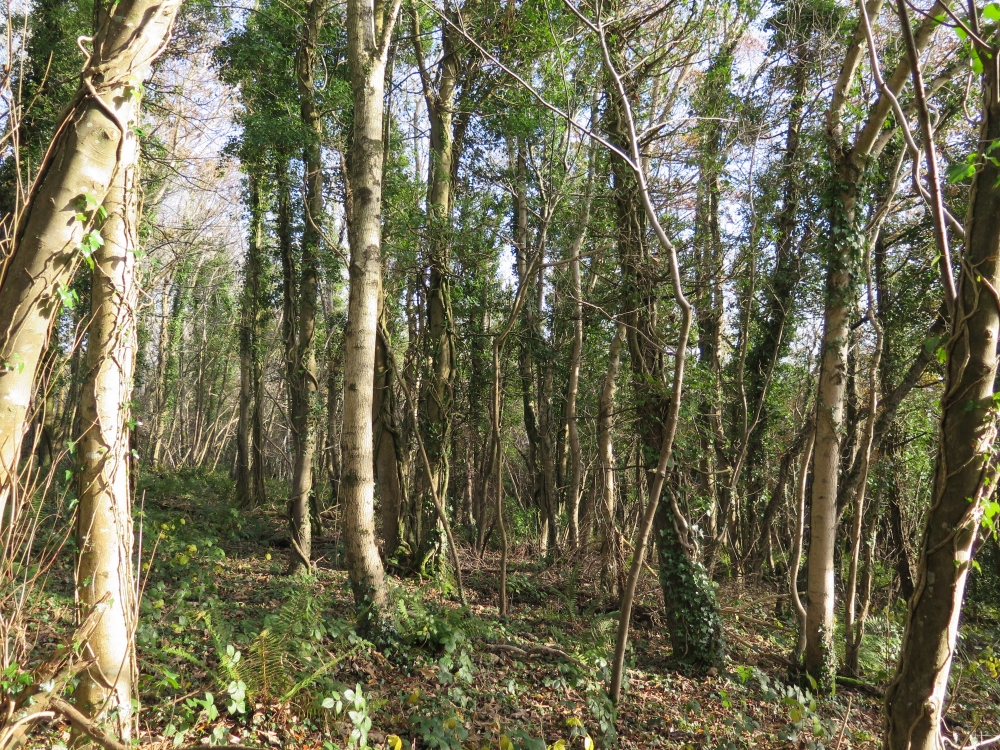 Coed Cloch Las is located in beautiful Pembrokeshire landscape and part of a much larger woodland almost all of which has been designated either PAWS (Planted Ancient Woodland Site) or is restored Ancient Woodland. The eastern half of Coed Cloch Las is noted as restored ancient woodland. This should indicate that the soil and micro eco system of the wood still contain remnants of plant species that were present in the ancient woodland, of great benefit to the biodiversity of the woodland.
The western boundary of the wood is clear as it follows an old track way, still passable with a 4 W/D vehicle, which runs from the shared access track at the south of the wood up to the northern boundary where the woodland meets pasture with lovely views out over rolling fields.
From the parking pull in area at the south western corner of the wood, marked by a Woodlands for Sale sign and wooden name board, a footpath has been cut which leads you up through the western half of the wood, an area predominantly larch among some other conifer. Underfoot, pushing through the soft carpet of needles, various ferns and mosses can be found.
At the end of this footpath you will find a comfortable bench, perfect for a breather and perhaps a glimpse of Llawhaden Castle through the trees on the opposite facing ridge, due south. This area slopes away gently to the southern boundary which follows the line of the shared access track running through the middle of the larger woodland, skirting around a small area that has been quarried for stone.
Further to the west, outside the boundaries of Cloch Las itself, within nearby woodland Coed Bryngaer, are the remains of an iron age hill fort and settlement, just a fraction of the ancient history to be found in the surrounding area.
The eastern half of Coed Cloch Las levels out somewhat and this part of the woodland, designated as restored ancient woodland, contains some lovely mature sycamore, beech, oak and ash, as well as a good deal of younger growth, including some coppiced hazel which could be renewed and utilised - a good resource for forestry tasks or firewood.
Overall Coed Cloch Las is a very pretty and manageably sized wood, great for woodland adventures or quiet contemplation.
Nearby Narberth, a lovely market town, has many independent shops for provisions as well as pubs, cafes and restaurants, and the Pembrokeshire coastline is an easy drive away.
The purchasers of the woodland will be asked to enter into a covenant to ensure the quiet and peaceful enjoyment of adjoining woodlands and meadows.