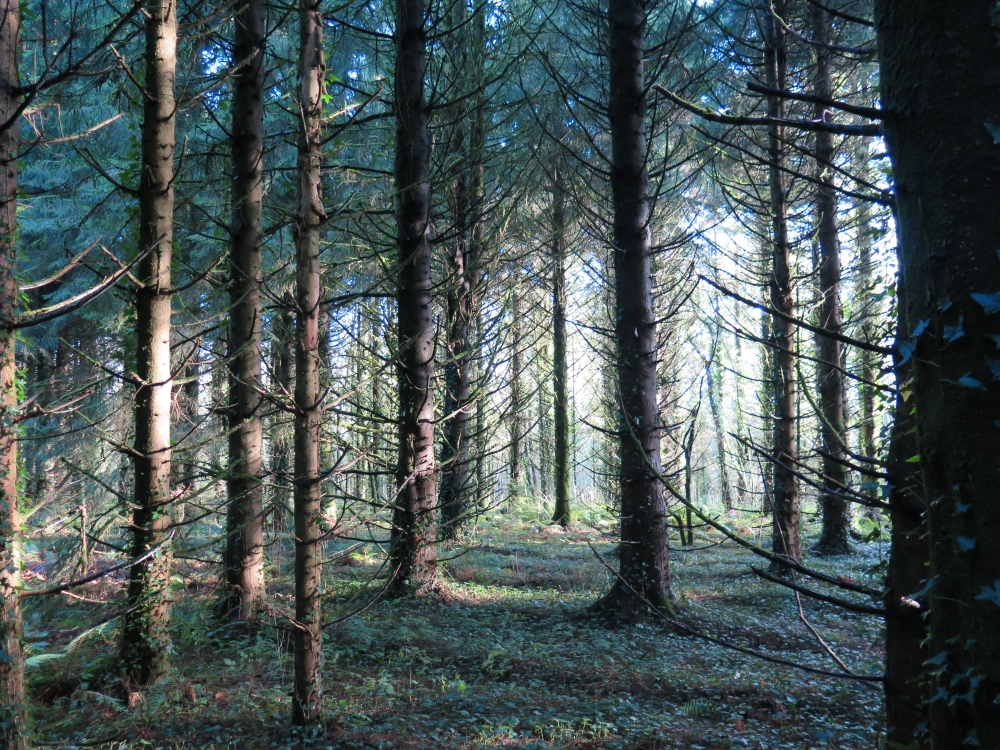 Coed Coesgoch is named for the redshank, a sea bird found in number on the marshes and sands of the Loughor estuary only a kilometre or two to the north, and also on the sandy bays of the western Gower peninsula, again only minutes away to the west.
The woodland is within the Gower Area of Outstanding Natural Beauty (the first in the UK) an area covering 188 sq. kms, a large proportion of which is National Nature Reserve, which gives some indication of how special this location is.
At the entrance to Coed Coesgoch you find yourself in a large stand of Norway spruce which makes up roughly two thirds of the wood. This was planted in 1975 so is well grown and it has been managed and thinned, so is well spaced. According to its previous managers further harvest could be planned for the next 3 years. Areas thus opened up could be replanted with native broadleaf adding to the good mix of mostly oak, beech and ash found along the northern and eastern sides of the woodland, some of which are impressively large.
There is a large amount of very young ash seedlings and also regeneration of young birch, holly and beech to be found along the outer edges of the woodland, along the western boundary, part of which follows an old earth bank and especially on the eastern side of the wood where the majority of the broadleaf is.
One of the many benefits of this woodland is that it is all level ground and it is surrounded by a larger area of woodland on all sides so the sense of peace and seclusion is complete. A stream has cut a deep channel just outside Coed Coesgoch's north western and northern boundary, very beneficial to wildlidfe and birdlife.
There is a very good stone track to Coed Coesgoch and a hardstanding area within the woodland, ensuring easy access all year round.
Nearby there is the small village of Three Crosses where you will find a post office, small shop for supplies and the Poundffald Inn which has a real fire, local ales and food. Also nearby but in the other direction, towards the coast, in Llanrhidian is the Dolphin Inn. There is also an Esso garage with small shop in Llanrhidian.
And if ancient heritage is your thing, the Neolithic burial cairn known as Arthur's Stone or Maen Ceti is literally a stone's throw away.
The purchasers of the woodland will be asked to enter into a covenant to ensure the quiet and peaceful enjoyment of adjoining woodlands and meadows.