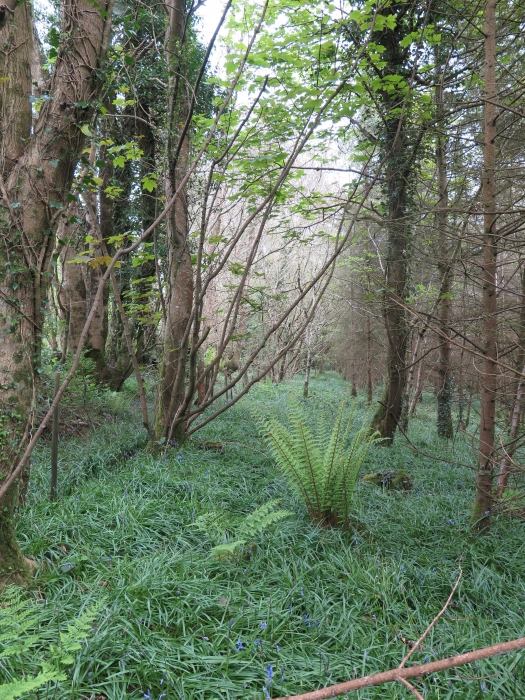 Coed Cwch Gwenyn or Beehive Wood is located in beautiful Pembrokeshire landscape and is part of a larger woodland, Castle View, the majority of which has been designated either PAWS (Planted Ancient Woodland Site) or is restored Ancient Woodland.
It is so named as the beehive is the motif associated with St Aidan, to whom the tiny grade II listed medieval church in the nearby Holgan hamlet is dedicated, well worth a visit on your way to or from the wood!
At the main entrance to Castle View woodland you will see Coed Cwch Gwenyn immediately on the right. This eastern end of the wood is level and fairly open, the undergrowth kept at bay by several mature beech trees with their distinctive sinuous limbs. In the northeastern corner are some mature cherries pretty with snowy blossom in the spring, as well as holly and ash. This corner of the woodland fronts directly on to the minor road and it would be possible, if required, to re-open an old trackway from the road up and into the wood here.
Moving westwards through the wood and over a gnarly old earth bank, the character of the wood changes as planting becomes majority sitka spruce. This stand of conifer makes up the central part of the wood, but fringed on all sides with broadleaf including oak and beech and ash along the northern boundary which is marked by an old fence line and another earth bank. Amongst these perimeter areas of broadleaf there are several overstood coppice stools of sycamore and hazel ready to be re-coppiced, which would provide a valuable resource of sustainable timber or fuel and is a practice which is known to benefit the woodland habitat.
Last but not least, the irresistible carpet of native bluebell, thick and fragrant, that stretches throughout the woodland has to be mentioned. It is a stunning sight!
This small and manageable wood would benefit hugely from some thoughtful thinning, coppicing and perhaps replanting with native broadleaf, and due to its size the rewards would soon be evident.
The quarry area a short distance along the main access track will be available to the owner of Coed Cwch Gwenyn to use for parking.
Nearby Narberth, a lovely market town, has many independent shops for provisions as well as pubs, cafes and restaurants, and the Pembrokeshire coastline is an easy drive away.
The purchasers of the woodland will be asked to enter into a covenant to ensure the quiet and peaceful enjoyment of adjoining woodlands and meadows.