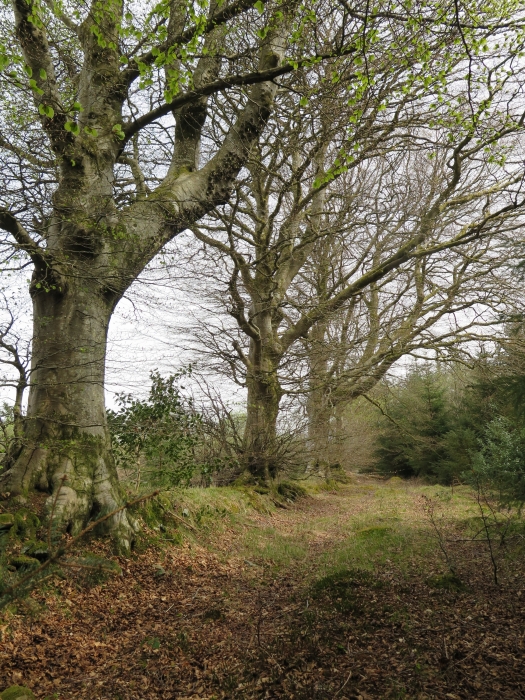 Coed Hedd, part of much larger woodland Mynydd Brith, is a surprising little wood of hidden treasures. At first appearance it may not seem to offer much of interest unless you are a big fan of young conifer. The majority of its eastern half is comprised of young sitka, densely planted, which would benefit from significant thinning. This would provide a very useful source of timber for constructing a woodland shelter, platform for forestry tasks or simply firewood.
As you wend your way through the conifer along the easily accessible footpath you come to the heart of the woodland which is graced by a long avenue of majestic, full grown, beech trees statuesque and beautiful and due to their nature of suppressing undergrowth, with a good clear area under their canopy.
This natural clearing, tucked away from all boundaries feels peaceful and secluded, ideal for the above mentioned shelter or for setting up a campsite. The dense planting of conifer provides a very effective barrier against the outside world.
It is possible to walk around most of the perimeter of the wood although the western boundary and the second part of the southern boundary is fairly thick scrub. The first part of the southern boundary has attractive wooden fencing with the visual benefit of another line of mature beech running along the length of it, although outside Coed Hedd's boundary. The remainder of the southern boundary is fenced with stock fencing. Here the outlook is onto pastureland.
A small stream, a great asset for attracting wildlife to a woodland, runs close to the northern boundary which is marked with painted stakes.
The western part of Coed Hedd is young regenerating woodland. There is good vigourous growth here of various native broadleaf species, with a fair amount of willow, alder, downy birch, oak and rowan. This natural regeneration could be supplemented with further planting of native broadleaf as could any thinned areas of the conifer in the eastern half of the wood.
The shared tracks which access Coed Hedd through the larger woodland Mynydd Brith have recently been upgraded, making Coed Hedd easily accessible with any vehicle.
Only half an hour from the Cardigan coast with its fabulous walks and from the lively town of Aberystwyth with all amenities readily available, Coed Hedd makes a great base for further exploring this beautiful area of Wales.
The purchasers of the woodland will be asked to enter into a covenant to ensure the quiet and peaceful enjoyment of adjoining woodlands and meadows.