SOLD: Coed Heulwen (Sunshine Wood)
£69,000
Freehold
Talybont, Aberystwyth , Ceredigion
just over 8 acres
Stunning view out from the western boundary looking eastwards

Ride stop entrance and parking spot for Coed Heulwen

Parking area

View up from the track into the planted section of the wood

View along the track from parking area looking southwards

An old forestry track that cuts through the wood

Boundary marker on the northern boundary

Track and marker on the western boundary

View out from the western boundary looking out over the clear fell area

Another old track near the western boundary

View out from the western boundary looking out over the planted section

Boundary marker on the western boundary

View from the southern end of the wood looking northwards

Stile on the eastern boundary

Footpath on the eastern boundary leading to track

Where the clear fell meets the planted area

Track making up the eastern boundary looking northwards

Main track from the entrance

Main gate to the wood; park up here
Description
Set high in a stunning location, Coed Heulwen offers much potential. It's northern section has been replanted with a variety of conifer, predominantly Douglas fir, following the clear fell of the woodland previously, approximately 6 years ago. There is also natural regeneration of young broadleaf such as rowan, birch, ash and oak.
The southern half of Heulwen features heather, gorse and bilberry amongst grasses and wild flowers such as foxglove and yellow pimpernel, as well as areas of mosses and lichen reflecting the upland nature of its location. It's a beautiful place which feels wild and secluded.
The woodland benefits from the track running along the full length of its eastern boundary providing useful level areas as well as access. The initial section of track and the turning circle has a shared right of way with two neighbouring woods, but from the turning circle onwards the track is for Heulwen's sole use, although a public footpath does also run along this boundary, exiting the woodland at its southeastern corner. There is the opportunity to access some great walking routes nearby via this footpath.
There is an old forestry track cutting diagonally across Heulwen from its northeastern corner at the bottom of the slope up to the top of the woodland mid point on its western boundary from where the views out are stunning.
The purchasers of the woodland will be asked to enter into a covenant to ensure the quiet and peaceful enjoyment of adjoining woodlands and meadows.
Trees
The northern end of Coed Heulwen has been replanted following the previous clearfell of the woodland. The planting is a mix of conifer and broadleaf, but there is a good quantity of Douglas fir - a valuable timber for the future, either as a crop or for own use. There is plenty of natural regeneration too, but still a fantastic opportunity for supplemental planting with native broadleaf species to create biodiverse woodland. There is an obligation under the felling licence conditions to restock this regen area with conifers, but it should be straightforward to agree a variation of this to introduce broadleaf trees instead, if a new owner wishes to do so. There is sapling growth of birch, oak, rowan and hazel here amongst gorse and many wildflowers including foxglove and herb Robert thriving now the site is open to the sun. There is also a good quantity of wild bilberry or myrtillus vaccinium growing as ground cover especially in the northern section of the woodland, valued for its superfood status!
Wildlife
There is plentiful birdlife to be heard and seen up here, from kites circling above to woodpeckers heard knocking for grubs in neighbouring woodland. The proximity of the coast means seabirds can also be sighted fairly commonly.
The nature reserves of Ynys Hir and Cors Dyfi are a short drive away on the Ceredigion coast, both giving the opportunity to see a great variety of bird and wildlife including the magnificent Osprey which bred for the first time in 2011 at the Cors Dyfi nature reserve.
Features
Stunning far reaching views out to the east.
Access, tracks and footpaths
There is very good access by way of a forest grade track which takes you directly off the public road via a gate, and up a gentle rise to Coed Heulwen. This section of the track shares a right of way with its two neighbouring woodlands but has sole use of the track from the turning circle onwards. This runs along and within the eastern boundary the full length of the woodland.
There is a public footpath which runs along the access track and continues along the eastern boundary of Heulwen before exiting the woodland at its south eastern corner.
Activities
Within Heulwen there is opportunity for many woodland activities, including camping, wildlife watching as well as bushcraft. There is opportunity with new planting to establish a coppice area to provide material for hurdles, green woodworking or charcoal making and outside of the woodland there is great walking to be had along the Ceredigion coast and inland through the Cambrians.
Local area and history
Both Aberystwyth and Machynlleth are within easy reach and both have good independent shops, cafes and restaurants and will cater for all supplies.
Just north of Mach is the fascinating Centre for Alternative Technology, so ahead of its time they were once thought of as a bit bonkers...! If only everyone had been so forward thinking.
Wood maps
This wood is now sold, please do not visit the wood without the permission of the owner.
Find this wood
This wood is now sold, please do not visit the wood without the permission of the owner.
Location
OS Landranger: OS No. 135
Grid ref: SN 684 877
Nearest post code: SY24 5DP
GPS coordinates: 52.472, -3.938
Location map
Directions
Follow the A487 to the village of Talybont, approximately 7 miles from Aberystwyth or 10 miles from Machynlleth.
In the centre of Talybont you will see the Black Lion Hotel and White Lion pub side by side. Take the road up to the right of the Black Lion Hotel and follow this road for about 2 miles, going over a small stone bridge.
Continue on this road towards Bont Goch, (do not turn off to the left) passing a smallholding called Cwmere on your right.
Shortly, after less than 1/2 a mile, look for a wooden gate on your left marked with a Woodlands for Sale sign.
Turn in here and park, and continue on foot into the woodland, following the track all the way around until you finally come to the entrance to Coed Heulwen on your right.
How we support our buyers



Please note this wood is owned by woodlands.co.uk.
Our regional managers are often out working in our woodlands, so if you email an offer and want to be sure it has been received, please phone our manager on their mobile phone. The first offer at the stated price which is accepted, whether by phone or email, has priority.
Please take care when viewing as the great outdoors can contain unexpected hazards and woodlands are no exception. You should exercise common sense and caution, such as wearing appropriate footwear and avoiding visiting during high winds.
These particulars are for guidance only and, though believed to be correct, do not form part of any contract. Woodland Investment Management Ltd hereby give notice under section 21 of the Estate Agents Act 1979 of their interest in the land being sold.
The east facing side of a long ridge, open to the sun! with potential to shape both the natural regenerating growth and the young planted conifer into a woodland for the future. Superb location and excellent access.
Managed by Tamsin and Matt Brown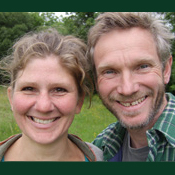 Telephone: 07956 256101
Telephone: 07950 379533
Email: [email protected]