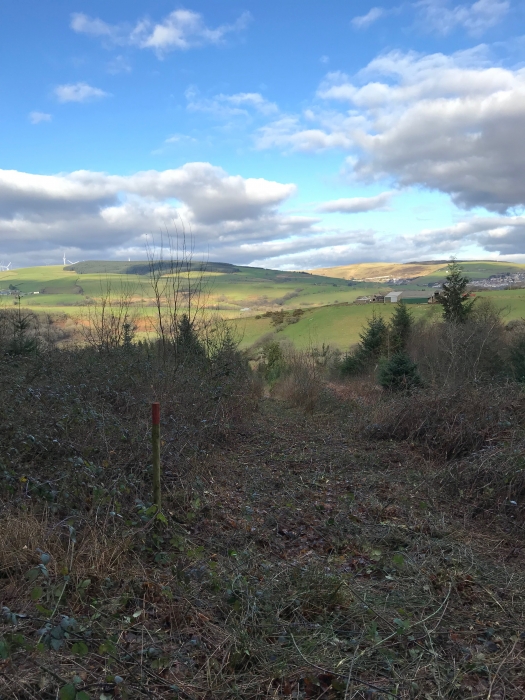 Perched high amongst the hills (called mountains in these parts) and valleys of the Rhondda, Coed Maendy, part of a larger wood called Gelli Feddgaer, feels a million miles from the urban bustle of Swansea and Cardiff, but it is in fact an equidistant forty minutes or so from both, and only twenty minutes or so from the M4. In addition to this, access to the woodland is very good, by way of a stone forestry track extending all the way into the woodland, providing all year round access for any vehicle.
All of this makes Coed Maendy an ideal prospect for a tranquil escape from the busy day to day and somewhere to reconnect with nature.
There is a good mix of habitat in the wood, with some fairly open land as you come off the access track and approach the hardstanding parking area for Coed Maendy. This, and the slope of the land here, allows for wonderful views out to Mynydd Maendy and the neighbouring common land. Here can be found mixed conifers, some larch, some douglas fir including some young regenerating growth. Continuing along the western side of the wood towards the southern boundary you will come to a stand of beech, well spaced and airy on fairly level ground. This extends all the way to the southern boundary.
Midway up the northern side another old trackway has been partially cleared opening up foot access into the middle of the wood from the main access track. From here the land slopes down to the stream and area of wetland along the eastern boundary.
Locally there are also great walking routes to be found, joining the route of the Ogwr Ridgeway Walk which passes close by across the top of Mynydd y Gaer with wonderful sweeping views, not to mention the fascinating history of the area. It is believed that Mynydd y Gaer is where King Caradoc 1st, son of Arch, built his fabled fortress city Caer Caradoc in the first century AD, from where he fought the Romans from 42-51AD. His burial mound, Twyn Caradoc is to be found a short distance east of Gelli Feddgaer, on the highest point of Mynydd y Gaer.
The beaches of the south coast of Wales are only 10-15 miles away and the Mumbles only just a little further.
Amenities are available in the nearest village of Blackmill where there is a Londis for basic supplies. More shops are available in Bridgend, approximately 7 miles away.
The purchasers of the woodland will be asked to enter into a covenant to ensure the quiet and peaceful enjoyment of adjoining woodlands and meadows.
Boundaries:
The boundaries are marked in orange paint on wooden marker stakes and trees.
The northern boundary is marked by the track.
The eastern boundary is marked by the stream.