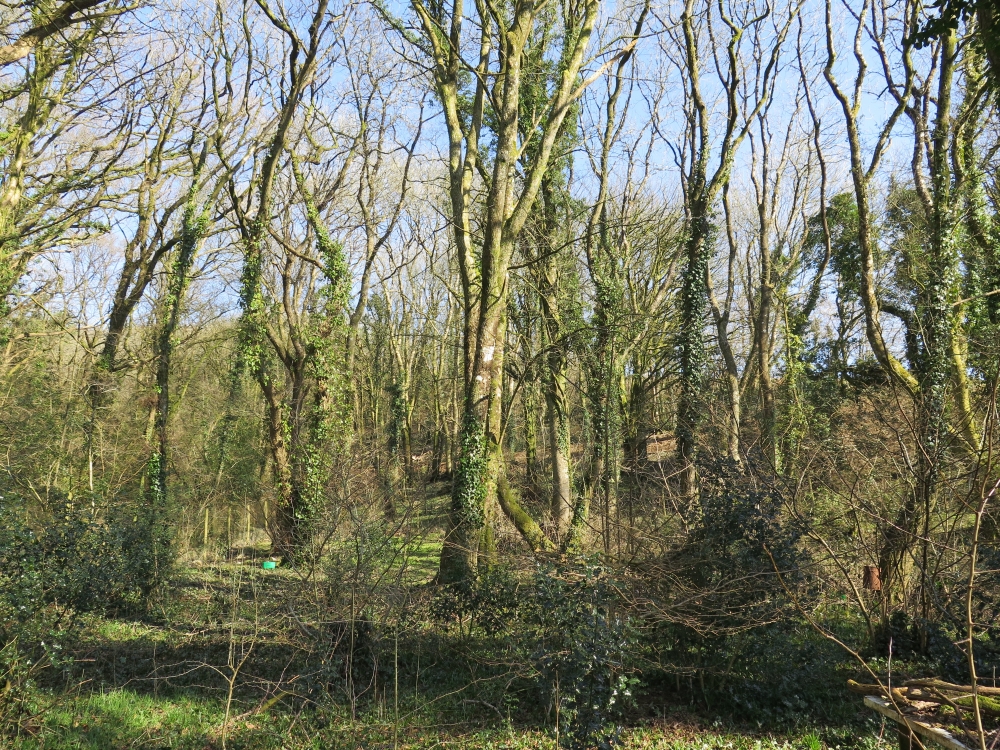 Coed Rhosglyn is a manageable woodland, and yet it packs a lot of variety into its relatively small size. From its northernmost point where a level hardstanding area has been created for parking a vehicle or camper van, the woodland dips away from the track into a quiet little bowl, sheltered by mature conifers and from here its possible to wend your way up a hidden path, past a wonderful example of nature's dramatic creative hand with tree roots gnarled and twisted growing out of a rocky escarpment. As you gain a bit of height, the ground levels out at the northern boundary with bluebells underfoot and from here there are lovely, peaceful views out over rolling fields and wooded hills.
Making your way south from the parking area, there is a fairly level area of land where there is potential of creating a larger area for camping, woodstacking or woodland activities next to the hardstanding.
Just south of here, the stream cuts through a culvert under the track and into the woodland and continues southwards burbling through Coed Rhosglyn, under the canopy of widely spaced mature broadleaf, including some lovely mature ash. The forest floor is entirely covered in wildflowers in spring; anemone, celandine, bluebell and oxalis - an uplifting sight.
At the southern end of Coed Rhosglyn the ground levels out at the bottom of the valley and the remains of a pheasant pen can be found down here. Wet underfoot in parts, wildflowers thrive and it is a picture of woodland idyll. From here there are views out over the neighbouring lake and meadows. Perhaps also a glimpse of the hovering, circling sparrowhawk for which the wood is named..
Considering Carmarthen, where all amenities are available and with convenient rail, bus and road connections (via the A48 to M4) is within half an hours drive, this is a place of absolute peace, tranquility and retreat and offering great potential for engaging with nature and its wild inhabitants, both plant and animal.
Please note: the adjacent meadow with lake (Llyn Adain Gwydd) is also for sale.
The purchasers of the woodland will be asked to enter into a covenant to ensure the quiet and peaceful enjoyment of adjoining woodlands and meadows.