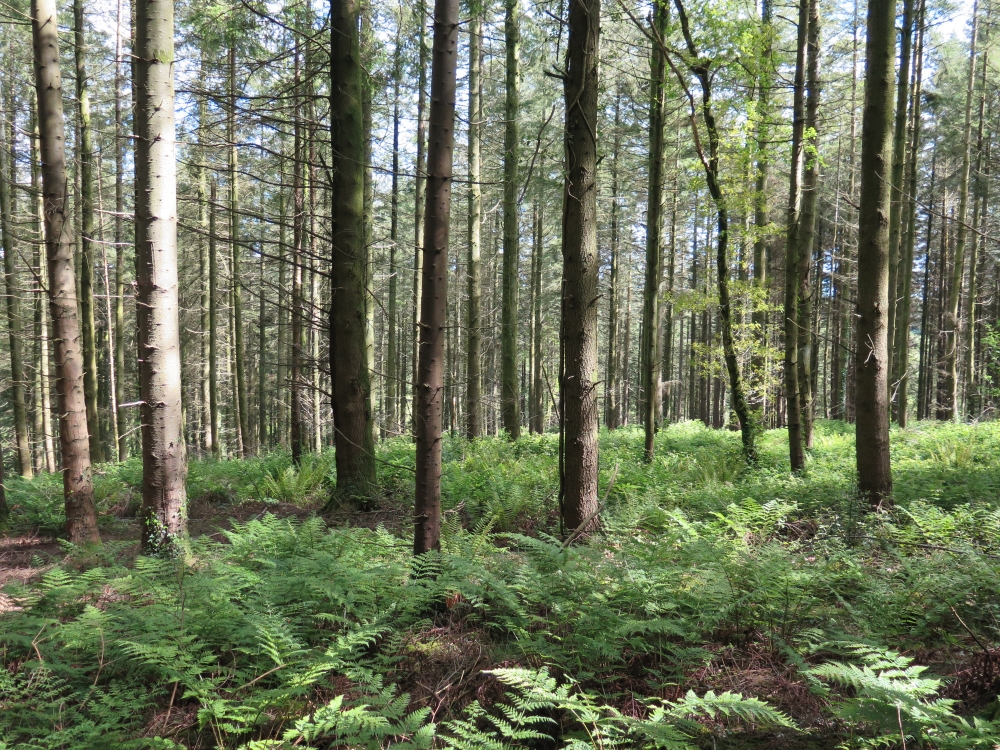 Coed Syfynwy is a manageable wood made up of mature conifer, planted in 1957. Part of a larger woodland known as Drim Wood, it is a wonderfully tranquil spot. Interspersed here and there amongst the conifer are some young oak and ash which have taken hold due to the good amount of light the wood receives on its hill top position and the good spacing between the conifers, mainly Douglas Fir, with a smaller proportion of Grand Fir, and a smattering of Japanese Larch.
This natural regeneration of native broadleaf (which should do well here as an ancient woodland site) could be further encouraged and supported by widening the clearings around these young trees and perhaps also additional replanting. Opening up areas will encourage light loving wildflowers, in turn increasing the insect population and providing much needed open woodland habitat for bees. Large areas of the forest floor have been colonised by different species of fern.
Any timber from forming these clearings could be put to good use in the construction of a useful tool storage or shelter. A large clearing has already been created in the middle of the wood with some log benches and a large log pile which, if not of use to homo sapiens, will be of great use to an inordinate range of insects and/or fungi. This clearing would be a great place to act as a base for camping or woodland adventures or any forestry activities.
Paths have been cut along all the boundaries so that it is possible to walk all around the wood from the entrance off the shared access track on the western boundary down to the bridleway that runs along the eastern boundary.
Nearby, 2 miles to the east is the village of Clunderwen where you will find a village shop, pubs and a rail connection. More pubs, restaurants and a good variety of independent shops can be found in the lovely market town of Narberth 3 miles to the south and the beautiful Pembrokeshire coast is as little as 5 to 10 miles away. There are many fabulous walks in the area including the Landsker Borderlands Trail.
The purchasers of the woodland will be asked to enter into a covenant to ensure the quiet and peaceful enjoyment of adjoining woodlands and meadows.