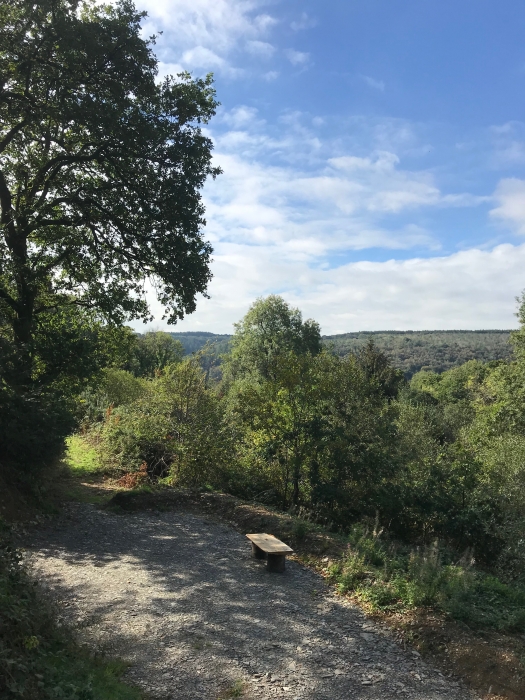 Coed Ysguthan sits on the west-facing slope of a small valley reaping full benefit of the sun's rays, whenever it decides to shine!
The trail from the entrance gate up to the woodland is a lovely one, past Goose Wing Lake (also for sale), through the lower reaches of woodland, gradually climbing until arriving at Coed Ysguthan at the very end of the track. With the height gained come the views, which will vary from season to season. In the summer you feel immersed in the green of the tree canopy whereas in winter, when the trees have lost their leaves, the view will be out and over the surrounding fields and wooded hills and vales.
At the entrance to Coed Ysguthan is a large stoned level area, quite large enough to park a camper van or small caravan. It would make a very good camping spot, private and quiet with lovely views, and sheltered.
An old trackway provides access into the wood out of the back of the parking area, and this continues all the way through Coed Ysguthan to its southwestern boundary and extends into neighbouring woodland Tyle Tegeirian. Gorse blooms here with its bright yellow coconut scented flowers, and rowan, birch and hazel mix with spruce and larger ash and oak.
Another old track has been uncovered and cleared further up the slope running close to the eastern boundary which has an outlook over fields and woodland. This track extends to the southern most tip of the woodland. Its possible to do a circular walk starting from the parking area and following the uphill path which has been cleared along the northern boundary until it meets the upper track, following it southwards and then coming back down the slope at the southwestern boundary.
From the lower trackway you can access the lower part of the woodland and the stream which runs down here by way of a small path that has been cleared near the southwestern boundary. There is much alder and goat willow down here, and it is wet underfoot in parts. The nice variety of tree and plant species here and mix of habitat with the stream means it supports all sorts of wildlife and birdlife. There is much to enjoy here and its closeness to Carmarthen and the A40 with direct access to the M4 means its very well connected.
The purchasers of the woodland will be asked to enter into a covenant to ensure the quiet and peaceful enjoyment of adjoining woodlands and meadows.