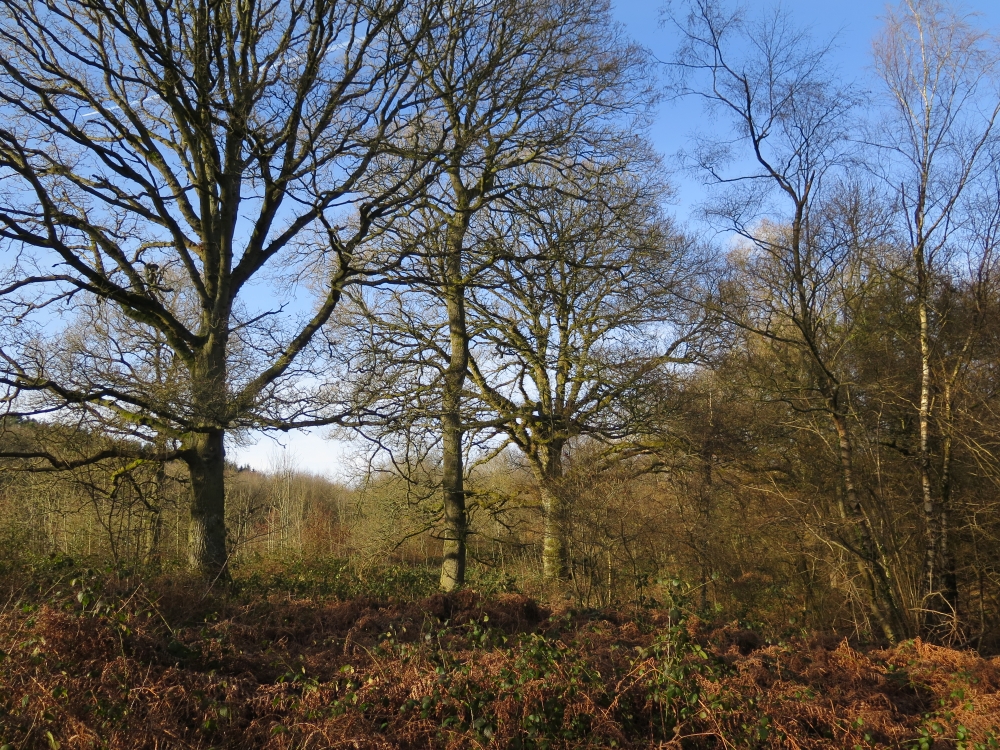 A wonderful wood with great variation throughout. From the parking area, level and large enough to park a camper van, you come into a copse of overstood alder and hazel coppice. Relatively clear underfoot, it is no hard task to make your way through the woodland here, especially if you are under 4 foot tall, and on peering closer at the ground it appears there will be carpets of celandine, violets, bluebells and what looks like ransoms, amongst doubtless many other species of wildflower, encouraged by this type of woodland habitat.
Amongst the coppiced hazel is a small glade, a natural circle formed by the coppice stools, a great level area for woodworking or picnicking where you will find a bench to enjoy cake and a cup of tea.
The coppiced wood would provide a valuable resource and if re-coppiced would benefit many aspects of the woodland habitat.
Running through Honeysuckle Wood from north to south is a pretty stream, such a magnet for wildlife and towering over its eastern bank at a midpoint downstream are two magnificent oaks. Further down stream a couple of fallen trees make the best kind of climbing frame!
Plenty of good standard broadleaf can be found up toward the eastern boundary which is marked by a fence line adjoining field; oak, ash, some beech, a lovely stand of silver birch and again, plenty of evidence of wildflowers underfoot and above, the acid yellow of hazel catkins bring colour as winter slowly merges into spring.
The woodland becomes more thickety and overgrown through the south eastern corner and slopes away back to the southern boundary, also fenced and looking out over fields. Paths have been cut through the bracken and bramble overgrowth to access the southern boundary.
In the southern part of the wood just to the west of the stream the tree cover thins and you emerge into an open glade of long grass ringed with some more magnificent oaks, truly a place to sit a while and ponder on the beauty of the natural world.
Big Wood, of which Honeysuckle Wood is a part, was once part of the Cefn Tilla estate, located in Llandenny. Cefn Tilla Court, the 16th century house of the estate was given to the 2nd Lord Raglan, Richard Somerset as a testimonial to the services of his father Field Marshal Lord Raglan who had been Commander in Chief in the Crimean War. The house was almost entirely remodelled from 1856-1860 and is now Grade II* listed.
Nearby, Raglan has good supplies, pubs, post office and petrol and its castle is fantastic! Abergavenny is a short drive away, as are the Brecon Beacons, and access is very convenient from either the M4 or M50.
The purchasers of the woodland will be asked to enter into a covenant to ensure the quiet and peaceful enjoyment of adjoining woodlands and meadows.