SOLD: Muntjac Wood
£69,000
Freehold
Orcop, Hereford, Herefordshire
over 4½ acres
Mini waterfall

Stream making up part of the southern boundary, adjoining Glyndwr Wood.

Another view of the stream

And another view of the stream on the southern boundary

View into the wood

Ride stop entrance and parking spot for Muntjac Wood

Parking area for Muntjac wood

Newly built track leading to Muntjac wood

Another view into the wood

Young growth amongst the established

Evidence of deer in the wood

Handmade bench and rest spot

Road approaching main gate

Main gate and pull in area for Pokes Hole wood, park up here
Description
Muntjac Wood has been designated as ancient semi natural woodland which is evident in the wonderful variety of long established broadleaf trees thriving here. The understory of hazel and alder provides great cover for numerous birds, and both species respond very well to the traditional woodland management practice of coppicing. Such a practice encourages greater biodiversity within the woodland with controlled amounts of light filtering through to forest floor, allowing many woodland wildflowers and other varieties of woodland flora to thrive, providing habitat for a greater variety of animal and insect species. The greater diversity of animal and insect means a greater variety of predators for keeping pests in check. Everyone's a winner!
In addition, it's level throughout and the access is fantastically easy, directly off a minor public road and over an excellent, recently constructed stone track.
There are pretty views out over surrounding fields from the south east boundary while it borders more woodland to the west.
The purchasers of the woodland will be asked to enter into a covenant to ensure the quiet and peaceful enjoyment of adjoining woodlands and meadows.
Trees
A lovely mix of broadleaf species in this long established woodland, designated as ancient semi natural woodland, but oak is the predominant species with some beautiful mature specimens. Amongst the oak, there stands some ash, holding out against ash dieback, chestnut and an understory of hazel and alder, some of which have been coppiced in the past. Holly and birch can also be found.
Wildlife
All sorts of wildlife will be thronging this woodland, with its ancient woodland status and the stream; colonies of creatures will be well established taking advantage of the beneficial habitat.
Muntjac and fallow deer including an unusual black muntjac, have been spotted and Tawny owls are known to inhabit the larger woodland of which Muntjac Wood is a part, which would indicate a healthy population of small mammals to keep them and their brood fully fed.
Features
A pretty stream runs along the northern half of the eastern boundary, separating Muntjac Wood from its neighbouring woodland, Camdore Wood.
Unusually there appears to be an area where the stream runs underground! Ordnance survey maps from the 1890s through to 1940s indicate an old footpath (no longer evident) running through the woodland from north to south, most likely to the site of an old lime kiln south east of the woodland and perhaps a stretch of this path was built across the stream, but all of these features have now merged into the landscape.
Access, tracks and footpaths
There is an excellent track giving access to Muntjac Wood from the main entrance gate which opens directly off the minor public road, meaning that 2 wheel drive access is possible all year round.
There are no public footpaths running through Muntjac Wood or the larger woodland.
Local area and history
Nearby Kentchurch Court is a stately home, in the Scudamore family for nearly 1000 years, with much fascinating history - Owain Glyndwr, the last Prince of Wales, is said to have taken refuge here after his rebellion was finally suppressed by the English in the early 15th C. His daughter, Alice was married to John Scudamore.
Woodcarvings by the genius Grinling Gibbons are displayed in the house and beyond the beautiful gardens, in the deer park, which belonged originally to the Knights Templar, can be found Jack of Kent's Oak Tree, an ancient oak with an impressively well rounded circumference measuring 11.3m !
Wood maps
Wood map
Boundaries
The boundaries are marked in royal blue paint on wooden marker stakes, fence posts and trees.
The northern boundary is marked by the access track.
The eastern boundary is partially defined by the stream, at its mid point, and also by painted marker stakes and marked trees.
The southern boundary is marked by the fence line.
The western boundary is marked by marker stakes.
Find this wood
This wood is now sold, please do not visit the wood without the permission of the owner.
Location
OS Landranger: OS No. 161
Grid ref: SO 450 270
Nearest post code: HR2 8EU
GPS coordinates: 51.939, -2.802
Location map
Directions
From Abergavenny or from Hereford take the A465 either north or south depending.
-From the south, turn off the A465 just after Pontrilas heading east, signposted to Orcop, or Bagwyllydiart.
-From Hereford travel approximately 9.6 miles to Wormbridge, left turn for Bagwyllydiart, continue to the T junction and turn right and continue to the next T junction and turn left.
Continue along this road until you reach the gated entrance to the larger woodland known as Pokes Hole & Hondy Wood on your left, marked by a Woodlands for sale sign.
Park at the gate and please continue on foot through the larger woodland until you come to the entrance to Muntjac Wood on your right, marked by a wooden name board and a Woodlands for sale board.
If you can't climb over the gate, please call Tamsin or Matt for the combination code on the pedestrian gate.
Travelling from the east, the M50 terminates at Ross on Wye, approximately 10 miles east of the woodland. From Ross take the A49 towards Hereford.
After Michaelchurch and before Harewood End, approx 4 miles, take the left towards Orcop or Bagwyllydiart (Not the A4137).
After 5 miles approximately the entrance to the woodland will be on your right, marked by a Woodlands for sale sign.
How we support our buyers
Please note this wood is owned by woodlands.co.uk.
Our regional managers are often out working in our woodlands, so if you email an offer and want to be sure it has been received, please phone our manager on their mobile phone. The first offer at the stated price which is accepted, whether by phone or email, has priority.
Please take care when viewing as the great outdoors can contain unexpected hazards and woodlands are no exception. You should exercise common sense and caution, such as wearing appropriate footwear and avoiding visiting during high winds.
These particulars are for guidance only and, though believed to be correct, do not form part of any contract. Woodland Investment Management Ltd hereby give notice under section 21 of the Estate Agents Act 1979 of their interest in the land being sold.
A manageable acreage of ancient broadleaf woodland with a pretty stream.
Managed by Tamsin and Matt Brown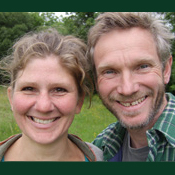 Telephone: 07956 256101
Telephone: 07950 379533
Email: [email protected]