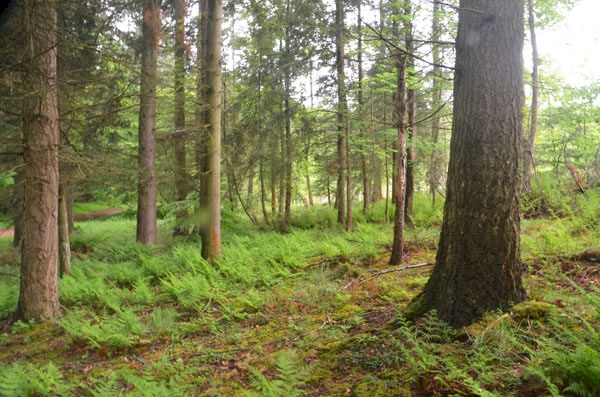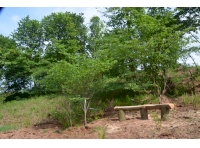 Dandy Wood, appropriately, as the name suggests, actually takes its name from the old rail branch line running from Brampton Station into the centre of town. The Dandy as it was locally known, closed in 1923. But today, the old line forms the northeastern boundary of Dandy Wood and the sloping embankment is a green oasis of ferns, wild flowers and other shade-loving plants with a fringe of larger trees growing above.
The peaceful surroundings with a mix of open space, healthy young trees, very tall firs and the shaded railway embankment, are an ideal home for many species of birds and ground-dwelling creatures. Woodpeckers drumming and calling in spring and early summer are common sounds while small mixed flocks of woodland birds move through the tree canopy, feeding as they go. Down at ground level, browse lines in the trees and an occasional well worn path indicate the presence of deer and sharp eyes may also spot red squirrel here.
Access to Dandy Wood is along firm shared tracks starting at Brampton Station. They then pass along part of the old Dandy Line before a spur forks left leading to the marked ridestop entrance. From here a firm level track leads to a turning circle and small area within the wood useful for timber stacking if thinnings are to be taken for firewood.
In the heart of the wood is a more open area that could be left to nature to regenerate; alternatively it could be managed more actively to allow specific species to regenerate or further planting of choice could be undertaken. The woodland diversity is enhanced by such glades, allowing the light to reach the ground and encourage wild flowers to flourish. The attraction of these spring blooms to pollinating insects, encourages and supports other animal and bird species to visit the woodland.
Formerly a plantation, the last harvested trees of this agricultural practice, have been replaced by a wide variety of native broadleaf saplings that are now thriving in their protective tubes. These species include sweet chestnut, oak and sycamore and together with a natural regrowth of hawthorn, rowan and wych elm, they give the wood a more wild and natural feel that belies its previous use. Of particular note are the very large and majestic fir trees that grow along the southwestern boundary and beneath these the ground is carpeted with mosses, wood sorrel and bugle. Where space and light allow, broom and gorse provide splashes of yellow flowers and contrast with pinks of wild raspberry and foxglove.
Brampton Station is within easy walking distance making this the perfect woodland to access by train. The market town of Brampton is also close by and is well served by plenty of B+Bs and pubs. In the wider area is the North Pennines Area of Outstanding Natural Beauty (AONB) and Geltsdale RSPB reserve, home to a large variety of both native and migrant species.
The purchasers of the woodland will be asked to enter into a covenant to ensure the quiet and peaceful enjoyment of adjoining woodlands and meadows.