Woodfairs 2020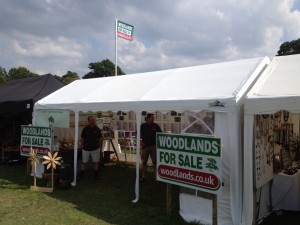 Unfortunately due to Covid-19 we were unable to attend any woodfairs in 2020 (as they were all cancelled!).
We hope we will be able to attend some woodfairs again in 2021.
Woodlands had been planning to attend these events during 2020:
The Smallholding & Countryside Festival, Royal Welsh Showground: 16-17th May
The Bushcraft Show, Wolverhampton: 23-25th May
The Stock Gaylard Oak Fair, Dorset: 29th-30th August
Belmont Woodfest, Kent: 7-8th Sept
Details of woodfairs for 2021 will be added to this page as and when available.
___________________________________________________________________________________________________________________________________________________________
We have a tent at each of these fairs where you can come and meet some of us, and find out more about owning a wood. On our stand at each event we  have:
details of woods for sale;
WoodlandsTV highlights;
books and general information on woodland ownership.
Our very knowledgeable regional managers would be on hand to answer your questions, and would be joined by other representatives of Woodlands.co.uk.
Woodfairs.co.uk: For information on other woodfairs and woodland related events around the country.
This year, we will be at the Smallholding Festival for the first time. With an emphasis on celebrating smallholding and rural life, the festival will be packed full of interesting things to see, delicious food and drink, live music, country sports, shopping, demonstrations, fun, educational activities and many different types of livestock, horses and other animals taking part in a busy two-day schedule of competitions and displays. Come and find out about small woodland ownership and management, meet existing and potential buyers and see details of our woods for sale at the Woodlands.co.uk stand, where you can also talk with our local managers Jon Snape and Tamsin and Matt Brown, together with other representatives of Woodlands.co.uk.
A three-day event filled with amazing bushcraft activities that will take you, your friends and family on a bushcraft and survival adventure that you'll never forget. Whether you come for the day or stay for the weekend, you can try your hand at woodland crafts, firelighting, shelter building, tracking, foraging, woodland games and so much more. This event is being attended by our team who look after the Midlands, North of England and Scotland.
The Oak Fair is a unique event celebrating woodcraft, timber, conversation, craft & the countryside, with have over 200 exhibitors, traders and food stalls including a beer tent, cider tent and gin bar!  Other highlights are the amazing demonstrations with heavy horse shows, falconry and impressive lumberjack displays! There is also big machinery demo's throughout the day including some historic and vintage pieces.  The Woodlands.co.uk team will be there to discuss the joys of woodland ownership along with details of woodlands available in the south of England.
This year we will be at the Belmont Woodfest and Country Fair.  Come and find out about small woodland ownership and management, meet existing owners and potential buyers and see details of our woods for sale at the Woodlands.co.uk stand. You will be able to talk to agents Ruth Feltham, Simon Feltham and Richard Scholfield, as well as Woodlands.co.uk founders, Margaret Hanton and Angus Hanton.
Richard Hare and Judith Millidge from the Small Woodland Owners' Group (SWOG) will also be joining us with their tea urn and will be on hand to discuss all aspects of small woodland ownership. Come and have a chat, tell us what you've been up to in your wood and of course, enjoy a cup of tea.