Woodfairs 2018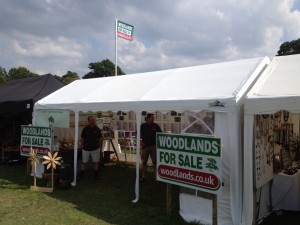 Woodlands.co.uk will be attending several woodfairs this year:
We have a tent at each of these fairs where you can come and meet some of us, and find out more about owning a wood. On our stand at each event we will have:
details of woods for sale;
WoodlandsTV highlights;
books and general information on woodland ownership.
Our very knowledgeable regional agents will be on hand to answer your questions, and will be joined by other representatives of Woodlands.co.uk.
Woodfairs.co.uk: For information on other woodfairs and woodland related events around the country.
More and more woodland owners are becoming interested in honing and practising their bushcraft skills; at Woodlands.co.uk we are very excited to be setting up a display at the Bushcraft Magazine Show that runs for 3 days from the 26th May to 28th May, from 9.30 am until 5.30 pm each day.  Local Managers Torquil Varty and David Alty, among others,  will be manning a cob pizza oven that will be built on site, as well as other members of the woodlands.co.uk team answering questions. If you are considering or indeed will be visiting this fantastic family show that includes many great free activities and interesting demonstrations, please do drop in to say hello!
One of the biggest county shows and the only 4-day event of its kind. You will find us in the 'woodlands and wildlife' section, where our regional agent for Central England (Daniel Sharp), our agent for Cornwall & West Devon (Dick White) and Richard Hare from SWOG (Small Woodland Owners Group) will be present for the whole event, joined at various stages by other members of the woodlands.co.uk team.
We will once again be at the Weald Woodfair, Bentley, this year, and we do hope you will come along to see us there. It is a great family day out, with stands dealing with every aspect of woodland ownership and enjoyment.
Simon Feltham will be there with our regional agents for South East England (Ruth and James Feltham).