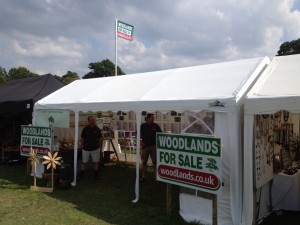 Unfortunately due to Covid-19 we aren't able to attend as many woodfairs in 2022 as usual.
We hope we will be able to attend all of our normal events again in 2023.
Woodlands.co.uk are attending the Belmont Woodfest and Country Fair, Kent: 10th-11th Sept
Details of woodfairs for 2023 will be added to this page as and when available.
_________________________________________
We normally have a tent at a number of woodfairs where you can come and meet some of us, and find out more about owning a wood. On our stand at each event we  have:
details of woods for sale;
WoodlandsTV highlights;
books and general information on woodland ownership.
Our very knowledgeable regional managers would be on hand to answer your questions, and would be joined by other representatives of Woodlands.co.uk.
Woodfairs.co.uk: For information on other woodfairs and woodland related events around the country.
This year we will be at the Belmont Woodfest and Country Fair.  Come and find out about small woodland ownership and management, meet existing owners and potential buyers and see details of our woods for sale at the Woodlands.co.uk stand. You will be able to talk to agents Ruth Feltham and Richard Scholfield, and you can meet our tree-planting land specialist, Anton Baskerville.
Richard Hare and Judith Millidge from the Small Woodland Owners' Group (SWOG) will also be joining us with their tea urn and will be on hand to discuss all aspects of small woodland ownership. Come and have a chat, tell us what you've been up to in your wood and of course, enjoy a cup of tea.