Woodfairs 2019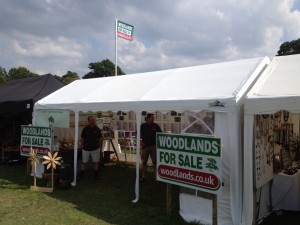 Woodlands.co.uk attended several woodfairs during 2019. If you missed us, details of our events for 2020 will appear here later...
The Bushcraft Show, Derbyshire: 25-27th May
The Oak Fair, Dorset: 24-25th August
Belmont Woodfest, Kent: 7-8th Sept
Surrey Hills Woodfair: 5-6th Oct
We have a tent at each of these fairs where you can come and meet some of us, and find out more about owning a wood. On our stand at each event we will have:
details of woods for sale;
WoodlandsTV highlights;
books and general information on woodland ownership.
Our very knowledgeable regional managers will be on hand to answer your questions, and will be joined by other representatives of Woodlands.co.uk.
Woodfairs.co.uk: For information on other woodfairs and woodland related events around the country.
This year we will be at The Surrey Hills Woodfair for the first time. Come and find out about small woodland ownership and management, meet existing and potential buyers and see details of our woods for sale at the Woodlands.co.uk stand, where you can also talk with Ruth Feltham, Simon Feltham, Richard Scholfield, Margaret and Angus.
Julian Evans who was commissioned by us to write "Getting Started in Your Own Woodland" will be joining us (on Saturday) to discuss woodland ownership and management.
Richard Hare from swog.org.uk will also be joining us and will be on hand to discuss all aspects of small woodland ownership.
SWOG have moved their tea urn over to Kent for the Belmont Woodfair this year.  Rich and Judith will be there for the whole weekend.  Come and have a chat, tell us what you've been up to in your wood and and of course, enjoy a cup of tea.
The Woodlands.co.uk team will be there to discuss the joys of woodland ownership along with details of woodlands available in the south of England.