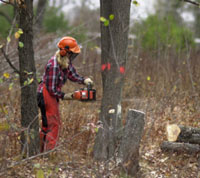 One of the cultural issues we have come across at Woodlands.co.uk is that historically forestry has been a men-only sort of thing.  Most qualified foresters are male and the Forestry Commission, whilst employing many women, has relatively few of its women on the "front line" actually meeting woodland owners and doing hands-on management.  There may be many reasons for this and it seems to be the same in other countries around the world, but it does arguably make an enormous difference to how forestry is "done" and how woodlands are used.
In view of the male domination of forestry it may be worth taking the risk of stereotyping - from an evolutionary point of view men are perhaps more likely to be interested in big management schemes, in challenges involving heavy machinery, in growing a profitable crop and in going into the unknown to explore what's there.  By contrast women may be thought to be more interested in the more "domestic arts" of interacting with the forest, identifying wildlife, getting to know local people and making a comfortable central camp area.
If these stereotypes contain some truth, the consequences may be very significant considering men dominate all the UK forestry organisations including the commercial forest management companies, the Forestry Commission and the colleges teaching forestry (principally Bangor, Aberystwyth and Aberdeen).
People who buy small woodlands which they intend to manage themselves and enjoy have proved to be much more likely to be guided by more "female" ideas about what to do in a woodland and how it should be managed and enjoyed.  For example, we have found that buyers of small woodlands are thinking about a lot more than timber production, and are more likely to favour a gradualist approach to management.  Our buyers are definitely less interested in shooting woodland deer and more likely to want to take photos of them.
It could be said that as more and more couples, families and women buy small woodlands the female influence will increase, probably introducing more diverse management methods … and perhaps less of the warrior spirit!  However regulation by male-dominated forestry authorities may make it quite hard for more female traits to flourish.  How does this reflect in day-to-day management:
-         the view of  some in authority that tools can always be hauled to the site for "forestry operations" and permanent secure tool stores are not required;
-         the ambivalent attitude of many foresters towards owners camping in their woodlands and really getting to know them;
-         the lack of integration of woodlands into the local economy?
-         the difficulty owners have with creating people-centred facilities such as loos and car parking areas, which has proved a considerable constraint on social forestry projects;
-         grants not significantly weighted towards smaller owners, but towards industrial forestry and professional management. 
 What has been your experience of tensions between small woodlands and conventional forestry?   Is the gender of owners, managers and regulators relevant?
Leave a comment
Subscribe to our blog email updates
Managing Your Woodland for Wildlife
A new book on encouraging biodiversity in your woodland. Available free here »