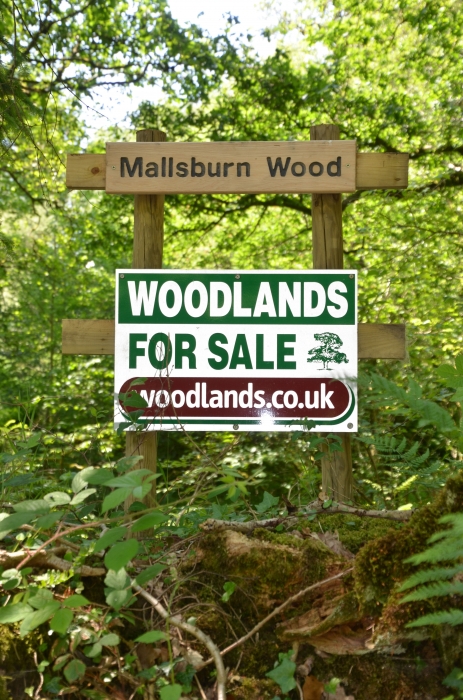 Mallsburn Wood is a wonderful example of what happens when nature is allowed to take its delightful course. Taking its name from the burn that runs through the heart of it, here is a tranquil and diverse woodland, secluded from the hustle and bustle of modern life. The presence of the vibrant stream is extremely important to the diversity and attraction of this wood.
A line of mature beech along an ancient hedge is the first sight of the wood from the roadside. The gated entrance gives access to a small parking area and from here paths lead off into the wood. First impression is of the excellent balance of native broadleaves populating the wood. Willow and alder thrive in the more marshy areas while birch, ash and oak are growing well in the drier soil conditions. An understorey of hazel and holly adds greatly to the standing trees, along with hawthorn and blackthorn along the field boundaries. The presence of bluebells and primroses are important indicators that the wood has been undisturbed for many years.
As should be expected, the wood is an absolute haven for wildlife; kingfishers and dippers patrol the river while tree creepers and nuthatches forage through the boughs. Woodpeckers are often heard industriously hammering the standing deadwood, all beneath the outstretched wings of soaring buzzards.
Although the wood is protected within a valley, there are several convenient level areas on both sides of the upper slopes and along the sides of the burn. Several well defined pathways have been opened up making access throughout the wood a very easy and pleasant experience. These paths were established by a previous owner and are not public rights of way. Care should be taken on the paths and bridges as they may be slippery, especially in wet weather.
The wood is designated as an SSSI and Natural England has encouraged positive management. A licence has been granted for the hard standing at the main entrance to facilitate hazel coppicing and beech succession control and an area of new planting has also been created along the southern valley top.
A second pathway entrance at the bottom of the wood has a right of pedestrian access over the adjoining farm track.
Local area; This is a very quiet corner of Cumbria consisting of small villages and farms. There are no major roads crossing the area giving pleasant easy motoring. To the west is the Kielder Forest Park which is a huge forested area surrounding Kielder water. Historically this was the heartland of the reivers, with many local surnames reflecting their influence over the land.
Sporting rights; these are owned and included in the sale.
NB; the ruined cottage is not owned by the vendor and not included in the sale.