Tamlaght Oakwood, Co Fermanagh - About 1¼ ac, £19,000
Originally established and tended by a professional tree surgeon, the trees are predominantly native oaks. They have been pruned to encourage the development of clean, straight trunks, and given time will develop into very fine trees. There are also other species including hazel and Scots pine.
The wood has an open, airy feel and there is plenty of space to make a clearing for picnics or relaxation, or occasional camping.
Its small size means you can get to know each individual tree. In time, they could be carefully thinned to leave more room for the better trees and provide some excellent firewood, or timber for craftwork. There are streams on two sides of the wood.
There is a full right of way from the roadside gate to the woodland.
Tamlaght Oakwood is in the varied and beautiful landscape of Fermanagh.The county towns of Donegal, Cavan and Monaghan are all within 45 minutes.
The purchasers of the woodland will be asked to enter into a covenant to ensure the quiet and peaceful enjoyment of adjoining woodlands and meadows.
Price: £19,000 Freehold
Location: Tamlaght, Enniskillen, Co Fermanagh
Size: About 1¼ ac for sale
Boundaries:
The wood consists of a single agricultural field planted with trees. The southern and eastern boundaries are formed by hedges, the northern and western boundaries by streams.
Local manager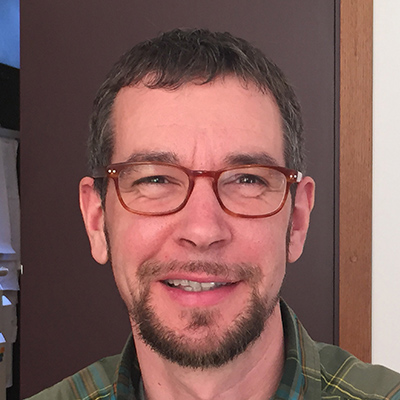 Andrew Clark
07977 499714
andrew@woodlands.co.uk

Read more about Andrew.
How to find this woodland
You are welcome to visit this wood by yourself, but please ensure that you have a copy of these sales details with you - many of our woodlands do not have mobile phone reception or internet access so we recommend either printing the details or downloading them to your phone/tablet/laptop.
Do remember to also check that it is still available for sale. If you have seen the woodland and wish to be accompanied on a second more detailed visit please contact our local manager.
Location
OS Landranger: OS No 18
Grid ref: H 272 411
Nearest post code: BT74 4HJ
Maps
See our map of the area below.
See our detailed map below.
Directions
Tamlaght Oakwood lies a short distance away from the main A4 Belfast to Enniskillen road, about 1½ hr from both Belfast and Derry.
1.Click here for Bing Maps Directions enter your own postcode, (the coordinates for the entrance on Belfast Road are already entered).
2. For Satnav: the nearest postcode is BT74 4HJ on Belfast Road, as shown by the red dot on the maps: the coordinates are: N54.317777 W7.581764 for the entranceway.
Travelling from all localities, travel along the A4 until you reach Tamlaght, about 3 miles east of Enniskillen.
The entrance to the wood lies at the western end of Tamlaght, just inside the speed limit signs, on the north side of the road where you will find a galvanised steel gate; you can park on the wide verge. Take care on the busy road.
Entering through the roadside gate, proceed across the first area of trees, following the hedge to the right, until you reach a gap in the hedge in front of you; you are now in Tamlaght Oakwood.
Boundaries:
The wood consists of a single agricultural field planted with trees. The southern and eastern boundaries are formed by hedges, the northern and western boundaries by streams.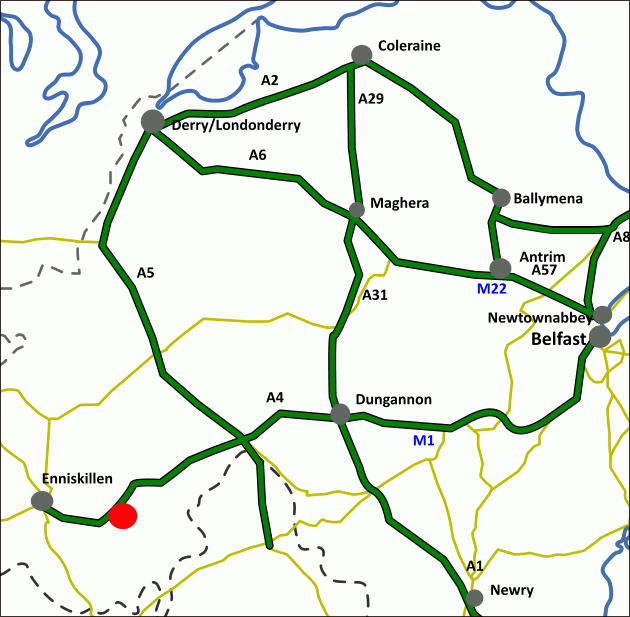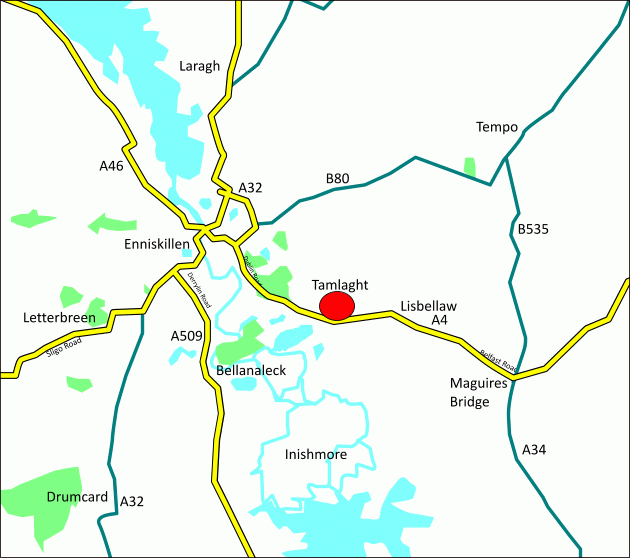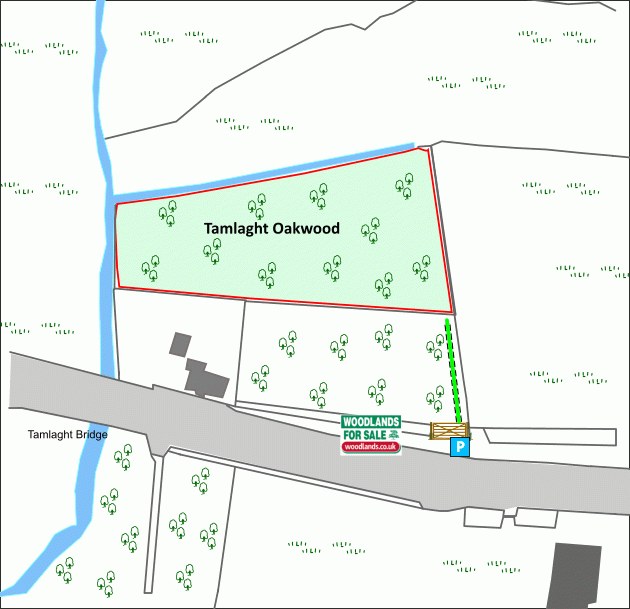 Email updates for this region
Our regional managers are often out working in our woodlands, so if you email an offer and want to be sure it has been received, please phone our manager on his or her mobile phone. The first offer at the stated price which is accepted, whether by phone or email, has priority.
Please take care when viewing as the great outdoors can contain unexpected hazards and woodlands are no exception. You should exercise common sense and caution, such as wearing appropriate footwear and avoiding visiting during high winds.
All woodlands are sold at a fixed price, and include free membership of the Small Woodland Owners Group and the Royal Forestry Society, as well as £300 towards paying for a course (or courses) to help with managing and enjoying your woodland.
These particulars are for guidance only and, though believed to be correct, do not form part of any contract. Woodland Investment Management Ltd hereby give notice under section 21 of the Estate Agents Act 1979 of their interest in the land being sold.