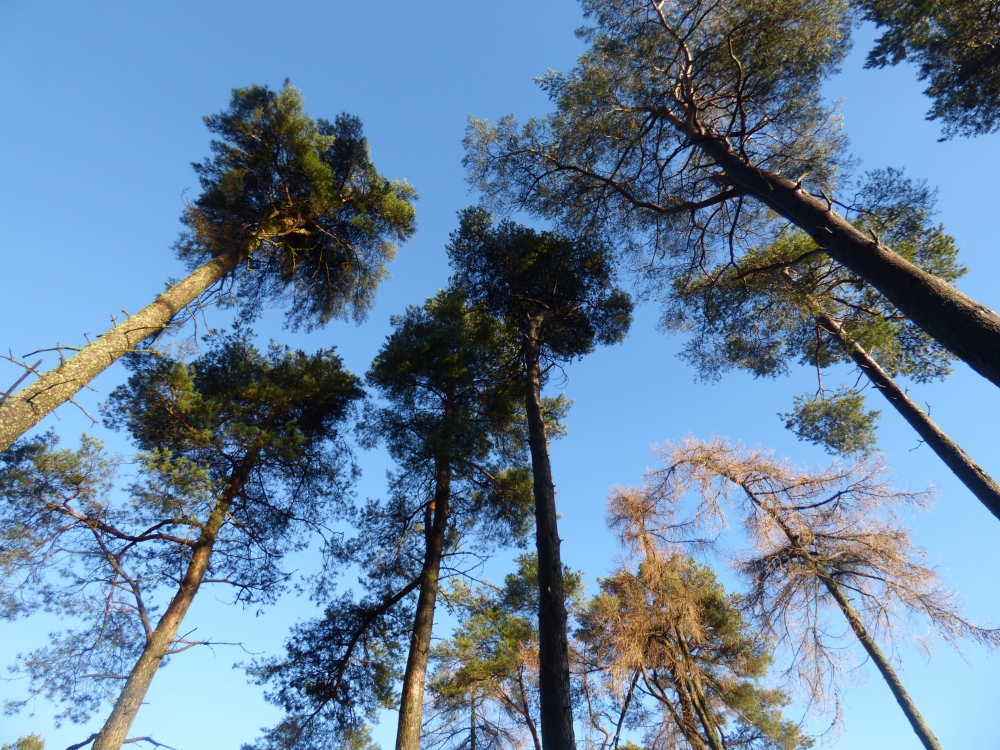 The name Brann derives from the Gaelic for raven, a common bird throughout the British Isles and steeped in symbolism throughout celtic culture.
The topography and diversity of species within Brann Wood, creates a haven for birdlife, as well as the proximity of Holl reservoir, known to host tundra swans during the winter months.
Brann Wood is located toward the end of a very good track that will provide access all year round. The ride stop entrance is surrounded by young conifer, of an age and size that have not yet shadowed the woodland floor and there is an interesting array of mosses flourishing beneath the conifer including sphagnum, club and star moss. Sphagnum moss has been used for centuries, even as late as World War I, as a dressing for wounds. Also, since it is both extremely absorptive and acidic, it inhibits the growth of bacteria and fungi and can be used for shipping seeds and live plants.
The woods open out onto a fairly clear and flat plateau ideal as a camping spot or as the site of a woodland shelter. This is a great place to sit awhile and absorb the atmosphere of this compact but dynamic wood.
From this vantage point the land drops away down a banking to reveal an idyllic meandering stream, flanked by mature beech trees that have stood the test of time. Higher up the stream there is a stand of mature pine that acts as a natural screen and will provide an abundance of firewood for many years. This area is very private and would be perfect as an alternative camping spot. These woods are well worth a visit and will make an ideal retreat.
Surrounding Area:
The surrounding woodland is called Bridle Bank and looks out north, across to the distant Lomond Hills, or the 'Paps of Fife' as they are commonly known. This hilly area will entertain the mountain biker and walker alike. The surrounding area, east of Loch Leven, is easily within reach of Edinburgh to the south and Dundee to the north. The Lomond Hills have a rich and varied history. From the Iron Age are the remains of several hill forts, which can be found around the summits of both East and West Lomond as well as at Maiden Castle, a grassy knoll that lies between the two.
Bridle Bank sits next to Holl reservoir, one of several in the area and it is from here one can take an alternative route up Bishop Hill. The route starts from the car park at Holl Reservoir and winds its way up through farmland and forestry plantings to emerge on the grassy open hilltop. This is a perfect place for a leisurely picnic while enjoying the wonderful views of Loch Leven with its islands and castle far below. Holl Meadow is one of Fife's finest. More than 100 kinds of plant grow in the grassland beside the reservoir and is a short walk from Bridle Bank.
The purchasers of the woodland will be asked to enter into a covenant to ensure the quiet and peaceful enjoyment of adjoining woodlands and meadows.
The purchasers of the woodland will be asked to enter into a covenant to ensure the quiet and peaceful enjoyment of adjoining woodlands and meadows.
There is a growing interest in hut, bothy and temporary shelter building, especially in Scotland; for those interested in erecting a hut or shelter, here is some interesting and very helpful guidance from Reforesting Scotland's Thousand Hut Campaign. Your Local Planning Authority should also be consulted.