Oldfield Meadow
£45,000
Freehold
Clawton, Holsworthy, Devon
about 2 ⅔ acres
Breathtaking views to the north looking across the meadow

Name plate, and a little piece of England

Beauty is in the eye of the beholder

Vibrant colours with possibilities of Rosehip syrup from this hedgerow

View along the northern boundary from the west corner

Another beautiful view towards the east

Dense brambles in the hedgerows offering valuable protection and food for nesting birds and other small animals

The access track which doubles as a western boundary

Clear evidence of wildlife tracks within the hedgerows on the north-east corner of the meadow

Plenty of hardstanding for parking and maneuvering

Looking along the south boundary towards the east of the meadow with post and rail fencing

Looking across from south to north, at the far eastern end of the meadow

The expanse of the open land as viewed from the southern boundary

Boundary post and rail from south-east corner of the meadow heading west

A special place to make a difference

Main entrance gate from the public highway
Description
Oldfield Meadow is ideal for anyone considering investing in a small piece of England with a vision of planting a substantial amount of new woodland.
It is located on the Cornwall / Devon border in a remarkably beautiful and privileged location and is a piece of land with an incredibly special presence, which captures the warmth of the sun's rays throughout those sunny days.
Access is gained through a padlocked gate just off the public highway, where after entering the gate you will turn right inside the field onto the track, for approx. 70 meters (alongside the public highway). You will then take a left turn down the track until you pass the wooden post and rail fence on your right, at which point you should notice some hard standing parking on the right. You will see a wooden ride stop along with a name plate printed with "Oldfield Meadow."
You will be amazed by the magnificent views as you gaze northward over the valley towards Hollacombe and beyond; there are breath-taking views as far as the eye can see. This piece of land accommodates mature and established hedgerows along the north and east sides of the meadow, which not only act as splendid boundaries, but also provide a certain amount of shelter from the elements and promotes privacy screening between adjoining meadows. The south side of the meadow is demarcated by a post and rail fence which extends from the eastern boundary to the west side of the meadow where the access track runs.
The land itself has a moderate yet gentle downward slope from the south to the north, which has the advantage of aiding natural drainage in heavy rainfall. A generous amount of convenient hard standing has been laid for parking at the western edge of the meadow which can accommodate space for a couple of vehicles to park and manoeuvre.
This parcel of land has had an extensive agricultural history and has previously been used as pastureland for sheep and cattle as well as creating animal fodder from hay and silage. It has great potential for a new custodian with the opportunity to transform the landscape via the planting of new woodlands. This would compliment the network of established trees which already surround the meadow in the nearby landscape whilst also leaving a legacy for future generations to enjoy.
The land and local area is already an important sanctuary for wildlife, hosting a variety of species including deer, rabbits, and badgers to name but a few. The addition of new woodland into this open area can only serve to extend the diverse habitats that are already present.
Converting these meadows into woodland will bring more biodiversity to the land and local area and will act as an important corridor for wildlife to travel through. Standing trees in the vicinity will provide a source of seeds, aiding the process of woodland establishment through natural regeneration which would work synergistically with active tree planting. Grant funding is available for those who wish to make use of it.
This meadow would most definitely bring an abundance of enjoyment and a sense of achievement to anyone interested in pursuing woodland creation, not only for personal enjoyment and amenity purposes, but also for those interested in carbon offsetting.
The purchasers of the meadow will be asked to enter into a covenant to ensure the quiet and peaceful enjoyment of adjoining woodlands and meadows.
Features
- Elevated position providing breath-taking views across the rolling countryside
- Rich open land appropriate for tree planting
- Established hedgerows offering biodiversity, habitats for wildlife and privacy
- Good easy access and private parking
Rights and covenants
Oldfield Meadow comes with freehold title and there are no public rights of way across the land.
Local area and history
The meadow is found in what is known as 'Ruby Country', renowned for some of Devon's most beautiful and unspoilt countryside. Bordered by the upland expanses of Dartmoor, Exmoor and Bodmin, and to the north by the wild North Devon coast, Ruby Country is known as "undiscovered Devon". Ruby Country is constituted by around 45 parishes surrounding the market towns of Holsworthy and Hatherleigh.
Wood maps
Meadow map
Boundaries
Northern - hedgerow
Eastern - hedgerow
Southern - post & rail fence
Western - access track
Boundary features are marked with turquoise paint.
Find this wood
Location
OS Landranger: OS No. 190
Grid ref: SX 386 999
Nearest post code: EX22 6PL
GPS coordinates: 50.7761, -4.29041
Location map
Directions
Oldfield Meadow is accessed via a stoned track from an unnamed public highway near the village of Clawton, in Devon. Holsworthy is around a 10-minute drive away to the northwest, with Launceston (20 minutes) and Bude (25 minutes) both also nearby.
Click here for Bing Maps directions, enter your own postcode, (the location coordinates are already entered), and click on the "Directions" box. This will take you to the roadside gate where the track begins, where you can park. Thereafter please follow the maps.
Satnav: the postcode EX22 6PL is the nearest to the meadow, but please note it is a short drive from the entrance.
Coordinates for satnav are: 50.7752, -4.2914 for the metal gate at the start of the access track.
What3words reference for main gate: ///achieving.firelight.winds
Google Maps pin for main gate: https://www.google.com/maps/dir//50.7752214,-4.2914624/@50.775695,-4.2921465,283m/data=!3m1!1e3!4m2!4m1!3e0?entry=ttu
How we support our buyers


OR £300 contribution towards buying trees, tree shelters or stakes


Please note this wood is owned by woodlands.co.uk.
Our regional managers are often out working in our woodlands, so if you email an offer and want to be sure it has been received, please phone our manager on their mobile phone. The first offer at the stated price which is accepted, whether by phone or email, has priority.
Please take care when viewing as the great outdoors can contain unexpected hazards and woodlands are no exception. You should exercise common sense and caution, such as wearing appropriate footwear and avoiding visiting during high winds.
These particulars are for guidance only and, though believed to be correct, do not form part of any contract. Woodland Investment Management Ltd hereby give notice under section 21 of the Estate Agents Act 1979 of their interest in the land being sold.
A charming meadow on the Cornwall / Devon border with breath-taking views and easy access. Oldfield Meadow is open land for tree planting.
Download PDF Details
Managed by Anton Baskerville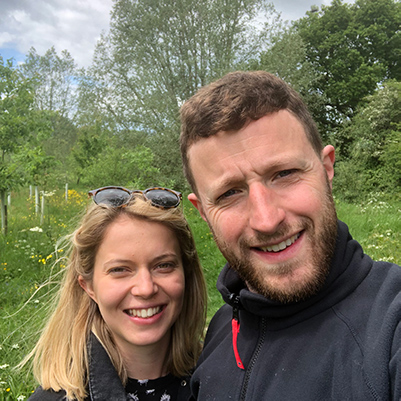 Telephone: 07952 694 652
Email: [email protected]