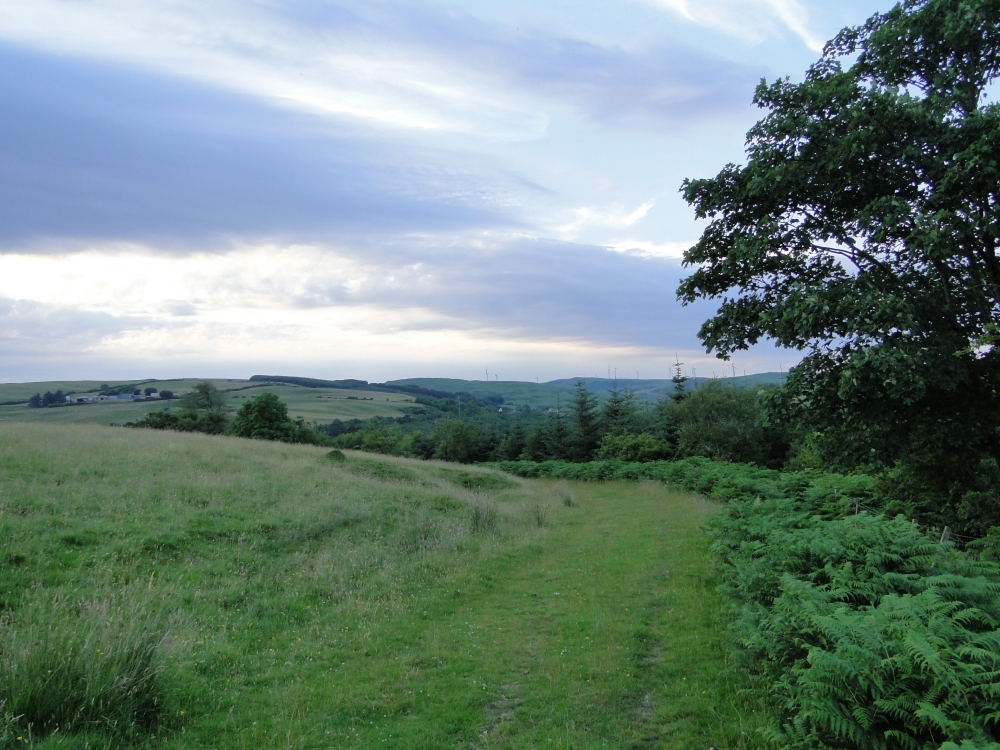 Located in the Strinchar Valley amidst hills and farmland, Benantrae Wood is notable for its excellent views. Light and open, with newly cut internal paths, it has a feeling of seclusion without isolation.
Containing a mixture of young spruce, well mixed with native birch, rowan and willow this would be an excellent woodland for conservation, camping and observing nature. The land slopes gently to the east.
Inside the northern boundary is a bubbling burn lined with wild flowers, mosses and ferns. To the west, open rough pasture leads a walker up to Aldons Hill, from here there is a good view down over Benantrae and across the valley.
Rarely a visit goes by without a glimpse of a red squirrel or a squawking jay. An early riser can be treated to the sight of a magnificent red deer or its smaller cousin the roe. The quiet Girvan-Stranrear Railway runs along the bottom of the wood.
Access: External access is via a private track leading off the A714 over which there is a shared all-purpose vehicular right of access, shown green on the maps. Internal access is provided by a new stone track leading into the wood with pathways leading to the heart of the woodland.
Sporting Rights: These are included with the land.
Surrounding Area: Benantrae Wood is situated near the top of the Daljarrock Forest in mixed woodland and rural hillside settings in the pretty River Stinchar Valley. There is a great variety of wildlife in the valley, including red squirrel, red deer, roe deer, otters, badgers and reptiles and birds from blue tits to buzzards, plover to peregrine. Many nearby walks and the tranquil unspoilt environment make the area perfect for nature and general outdoor enthusiasts. A walk up Knockdolian Hill provides panoramic land and sea views and the new long-distance walking route - The Carrick Way - is scheduled to open very shortly. The huge Galloway and Carrick Forests can be found further to the east and an early spring wildlife festival takes place in neighbouring Dumfries & Galloway every year. The coastal town of Girvan and shingle beaches at Woodland and Ballantrae Bay, are within 10 miles to the West. Nearby Pinwherry and Barrhill villages have local services whilst Colmonell and Dailly have forestry mills/suppliers. Ayr, Stranraer and Newton Stewart are within 30 miles.
The purchasers of the woodland will be asked to enter into a covenant to ensure the quiet and peaceful enjoyment of adjoining woodlands.
There is a growing interest in hut, bothy and temporary shelter building, especially in Scotland; for those interested in erecting a hut or shelter, here is some interesting and very helpful guidance from Reforesting Scotland's Thousand Hut Campaign. Your Local Planning Authority should also be consulted.