SOLD: Coed Ebolion
£95,000
Freehold
Trelech , Newcastle Emlyn , Carmarthenshire
almost 11½ acres
Inside the wood looking towards the eastern boundary

A stand of Sitka

Close up of the Sitka bark

Canopy

View out from the eastern boundary

Marker on the southern boundary

A small open area with some sycamore

Another view of the open area

View into the wood

Broadleaf fringe on the northern boundary

Fern

Track making up the northern boundary

View into the wood from the northern boundary

Track making up the western boundary

2nd pull in area

Parking area for Coed Ebolion

Name board

Turn in here

Track leading to the wood and 2nd gate

Park up here and walk on
Description
Coed Ebolion is part of a larger woodland known as Allt Fynnon Wen. Parts of Allt Ffynnon Wen (although not Coed Ebolion) have been designated Ancient Woodland, indicating continuous woodland cover from the 1600's.
The stand of Sitka spruce in Coed Ebolion has commercial value and is commonly used in construction; measured by its strength to weight ratio, Sitka spruce is stronger than steel and has traditionally been used for boat and early aircraft construction. Interestingly, it also has excellent acoustic properties and is used for making sounding boards for musical instruments such as pianos, violins and guitars. Beyond building, the inner bark of Sitka spruce is a great source of Vitamin C, while the pitch, as well as being used a as a waterproofer, is an effective salve for burns, boils and skin conditions! A wonder tree! There is potential to extract the Sitka, either as a crop for an economic return, or more directly for use as a material, and this could be done gradually, or as a clearfell. Either way opens up the potential for replanting with native broadleaf, expanding on the existing area of broadleaf to create a more mixed and resilient habitat for the future.
The land is level throughout which facilitates any forestry work to be carried out, but also makes the woodland very user friendly and accessible for recreational and leisure use too. The location is quiet and peaceful. There are two level hardstanding pull-in areas off the main access track on Coed Ebolion's western boundary which could be used for parking a vehicle or stacking timber.
The purchasers of the woodland will be asked to enter into a covenant to ensure the quiet and peaceful enjoyment of adjoining woodlands and meadows.
Trees
The larger woodland, Allt y Ffynnon Wen was planted under the Farm Woodland Premium Scheme in 1993 and 1994 and the planting varies from majority areas of mixed broadleaf including ash, beech, oak, rowan and birch to conifer stands of larch, and in Coed Ebolion, Sitka spruce.
In Coed Ebolion the majority of the planting is Sitka spruce. Along its northern edge, extending the full width of the woodland from west to east and extending approximately 20-25 metres south from the northern boundary, there is an area of broadleaf regen including young sycamore, hazel and hawthorne.
Wildlife
There are two large streams running through Allt Ffynnon Wen and although Coed Ebolion doesn't have access to these streams, it still benefits from the wide variety of wildlife and birdlife attracted to these waterways. There is thriving birdlife here including treecreepers, goldfinch, wren, chaffinch and robins and woodpeckers are often heard. A hare has been seen along the eastern woodland boundaries and bats are seen at dusk.
Features
This sitka plantation will provide a good timber crop once mature. There is the potential of thinning, with the option of conversion to native broadleaf woodland, either once the full crop of Sitka has been harvested, or perhaps more sensitively, with compartmental felling and continuous cover management.
Access, tracks and footpaths
Access to the woodland is from a quiet country road and via a stone track which crosses two fields before reaching the locked gate at the entrance to Allt Ffynnon Wen where there is a small parking area. There is a combination code to open the gate.
From the entrance gate, a good stoned track gives shared access to the woodland. This track is accessible to any two-wheel drive vehicle.
There are no public footpaths through Coed Ebolion itself.
Activities
Exciting prospects for woodland management for Coed Ebolion, and the great access and level ground make it a great prospect for family forestry, camping and bushcraft activities.
Local area and history
The lower track through Allt Ffynnon Wen was, in earlier times, a well-trodden route used by miners to access local mines. Down in the lower half of the woodland, you can still see the relics of an old pub built to cater for miners on their way home.
Trelech, located less than 2 miles away, is a quiet, rural village and has a small shop and public transport links. Trelech is located about 12 miles northwest of Carmarthen, the oldest town in Wales which has all amenities and good transport links.
It is also 9 miles from Newcastle Emlyn, an historic market town with pubs and shops.
Wood maps
This wood is now sold, please do not visit the wood without the permission of the owner.
Find this wood
This wood is now sold, please do not visit the wood without the permission of the owner.
Location
OS Landranger: OS No. 145
Grid ref: SN 256 304
Nearest post code: SA33 6DW
GPS coordinates: 51.944, -4.538
Location map
Directions
Leave the A40 at St. Clears and head towards the A4066.
After half a mile, at traffic signals turn right onto Pentre Road - B4299
After 0.2 miles turn left onto Station Road (staying on the A4299)
After 3 miles you will enter a village called Meidrim. Take a left hand turn signposted towards Trelech and Newcastle Emlyn (A4299)
Follow along this road until you enter into a village called Trelech. Take the left turn signposted Dinas.
After approx. 0.3 of a mile turn right signposted Dinas. Follow this road through Dinas and out the other side; the entrance to the woodland is after approx. 1 mile on your left marked with a Woodlands for Sale sign.
What3Words : unsightly.detect.clashes
Follow the track through 3 gates until you get to the parking area and a locked wooden gate. You will need to leave your car here and continue on foot.
Follow the track beyond the locked gate until it turns left entering woodland - Coed Ebolion is the area of woodland to the left of the track here and you will come to the entrance on the left of the track after a short distance, marked by a ride stop, wooden name board and a Woodlands for Sale sign.
How we support our buyers



Please note this wood is owned by woodlands.co.uk.
Our regional managers are often out working in our woodlands, so if you email an offer and want to be sure it has been received, please phone our manager on their mobile phone. The first offer at the stated price which is accepted, whether by phone or email, has priority.
Please take care when viewing as the great outdoors can contain unexpected hazards and woodlands are no exception. You should exercise common sense and caution, such as wearing appropriate footwear and avoiding visiting during high winds.
These particulars are for guidance only and, though believed to be correct, do not form part of any contract. Woodland Investment Management Ltd hereby give notice under section 21 of the Estate Agents Act 1979 of their interest in the land being sold.
A level plantation style woodland, mainly Sitka spruce with an area of broadleaf regeneration, with very easy access. Coed Ebolion is part of a larger mixed but mainly broadleaf woodland, of which some areas have been designated Ancient Woodland.
Managed by Tamsin and Matt Brown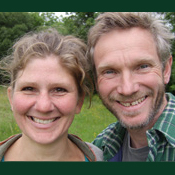 Telephone: 07956 256101
Telephone: 07950 379533
Email: [email protected]