Coed Ynys
£39,000
Freehold
Glandyfi, Machynlleth, Ceredigion
over 4¾ acres
View out from the western boundary

View out from the western boundary

Large hard standing ideal for a camper van

Gate to Coed Ynys parking area

Path out of parking area

Ash and birch

Ash area

Birch in the northern strip of wood

Another view in the birch strip

Birch area

Cleared open area under power line

View of the first quarter of woodland

Stand of ash

An area of ash

Ash

Oak sapling amongst the birch

In the birch quarter looking southwards

A different part of the birch area

Large turning area at main entrance

Main entrance into Glandyfi

Look for this sign board
Description
A very unusual woodland for Wales in that it is completely flat throughout. Excellent access directly off the A487 means there is great potential for Coed Ynys, especially with its location in this incredibly beautiful area close to the banks of the Dyfi estuary and between the wildlife havens of the Ynyshir and Cors Dyfi nature reserves.
It is a young plantation style woodland of alder and birch with an open ride under the power line which crosses the woodland east west in its northern section. Adjacent to Coed Ynys, outside its northern boundary is a large area of wetland, but within the woodland the ground is dry and firm underfoot throughout, grassy in the main with ferns and various wildflowers in parts such as meadow sweet. Inside the entrance to the woodland there is a large stoned area which would provide a great place for setting up an area for woodland activities, stacking wood or camping. There's plenty of space for a camper van and access is easy for a vehicle.
Further into the woodland, are pretty and more private areas for camping among the stand of birch trees established on the northern section of Coed Ynys.
The roadside boundary is hedged, so valuable for birds and wildlife, and there are also areas of bramble along that southern boundary.
The purchasers of the woodland will be asked to enter into a covenant to ensure the quiet and peaceful enjoyment of adjoining woodlands and meadows.
Trees
The planting was carried out in this woodland according to species, resulting in a woodland divided roughly into quarter strips. The roadside, southern quarter is comprised of alder.
The mid quarter is planted with ash, much of which has unfortunately succumbed to die-back. Although it is sad to lose the ash, this can be put to good use as firewood and the cleared area presents a great opportunity for new planting.
A power line runs across the third section meaning that growth here needs to be kept in check, below 5 metres, which suggests coppicing as an ideal management method.
The northern quarter of the wood is planted with birch.
Wildlife
Features
Flat, level, no hills, completely flat.
Access, tracks and footpaths
Access is excellent with a gated entrance directly off the A487 leading to a shared turning circle, and Coed Ynys' entrance opens directly off this.
There are no public footpaths through Coed Dyfi.
Dovey Junction train station is a short distance from the woodland but only accessible by footpath.
Activities
The excellent access and level ground provide great opportunities here for using the woodland for workshops or educational projects.
There is opportunity to take out the stand of ash and to plant the cleared area with a variety of native broadleaf, or there is potential to establish a coppice rotation of perhaps willow or alder, extending under the power line with a view to producing material for basketry, or firewood or charcoal. There are of course numerous other uses for coppiced wood including hurdles, poles, material for fencing, gates and general building or garden products.
Wood maps
Wood map
Boundaries
The boundaries of Coed Ynys are marked in pale blue paint on fence posts. It is fenced on all sides.
Find this wood
Location
OS Landranger: OS No. 135
Grid ref: SN 698 972
Nearest post code: SY20 8SS
GPS coordinates: 52.557, -3.922
Location map
Directions
Take the A487
---- towards Aberystwyth if travelling from Machynlleth or the north.
After passing through the hamlet of Derwenlas, and passing the signposted turning for Cors Dyfi Osprey Project Nature Reserve, look out for the entrance to Coed Dyfi on your right, a gated entrance with a Woodlands for Sale sign. Please pull in carefully and park.
---- or towards Machynlleth if travelling from the south.
Just after exiting the village Eglwys Fach, and after passing the sign for Dovey Junction railway on your left and the stone gabion slope reinforcement on your right, you will see a gated entrance on your left with a Woodlands for Sale sign. Please pull in carefully and park.
what3words : dish.readjust.thundered.
Continue into the woodland on foot.
Please take care when pulling back out on to the A487.
How we support our buyers



Please note this wood is owned by woodlands.co.uk.
Our regional managers are often out working in our woodlands, so if you email an offer and want to be sure it has been received, please phone our manager on their mobile phone. The first offer at the stated price which is accepted, whether by phone or email, has priority.
Please take care when viewing as the great outdoors can contain unexpected hazards and woodlands are no exception. You should exercise common sense and caution, such as wearing appropriate footwear and avoiding visiting during high winds.
These particulars are for guidance only and, though believed to be correct, do not form part of any contract. Woodland Investment Management Ltd hereby give notice under section 21 of the Estate Agents Act 1979 of their interest in the land being sold.
An entirely level young woodland with an area presenting replanting opportunities set in a stunning location near the Dyfi estuary.
Download PDF Details
Managed by Tamsin and Matt Brown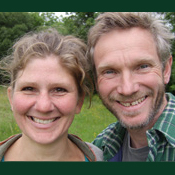 Telephone: 07956 256101
Telephone: 07950 379533
Email: [email protected]