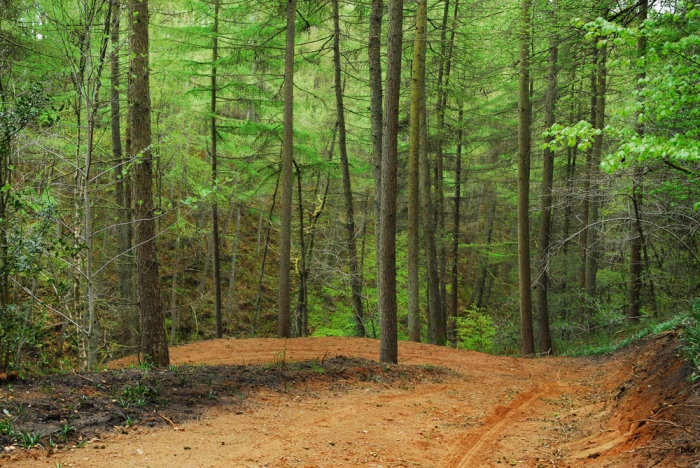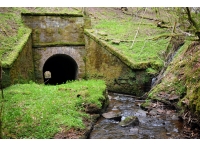 Situated in the valley of a picturesque stream called Hell Beck, Carey Wood is a diverse and appealing mixed woodland in northern Cumbria. The lower slopes are planted with Larch and further up there are tall Scots pine. These trees are 50 years old, a good size and well spaced. The pines in particular provide an ideal habitat for the local red squirrel population.
A row of ancient beech trees along part of the eastern boundary are a notable feature of woodlands in the area. Some of these can be seen in the pictures below and form an impressive back-drop to this part of the woodland.
The banks around the wet woodland create an amphitheatre-like area where the alder and birch stand with their roots in the wet soil before an audience of sycamore, beech, birch and wych elm. This area supports a interesting variety of ground flora including lesser celandine, opposite leaved saxifrage, meadow sweet, mosses and liverworts.
Along the stream, which forms part of the western boundary, dogs mercury grows abundantly and a bank of bluebells can be found near the parking area. These species are ancient woodland indicators and Carey Wood is recorded as being a Plantation on an Ancient Woodland Site (PAWS).
Wildlife abounds in Carey Wood. Buzzards nesting in the valley are often heard calling overhead and are sometimes seen flying through the woods. Sparrowhawks also nest nearby and are frequent visitors there. Red squirrels live in the Scots pine and signs of roe deer and other mammals can also be seen.
Access into Carey Wood has recently been improved and there is now an excellent network of forest tracks and parking areas. A camping glade and simple shelter can be found in the upper part of the wood as shown on the maps below.
Carey Wood is very close to a battlefield where, in 1570, Lord Hunsdon and Henry Carey defeated Dacre and prevented the fall of the West March of England. Known as the 'Battle of the Hell Beck' the battle was named after the stream that runs through Carey Wood.
With the attractive market town of Brampton to the north and the Lower Eden Valley to the south, Carey Wood is perfectly located. It is close to the North Pennines Area of Outstanding Natural Beauty (AONB). The wood is also a short distance fromTalkin Tarn Country Park and Geltside RSPB nature reserve, There are plenty of B+Bs locally.
The purchasers of the woodland will be asked to enter into a covenant to ensure the quiet and peaceful enjoyment of adjoining woodlands and meadows.