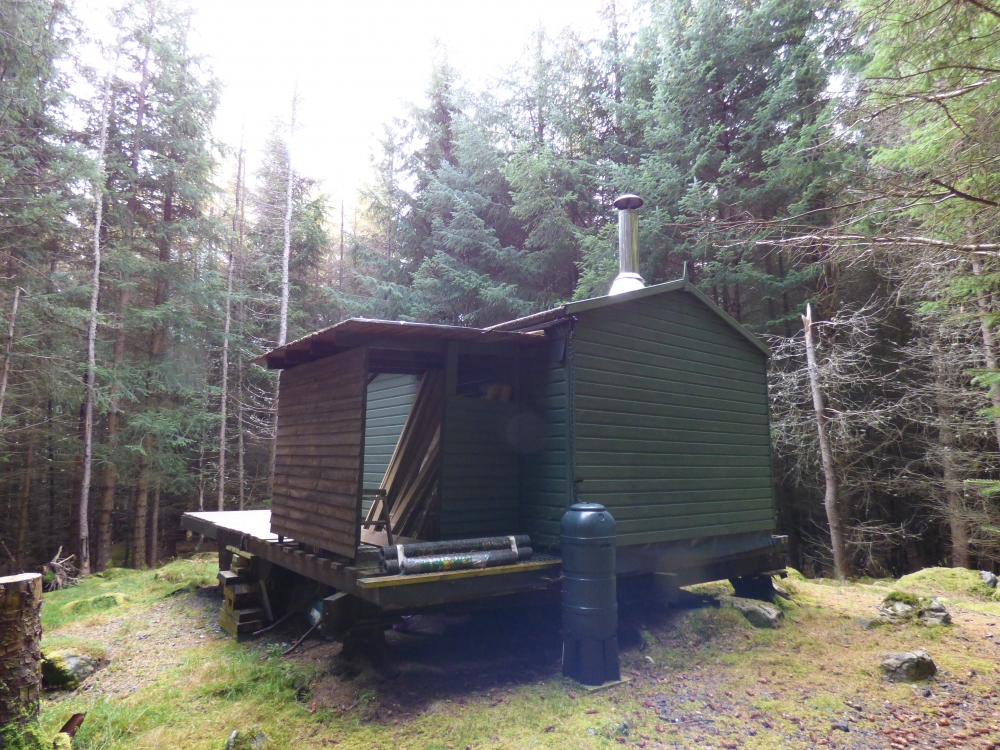 Description: Caillich Wood sits in Highland Perthshire countryside with Scots pine, spruce and larch planted about 25 years ago and an interesting and diverse area of broadleaves, mainly birch and rowan, with some open heather covered ground to the east. The open aspect to the southeast and southwest allows plenty of sunlight and contrasts nicely with the sheltered areas within the wood.
The land lies between 300-325m above sea level and is gently undulating: it is ideal for creating interesting and intriguing paths, level areas for weekend camping and restful breaks. Foxglove, heather, grasses, mosses and low shrubs can be found amongst the woodland clearings, along rocky fringes and on the nearby open ground.
The internal access off the shared main track is via a private vehicle track leading deep into the middle of the wood with a turning at the end. From here there are brashed paths to clearings situated just within the deer fence, that separates the conifer and broadleaf areas. Beyond there are several viewing points (all located as shown on the detailed map). The swathe of open heather and mixed broadleaves rises above the road and can be accessed on foot, either via the start of the shared access track or through a private wicket gate placed in the deer fence and shown on the detailed map.
A stone path leads from the internal track deep into the wood to a clearing where a wonderful hut is sited.
This will provide good shelter whilst working in the wood and will be a perfect tool store as it can be locked securely. There is a log burner installed to allow work to continue through the winter months, while rain water is conveniently harvested . The hut has planning permission.
Just opposite the ridestop entrance there is a small clearing affording southerly views over to the ridge of majestic Schiehallion, and a rocky mountain stream a short hop, skip and jump away.
Access: After turning off the B847, there is a full right of access over a shared private hard track leading up a gradual incline to Caillich Wood. It is suitable for vehicles with reasonable ground clearance and 4WD vehicles.
Wayleaves and Third Party Rights: Scottish and Southern Energy (SSE) have a right of access over the shared track to reach the small sluice dam, owned by SSE and situated above and beyond Caillich Wood. Track maintenance is according to user.
Sporting Rights: These are fully owned and included with the land.
Surrounding area: Caillich Wood is part of the old Creag Dhubh Forestry Estate which is situated just above Dunalastair Water on the lower south-eastern slopes of the corbett, Beinn a' Chuallaich. The surrounding area is renowned for its natural highland beauty including the ancient Caledonian Pine woods (Black Woods of Rannoch), series of Lochs (Rannoch and Tummel), cascading rivers (Tummel and Garry) and classic conical shaped munro (Schiehallion). The area offers a range of opportunities for land or water based outdoor pursuits from hill-walking to mountaineering, boating (for sailing or fishing) to rafting. Local native wildlife includes grouse, red deer, red squirrels, pine martens, capercaillie, cross-bill and various birds of prey. There are also many interesting fungi, insects, birds, lichens and other plants indicating a healthy and diverse ecosystem and making the area something of a mecca for conservationists and biologists. Creag Dhubh is a wonderful spot in which to relax, feel the senses come alive and take in some of the purest air and most beautiful scenery in Scotland.
The purchasers of the woodland will be asked to enter into a covenant to ensure the quiet and peaceful enjoyment of adjoining woodlands and meadows.
There is a growing interest in hut, bothy and temporary shelter building, especially in Scotland; for those interested in erecting a hut or shelter, here is some interesting and very helpful guidance from Reforesting Scotland's Thousand Hut Campaign. Your Local Planning Authority should also be consulted.