The Woodlands Awards 2017: the winners have been announced!
Monday 9 October 2017
A new set of annual awards celebrating woodland initiatives was launched this year. The deadline for entries was 31 July, and the winners have just been announced.
There were 14 different categories, some for woodland owners and enthusiasts, others for woodland professionals and organisations. They included Awards for best Woodland Photography, best Small Woodland Websites, best Woodland Contractors, best Woodland Courses, best Forest Schools, best Community Woods, best Regional and National Woodland Organisations, and Woodland Books of the Year.
The list of 49 winners, plus a little about why each of them deserved their Award, has been published here:
www.woodlands.co.uk/awards/woodlands-awards-2017/award-winners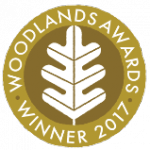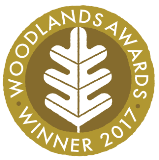 The motivation behind the Woodlands Awards is to give recognition to all the good work that is being done – professionally or for pleasure – in the woodland sector. There is no other set of Awards quite like these.
Entries for the Awards depend largely on nominations, recommendations and reviews. The aim is to make the Awards as inclusive as possible – and there are multiple winners in many of the categories.
The prizes vary according to the category. All winners receive a certificate, with specially commissioned artwork by Tania Hurt-Newton. Individual winners in certain categories also receive a book and a woodland hand-tool: this year the book was  The Wood for the Trees, by Richard Fortey (the winner of an Award), plus a Silky F180 Folding Saw.
The original Awards specifications can be seen here: www.woodlands.co.uk/awards/woodlands-awards-2017
Angus Hanton, CEO of Woodlands.co.uk, who sponsored the Woodlands Awards 2017, says: "We have been delighted with the response to the Woodlands Awards. Lots of hard word and imaginative innovation is going on in the woodlands sector all the time – but it is largely unsung. We have created an awards scheme that shines a light on this, and give it the recognition it deserves. We had lots of excellent entries for 2017 – and next year's Awards will open early in 2018."
Some winners' responses
"The box of prizes arrived today and I am just contacting you to say many thanks and what a useful set of prizes they are. I was of course pleased to receive the award but with these excellent prizes it makes it all the more worthwhile."
"Thank you for my lovely box of goodies which came today. I am delighted with the thoughtful selection."
"A quick note to thank you for the surprise box of goodies! The saw being definitely the most useful, if deadly. Will enjoy reading Richard Fortey's book."
"It's the first award we have won so I will proudly wear it on our email signature for the next 12 months!"
"We are honoured to have been nominated for this award."
"We are delighted that our book has been judged winner in the Best Woodland Book of the Year category."
Notes to Editors:
This is a full list of the Awards categories:
Awards for individuals
Woodland Blogs
Small Woodland Websites
Woodland Photography
Woodland Buildings/Shelters
Woodland Tool Recommendations
Woodland Water Projects
Whole Wood Owners' Coordinators
Awards for enterprises
Woodland Contractors
Forest Schools
Woodland Courses
Community Woods
Woodfair Trade Stands
Woodland Books of the Year
Regional and National Woodland Organisations
Woodlands.co.uk is a family business set up thirty years ago. Since then, they have created and sold over 1,200 small woods all over Britain.
For further information about the Woodlands Awards 2017, please email [email protected]