Woodfairs 2015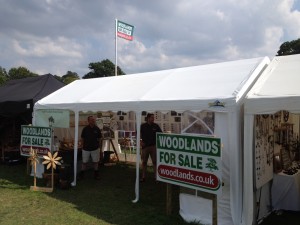 Woodlands.co.uk will be attending several woodfairs this year:
We have a tent at each of these fairs where you can come and meet some of us, and find out more about owning a wood. On our stand at each event we will have:
details of woods for sale;
WoodlandsTV highlights;
books and general information on woodland ownership.
Our very knowledgeable regional agents will be on hand to answer your questions, and will be joined by other representatives of Woodlands.co.uk.
Woodfairs.co.uk: For information on other woodfairs and woodland related events around the country.
Woodfest Wales will feature 7 different event arenas with exhilarating displays on constantly along with over 150 outside stands of demonstrations and trade, and 6 main marquees. Forestry equipment will be on show, and Chainsaw carving, axe racing, extreme mountain biking, UK Loggers Chainsaw Competition, and pole climbing all feature at the event. A timber framed building will be constructed on site during the show.
Our regional agents Jon Snape, and Tamsin and Matt Brown invite you to meet them at the Woodfest. Judith Millidge from SWOG (Small Woodlands Owner Group) will also be there on Friday and Saturday.
TreeFest, Westonbirt Arboretum: 29th – 31st August 2015
TreeFest, Westonbirt Arboretum's signature summer event, takes place during the August Bank Holiday weekend and celebrates nature, trees and woodcraft with fun family activities, around 100 exhibitors and live music.
Our regional agent for Central England (Daniel Sharp) will be present for the whole event, and will be joined by our agent for Cornwall and West Devon (Dick White) and Richard Hare from SWOG (Small Woodland Owners Group).
We will once again be at the Weald Woodfair, Bentley, this year, and we do hope you will come along to see us there. It is a great family day out, with stands dealing with every aspect of woodland ownership and enjoyment.
Our regional agent for South East England (Simon Feltham) will be present for the whole event.