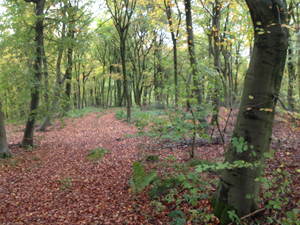 2017 could be the right year to take the plunge into woodland ownership:
1.  Money in the bank continues to yield virtually nothing, so putting some of your savings into a woodland means having an investment that you can actually enjoy;
2.  Like it or not, 2017 will be the year of Donald Trump and the uncertainty and apprehension that this brings.  In an uncertain world, having a wood of your own which you can escape to is a great reassurance;
3.  A recent survey showed that teenagers with smart phones check them on average 150 times a day: a woodland is an antidote to overdosing on screen time.  Your children or grandchildren may be suffering a "nature deficit" and being able to visit a woodland is a good way to make up this shortfall and help them grow up more healthily;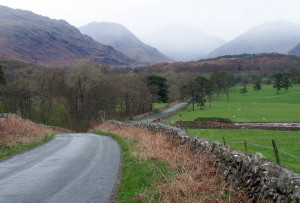 One day, back in May 2014, I had come over from Eskdale, to Wasdale, to photograph Wastwater and the surrounding fells. Only two months previously, I had seen Wastwater for the first time, having been part of a failed expedition to find it, some 38 years previously (don't ask!)   Returning along the road, up the valley, I saw a 'woodland for sale' sign. "A nice location", I thought, as I walked past. I had no serious thoughts until an internet search, in October 2015, took me to the Woodlands.co.uk website.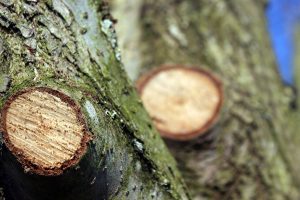 The right kind of pruning can make a tree more attractive, increase its value and deal with any issues the tree may be developing in terms of damage, stunted growth or space constraints. Pruning trees is a specialist skill; done without specialist knowledge it can potentially kill off a precious tree. As some trees are extremely tall, or in awkward positions, professional equipment is needed to ascend the tree and access those high branches. Read more…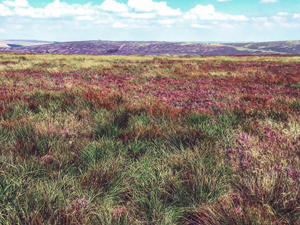 What's so special about heather moorland to beekeepers?  Heather is a small plant known scientifically as Calluna vulgaris, or more commonly ling heather.  As the beekeeping season is winding down elsewhere, the small purple flowers that are a characteristic feature of moorland's stunning scenery are just opening.  The nectar they produce results in a highly sought after and delicious honey, making it worth all the hard work (both on the part of the bees and the beekeeper) that goes into producing it. Read more…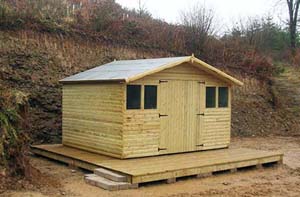 Introduction
Much has been written elsewhere on the why's and wherefore's of planning issues concerning sheds in woods. For example, there is a very informative article elsewhere on this website and there are discussion threads in the forum section of the SWOG [Small Woodland Owners Group] website.
This article concentrates on practical considerations when choosing, siting and constructing your shed together with ideas and tips based on my own experience of building all sorts of structures for woodland owners. Read more…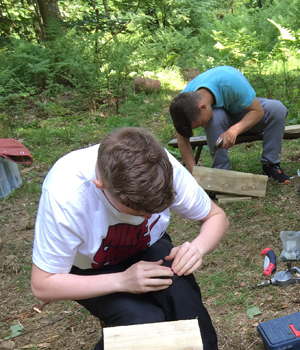 Recently we were given the opportunity to support a group of young men out into the woods over a period of ten weeks. They were a group that had been handpicked because they were finding the traditional school environment challenging.
We were given permission to use a mixed woodland site and allowed to carry out small amounts of maintenance, which the group really enjoyed especially when felling a tree, checking the squirrel traps and using pruning saws and loppers.
But "Why head out into the same woods for ten weeks?" surely we could have taught the use of this equipment in one day. Read more…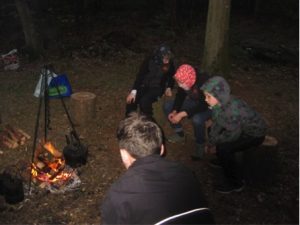 The weather was glorious, bags were packed, all provisions were bought and it looked like everything was set up for a great Scout Camp in the Rowbank Woods. And 2nd Eden Valley Scouts were not to be disappointed; the camp was set in idyllic woodland that was ideal for slinging hammocks, playing games, learning about the flora and fauna of the area, cooking marshmallows and having a good 'crack' (Cumbrian term for talking)! Read more…
Subscribe to our blog email updates