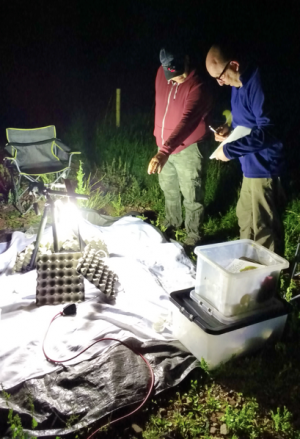 Nottinghamshire Wildlife Trust carried out a moth trapping evening at Cotgrave Forest on 4 August 2017. The event was hosted by one of the woodland owners. Neighbouring owners were invited along and the evening was supported by two local naturalists/ ecologists, Neil Pinder and Mike Hill.
The event yielded a total of 27 species, which is good given the recent unsettled weather. Although no particular rarities arrived at our moth trap, the diversity in colouring
and patterning of the moths was outstanding. This ranged from the mainly yellow Brimstone moth to the quite large and numerous Large Yellow Underwing, both of which came to our trap early on. Read more…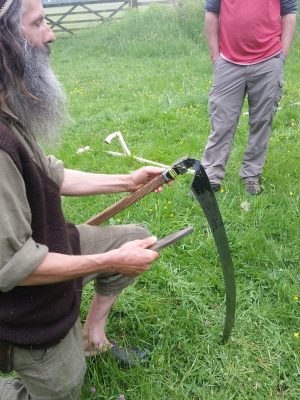 A May bank holiday Saturday, West Wales, and it was drizzling. Probably like most people I had preconceptions of scything as an activity performed by farm labourers in blazing sunshine, when the hay would dry best. Not the full Poldark maybe, but something similar. Like most preconceptions, it proved to be wrong in all important respects.
I had long hankered after developing two traditional skills: dry stone walling and scything. I met my needs for dry stone walling a few years ago, courtesy of the National Trust, but this May bank holiday was my opportunity to address the other. My particular need that encouraged me to move this year was planting 1300 willow and poplar as short rotation coppice, and the need to keep the grass down during year one.
Scythe Cymru, based at the Dyfed Permaculture Trust land in Penboyr, about 16 miles north west of Carmarthen run courses in scything, and sharpening and maintaining scythes, as well as providing a sharpening service used by scythe owners across the country. Read more…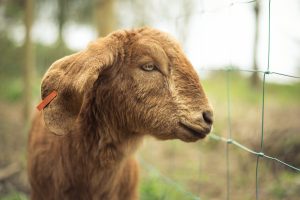 At Tortworth Arboretum we are restoring a 20-acre woodland for community use – clearing an abandoned woodland of ten years of neglect while making it accessible for people to come and learn about nature, as well as improve their mental and physical health and wellbeing. We manage the woodland mostly with hand tools and an ever-evolving team of volunteers who give their time freely to the project.   The woodland is host to hundreds of exotic trees from around the world, planted from the 1850s onwards by the local Earl, as well as some stunning veteran oaks and sweet chestnut trees.
And we have goats.  Read more…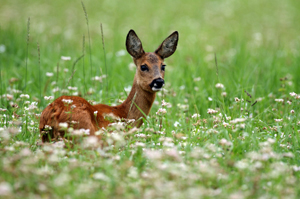 Woodlands throughout the U.K. currently support very large populations of various species of deer.  The indigenous deer species are Roe Deer and Red Deer.   Fallow Deer were introduced by the Normans but in the late C19th / early C20th Chinese water deer, Reeves Muntjac and sika deer arrived.  The three most widespread and abundant deer species now are Roe deer, Fallow deer and Reeves' muntjac.
The total deer population is currently at a very high level  Read more…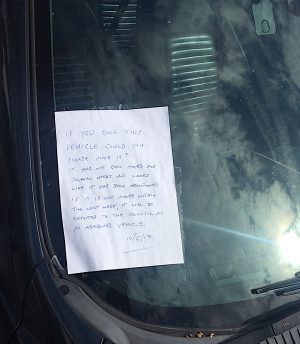 Woodland owners can be enraged by finding a note on their windscreen.  Most people have got used to texts and emails and even speaking directly, but the note on the windscreen is an art form of its own and one that presumably goes back well over 100 years – perhaps even back to the Egyptians of you include the note left on a chariot seat.    These notes can be very helpful ("I've left that fiver I owed you under the front wheel") or distinctly rude ("don't park in front of the gates – next time I'll let your tyres down"). In most cases this is one-way communication,  so the car owner has the frustration of not being able to answer back and often you don't even know who has left the note.  Surely this anonymity encourages people to be much ruder than they would be face-to-face, a bit like the phenomenon of the abusive posters on online message boards. Read more…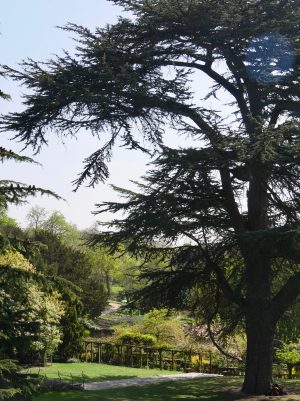 The Cedar of Lebanon (Cedrus libani) is widely planted as an ornamental tree in parks and the gardens of stately homes.  However, it is native to the mountains of the Eastern Mediterranean.  These trees were used by the Phoenicians in the building of their ships, used in the construction of Solomon's Temple in Jerusalem and the tree's resin was used by the Egyptians in the process of mummification.  Cedar wood is valued for its durability, grain, colour and fragrance; it is also a source of cedria (cedar resin) and cedrum (cedar essential oil). Read more…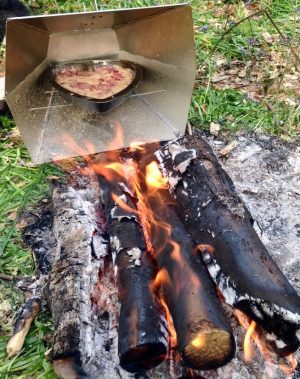 This clever device redirects the radiation from an open woodland fire to create a cooker so that outdoor cooking can be about much more than just frying pans, kettles and grills.  With a reflector oven you can cook both sweet and savoury –  bread, cakes, pies, scones, fish and vegetables.  The reflector oven bounces the heat around inside, and also contains it, so that whatever is on the shelves is baked as well as it would be in a conventional oven.
This particular model was invented by Svante Freden, a Swedish manufacturer – who apparently fabricates these devices in a "small outbuilding" in Sweden and retails them for about £50 each – they can be bought from Proadventure who have s shop in Llangollen, North Wales, as well as a website with lots of camping kit. Read more…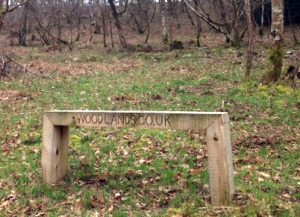 I love sitting quietly in a woodland, especially on a comfortable wooden bench.  Being still and silent in a wood allows you to feel closer to nature and nature gets closer to you: when you stop trampling through a wood the animals stop feeling threatened and they come out.  Birds and deer and even badgers will appear as you sit unmoving and comfortably on your home-made bench.   If sited carefully, you might also be able to enjoy a panoramic view from your woodland bench.
A group of us recently decided to have a bench-making competition and four different benches were produced during the afternoon.  The prize was a bottle of vintage port and the rules were simple – you had two hours to finish and you had to use materials found in the woods Read more…
Subscribe to our blog email updates